What you need to know about: Oktoberfest
So, you've heard about it – the most authentic beer festival in the country will be celebrating its 78th year on October 7 and 8 at Sofitel Manila.
The event's featured collection of time-honored German traditions, sumptuous Bavarian culinary specialties, traditional Bavarian Oktoberfest music, and the unlimited serving of beer towers – all are just as ecstatic to be in!  However, just as exciting as it sounds, there is more to Oktoberfest than the beer. It is a celebration of rich German history and its timeless beer culture and cuisine. Here are some facts you must know about this long-running beer celebration in the country.
77th Oktoberfest Set-up
History
The first ever Oktoberfest took place on October 12, 1810 when the Bavarian Crown Prince Ludwig (later crowned King Ludwig I of Bavaria) married Princess Therese von Sachsen-Hildburghausen from Sachsen, also a German Princess. Since then, this famous tradition has been held annually and spread throughout other countries. Over the next several decades, the Oktoberfest continued to grow. By 1960, it became the largest festival in the world. Today, Oktoberfest is celebrated as a folk festival running from late September until the first weekend in October.
• The capital of Bavaria is Munich. It is the largest city in Bavaria and the third largest city in Germany.
• Bavaria was a kingdom for over 100 years, from January 1, 1806 to November 8, 1918 after Napoleon abolished the Holy Roman Empire. The six Bavarian kings reigned as constitutional monarchs.
• "Munchner Kindl" (or Munich child) the parade is led by the "Munchner Kindl", the symbol of Munich. This symbol developed over time from a monk figure. Munich in German means "place of monks". The figure can be seen all over Munich, even on manhole covers, but it is given a special place on beer mugs during Oktoberfest.
• Oktoberfest starts in September and lasts between 16 – 19 days, including the first Sunday in October.
• Six Million – the approximate number of people that attend the Oktoberfest around the world. The Oktoberfest is known as the largest volksfest (People's Fair) in the world.
• 10 – The number of beer-filled mugs containing one liter of beer that beer maids and waiters must be able to carry at a time.
• Traditional Bavarian beer is made of barley, hops, and water.
Fun Facts about Oktoberfest at Sofitel Philippine Plaza Manila (Various Numbers: )
• Over 7,500 Maß (traditional one-liter mug) of beer consumed in a span of 2 days during Oktoberfest 2015.
• 3,350 – Number of people that came to Oktoberfest 2015 in the Philippines
• 1,300 kg of German sausages, 500 kg of Pork knuckles, 700 kg of chicken, 600 kg of Sauerkraut consumed in a span of 2 days during Oktoberfest 2015.
• 78 – years of existence of Oktoberfest and the German Club in the Philippines (since 1906)
• 7 – years that Oktoberfest is held at the Sofitel Philippine Plaza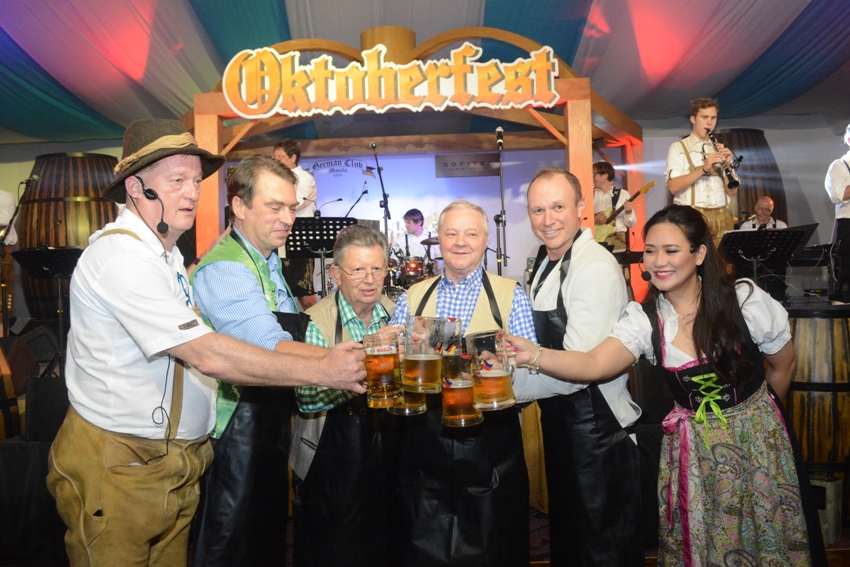 MUGS UP! 77th Oktoberfest
3,350 – Number of people that came to Oktoberfest 2015 in the Philippines
During the event, participating men and women are usually dressed in fancy Oktoberfest traditional costumes. Men usually wear a traditional Bavarian trachten shirt with lederhosen, knee socks and leather shoes.  For women, they wear a traditional Bavarian dress with an apron called a dirndl. Here are a few things you should know about it:
• When a knot is tied on the woman's left side, this indicates that she is single.
• When a knot is tied on the right, it means that she is taken, either married or engaged.
• When a knot is tied in the front this means that she is a virgin.
• When a knot is tied at the back this shows that the woman is widowed.
Entrance of the Bavarian Sound Express band during the 77th Oktoberfest
Information from German Club and Sofitel Philippine Plaza Manila.