Spend a fun-filled weekend at 78th Oktoberfest on October 7 and 8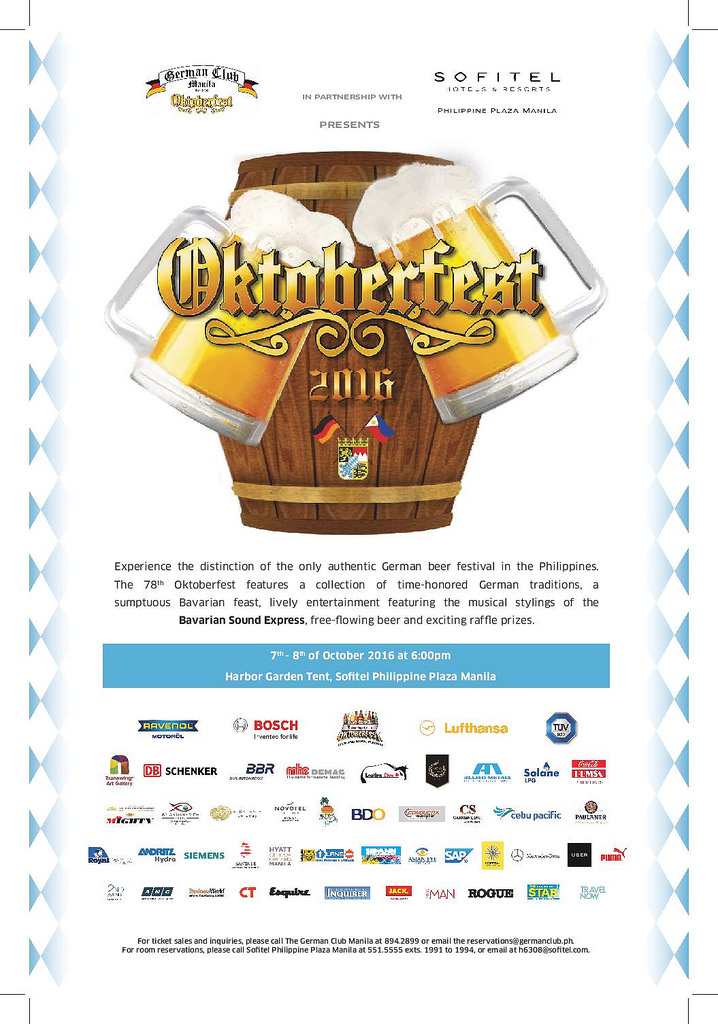 This October 7 and 8, get ready to experience the most authentic Oktoberfest in the Philippines again as the German Club and Sofitel Philippine Plaza Manila celebrates the 78th Oktoberfest.
Indulge on an endless stretch of sumptuous Bavarian culinary specialties by Sofitel's seasoned artisans, limitless servings of beer towers and a featured collection of time-honored German traditions and exciting raffle prizes! The Bavarian Sound Express will also return by demand to keep you on the dance floor in a musical showcase featuring traditional Bavarian Oktoberfest music, German and international party hits.
Sofitel Philippine Plaza Manila's master artisans remains true to their commitment to gastronomic excellence hence the presentation of an authentic feast of Bavarian specialties featuring roasted pork knuckles, roasted calf, laugen rolls, grilled German sausages and mouthwatering pastries with refreshing ice-cold San Miguel beer.
Turn the weekend into a fun-filled getaway at Sofitel Philippine Plaza Manila. Ladies put on your dirndls and gentlemen turn up in your lederhosen and celebrate in the true spirit and fashion of Oktoberfest. After an evening of gastronomic indulgence and live musical entertainment, retreat to a relaxing sanctuary at Sofitel Philippine Plaza Manila for a staycation non-pariel.
Prior to the main celebration on October 7 and 8, Oktoberfest was officially launched to the public on September 6, Tuesday. The press conference was held at the Grand Sunset Pavilion of Sofitel Philippine Plaza Manila.
For more information on ticket sales and the featured raffle, please call the German Club Manila at +63 2 894 2899 or email at reservations@germanclub.ph. For special room offers, kindly call Sofitel Philippine Plaza Manila at +63 2 551 5555 or email at H6308@sofitel.com.
Details:
What: 78th Oktoberfest
When: October 7 and 8, 2016
Where: Sofitel Philippine Plaza Manila, Pasay City