Yes Please! at Uptown BGC: Yes to a Whole New Universe
For those who have grown tired of clubbing and partying like we used to in college… For peeps of the 80's and 90's who now prefer chilling at home or hanging out at cafes… For those who are looking for quality night-outs… Yes Please! at Uptown Bonifacio is going to make you want to go "clubbing" again—although this new hangout spot doesn't necessarily call itself a nightclub.
Dive into the Yes Please! universe.
When the night comes, the lights drop at Yes Please. All that stand out are the neon lights and dim chandeliers faintly spotlighting the vintage-looking velvet sofas, graffiti on concrete walls, and the bar with long rows of hard liquors. The place has an unrestricted and casual atmosphere, almost with an enigmatic feel to it.
The small entryway to the bar is like a rip in space-time that will take you to a whole new dimension where you can just do as you please with your time as you sip on your cocktail and eat your meal. You are not required to dance. You are not required to dress up. No pressure. No expectations. That's what the Yes Please! universe is all about.
Give clubbing your own definition.
Their cocktails are to be taken as seriously as they are made. Their drinks have a strong appeal to the senses, especially the palate, with liquor and flavors purposefully mixed together.
The Maverick is a strong mix of Rittenhouse Rye, St. Germain Elderflower liquor, Sauvignon Blanc, Amaro Montenegro, and vanilla bitters. Also dubbed the perfect wingman, this drink will be a valuable asset for you in hooking up with someone tonight.
Maverick (Php 590)
The Legends of the Hidden Temple is a bourbon-based cocktail made with Wild Turkey 101. It has some zesty sourness brought by the combination of green mango, lime juice, and tamarind concentrate and enhanced by egg white and the tropical flavors of tiki bitters.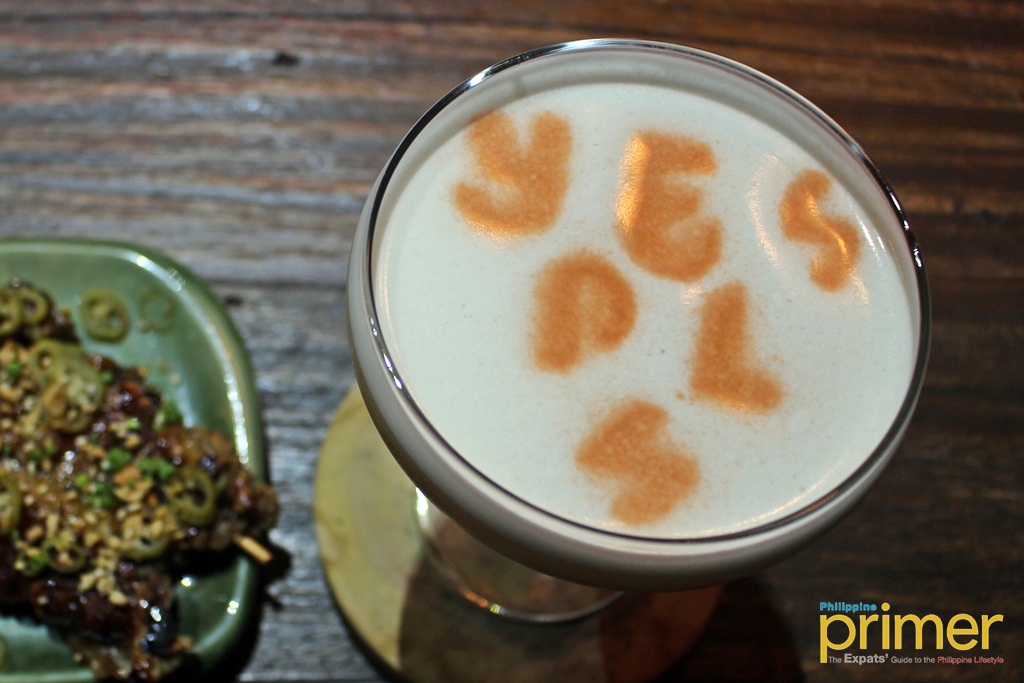 The Legends of the Hidden Temple (Php 350)
Tommy Lee meanwhile is said to be a harder or long version of the famous Negroni. This drink is made with Tanqueray Gin, Campari, Dolin Sweet Vermouth, fluffed orange juice and carbonated juice.
Tommy Lee (Php 350)
In case you haven't noticed, the cocktails make a lot of reference to the most nostalgic things of the 80's and 90's.
These cocktails can especially be enjoyed with the hearty meals that Yes Please! offer. They are not that sweet, which makes them perfect together with meals because such cocktails help boost your appetite so you can enjoy your dinner more.
If you're wondering which drink would be best paired with which meal, Yes Please! has already made the matchmaking for you. They offer perfect pairs at lower prices from 6 p.m. to 9 p.m.
Have the Maverick with Sisig Chirashi, a meal inspired by a Japanese rice dish. Only, instead of using fish as toppings on Japanese rice, they used pork cheek and chicken skin mixed with chicken liver aioli, green chili, and furikake.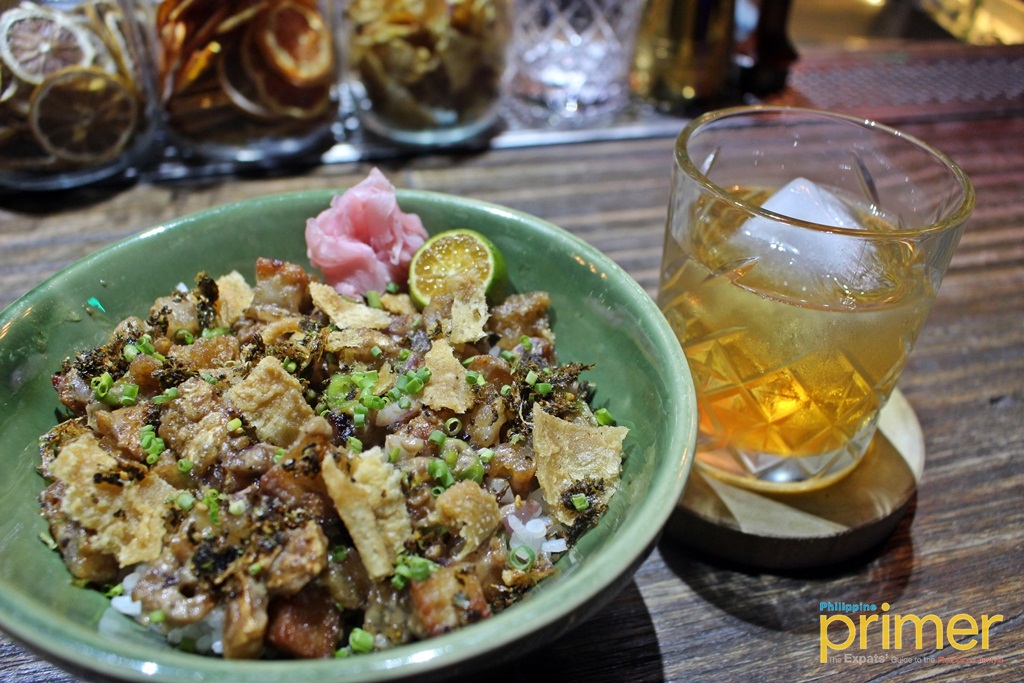 Sisig Chirashi (Php 390) + Maverick (Php 590) = Perfect Pair (Php 890)
For The Legends of the Hidden Temple, the perfect partner is Bulaklak Kushiyaki, a soft and crunchy appetizer made with pork innard skewers sprinkled with pickled chili and peanuts.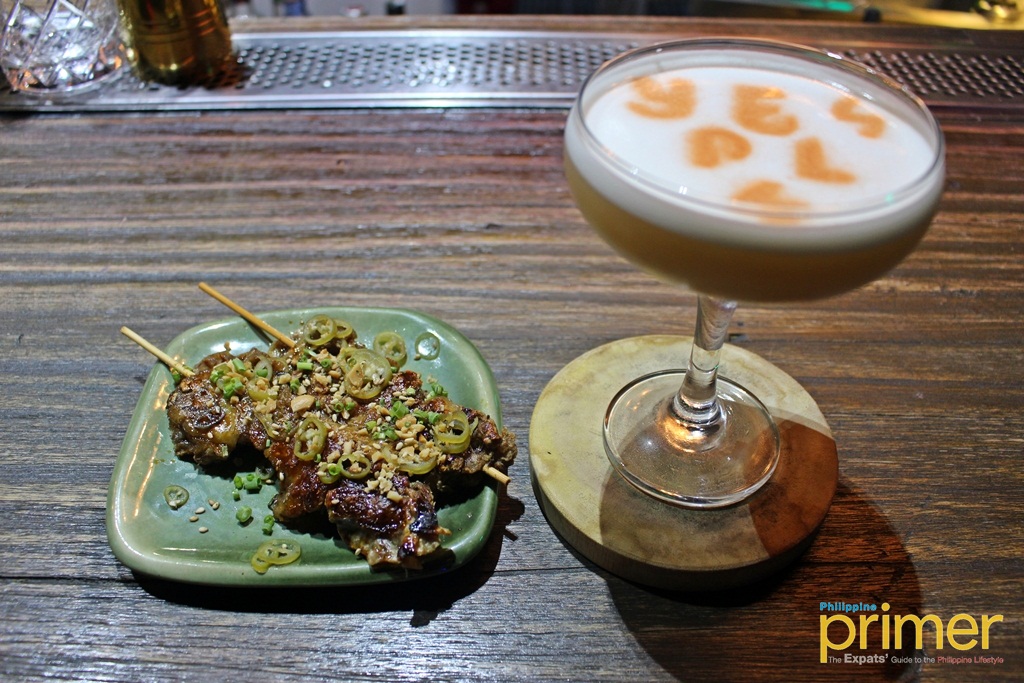 Bulaklak Kushiyaki (Php 390) + Legends of the Hidden Temple (Php 350) = Perfect Pair (Php 670)
A hard drink like Tommy Lee meanwhile can perfectly match a good steak meal like Garlic Steak Rice. This dish is made up of meaty and tender chunks of USDA flat iron over rice mixed with wagyu mince, corn and soy, and topped with a sunny side up egg.
Garlic Steak Rice (Php 420) + Tommy Lee (Php 350) = Perfect Pair (Php 700)
With perfect pairs like these, Yes Please! shows that it is not simply a bar where you can have awesome drinks but also a great place for evening sustenance.
DJs also turn the music up every night, wherein club hits of the past decades prevail—just to add more atmosphere to the place.
It is not difficult to find Yes Please!, although it can leave the directionally-challenged dumbfounded on 38th Street if they don't look up. Find the black stairs of elevating affirmatives until you arrive at the final step of "YES PLEASE."
This is not a speakeasy. There are no secret passcodes. Just turn the knob and enter the Yes Please! universe.
---
Written by Rizelle "Rei" Leaño

11th Ave. corner 38th St., Uptown Bonifacio, BGC, Taguig City

6 p.m. - 3 a.m. (Mon. to Sat.)