GUIDE: Your Favorite Filipino Desserts and Where to Get Them
GUIDE: Your Favorite Filipino Desserts and Where to Get Them
Filipino desserts often incorporate indigenous ingredients like rice, coconut, and tropical fruits, combined with techniques and flavors introduced by various cultures throughout history. This unique combination creates a harmonious balance of sweet, savory, and even tangy flavors, resulting in desserts that are both familiar and delightfully unexpected.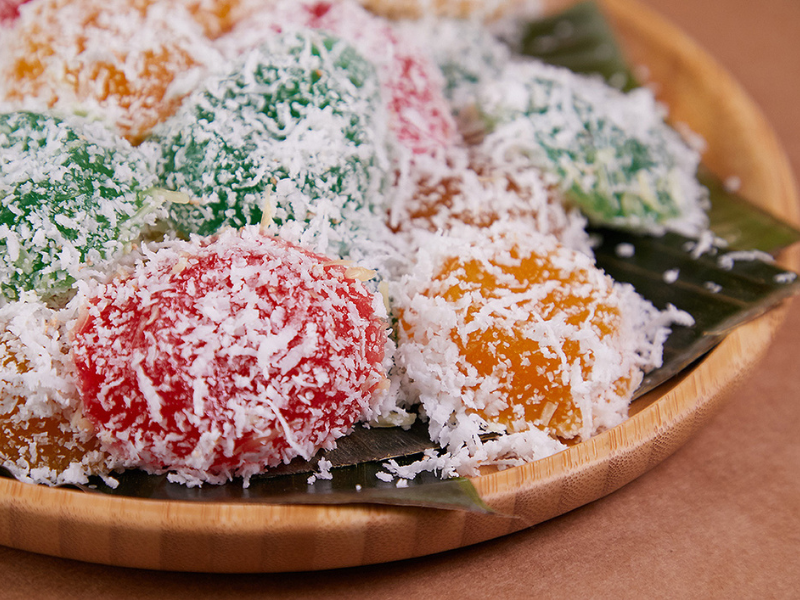 Pichi-Pichi / IMAGE from The Maya Kitchen
From the iconic halo-halo bursting with colorful layers of shaved ice, fruits, and sweet beans, to the delicate bibingka rice cakes with the aroma of fragrant banana leaves, we'll take you on a mouthwatering adventure to uncover the best places to savor these delightful creations!
Halo-Halo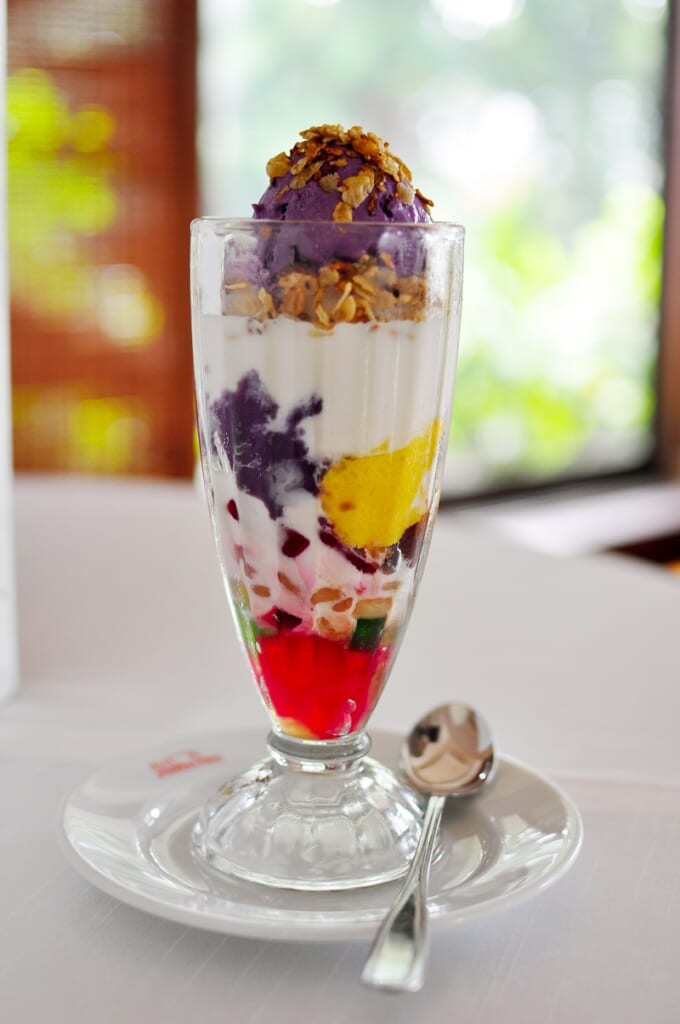 Halo-Halo from MilkyWay Cafe / IMAGE from Philippine Primer
Halo-Halo is a delightful concoction that embodies the spirit of the Philippines in a captivating blend of shaved ice, an assortment of colorful sweet beans, jellies, tropical fruits, and a crown of creamy leche flan. All these are topped off with a generous drizzle of evaporated milk that transforms the medley of ingredients into a luscious masterpiece.
Digging beneath this creamy creation, you will sometimes be surprised by a spoonful of ube that adds a sweet, earthy note to your Halo-Halo. 
Where to get them: Most Filipino restaurants serve Halo-Halo, may it be the traditional version or with a modern twist. However, if you'd love to have a halo-halo party at home or in the office, you might want to try ordering at MilkyWay Cafe in Makati! They serve Halo-Halo Kits in a reusable insulated bag, filled with condiments good for six (6) people!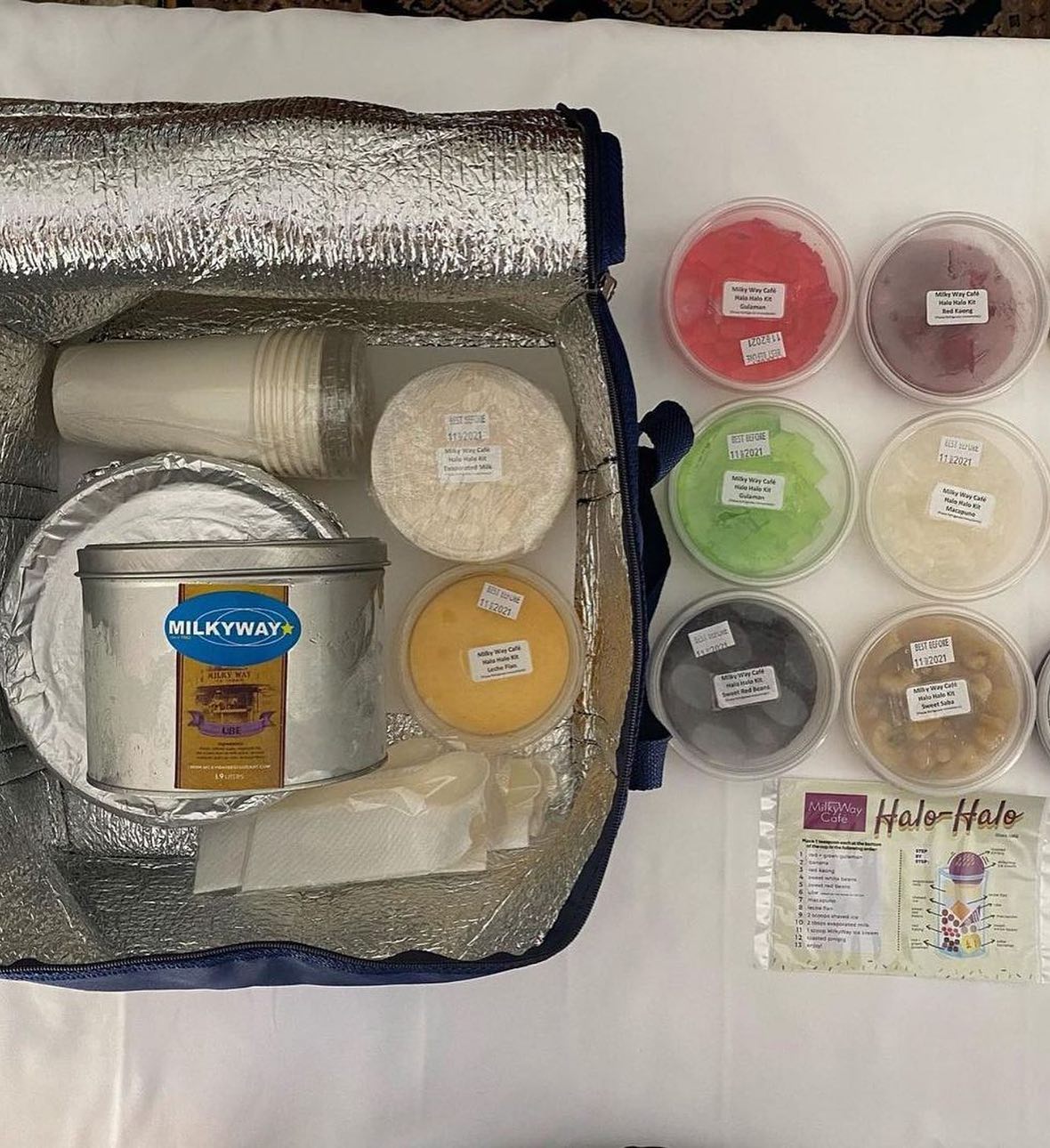 Halo-Halo Kit / IMAGE from MilkyWay Cafe's Facebook page
You may opt for a Halo-Halo Kit with a half-gallon of MilkyWay Ube Ice Cream for Php 1,990, inclusive of six (6) sets of cups, spoons, and napkins! Visit its Facebook page for more information.
Leche Flan
IMAGE from Unsplashed
What is perhaps the favorite ingredient of many on a Halo-Halo is the Leche Flan. It is a classic Filipino dessert that is loved by many for its custard texture and caramel sweetness. The Leche Flan is made by combining egg yolks, condensed and evaporated milk, and sugar to create a creamy concoction. This mixture is then placed in molds before it is steamed.
It is served chilled, often during festivals, birthday celebrations, and even just after meals as a typical sweet dessert.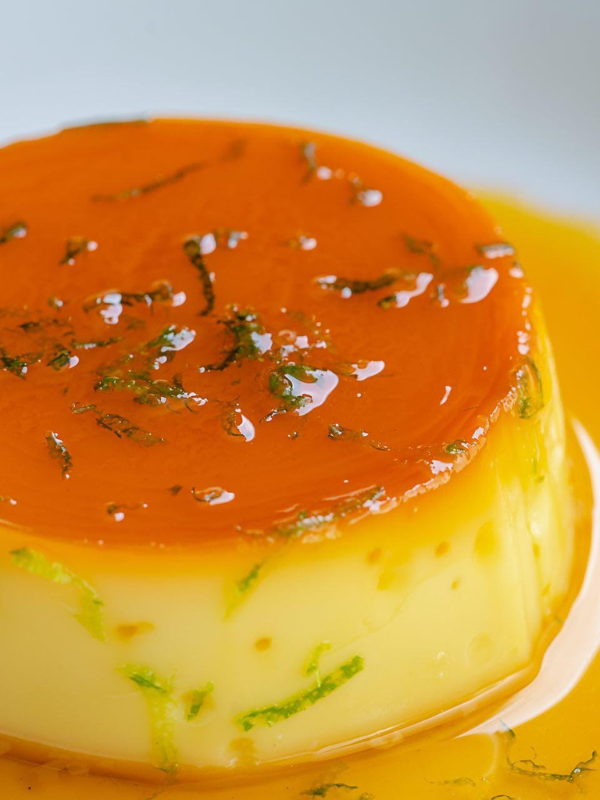 Gata Leche Flan / IMAGE from Manam Comfort Food's Facebook page
Where to Get Them: Leche Flan can often be ordered in almost any Filipino restaurant in the country. Manam Comfort Food, for example, has its own version of Gata Leche Flan that is available from lunch to dinner.
Turon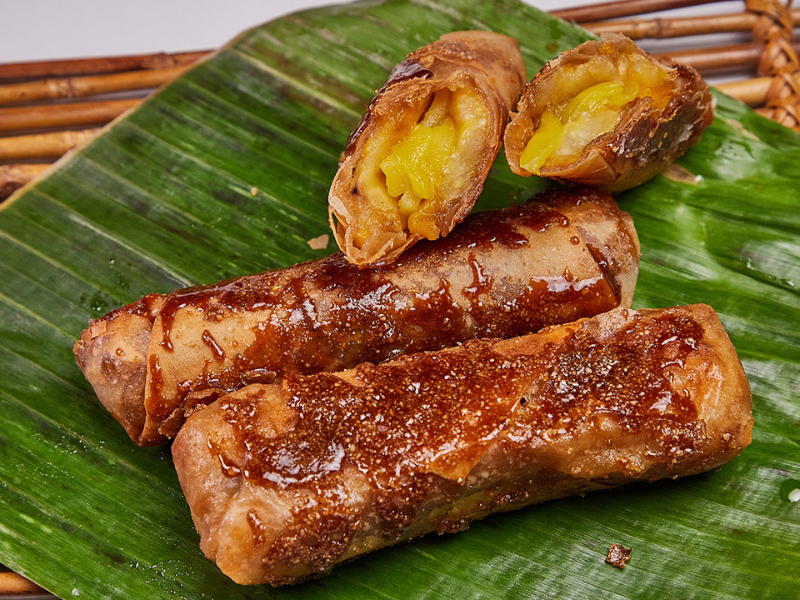 Turon / IMAGE from The Maya Kitchen
More than a dessert, Turon is a popular Filipino snack and is often considered a street food as it is available almost anywhere with a sidewalk.
Turon is made with saba bananas, wrapped in spring roll wrappers, and deep-fried until golden and crispy. Caramelized sugar often makes it a tastier treat, giving the Filipino snack a combination of sweet and salty that is delectable to the palate.
Where to get them: Several Filipino restaurants around the Metro offer Turon with a modern twist just like Manam Comfort Food that uses mangoes and Kesong Puti in its Turon and serves them with ice cream!
Turon of Mango and Kesong Puti with Ice Cream / IMAGE from Manam Comfort Food's Facebook page
However, if you're looking for the tradition one nearby, you might want to check Jolly Jeeps or mobile food trucks all over Makati as they sell them for an affordable price.
Pichi-Pichi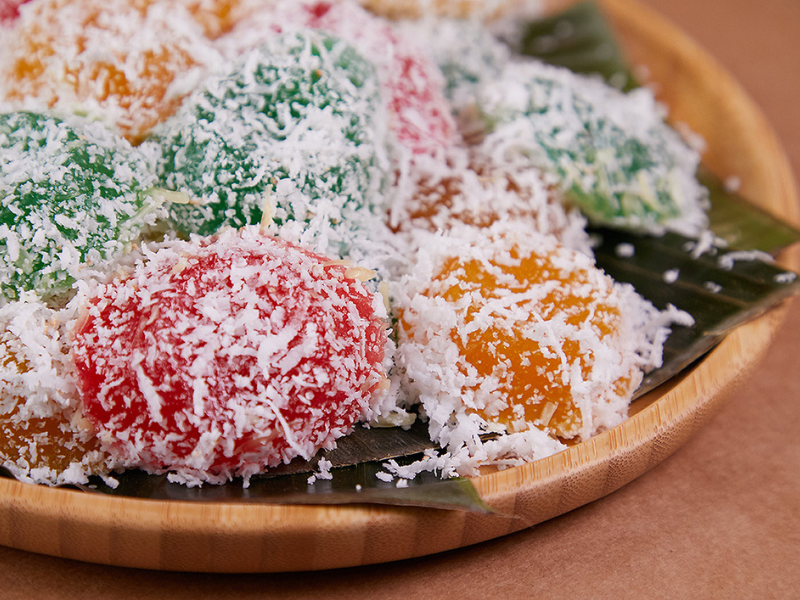 Pichi-Pichi / IMAGE from The Maya Kitchen
The sweet and chewy Pichi-Pichi is a Filipino dessert that can often be seen in fiestas and other celebrations. It is made from grated cassava and sugar, steamed until it sets and becomes translucent. It is then sliced into bite-sized pieces and topped with grated coconut and cheese.
While the Filipino dessert resembles jelly with its often colorful appearance, Pichi-Pichi tastes naturally sweet and starchy, even more highlighted by the contrast of the saltiness of the cheese on top.
Where to get them: Dolor's Kakanin has been serving delectable Filipino rice cakes and other desserts since 1930!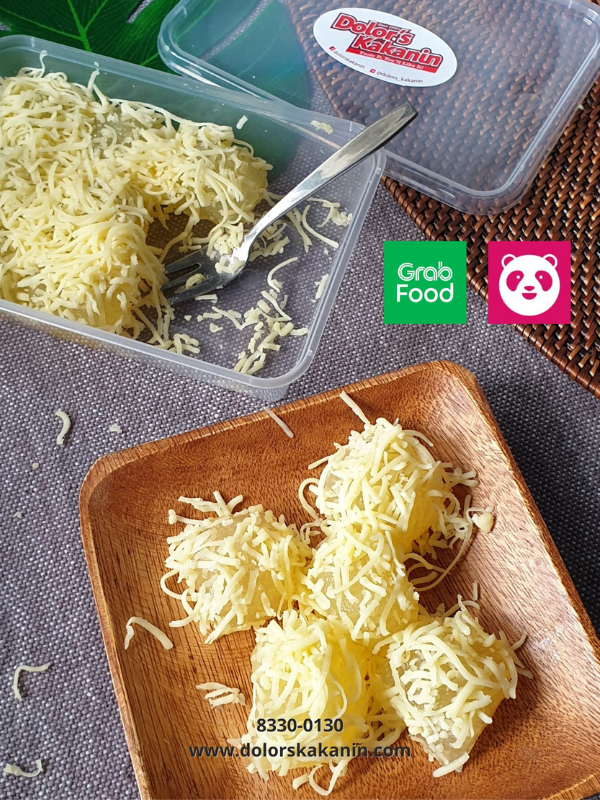 IMAGE from Dolor's Kakanin's Facebook page
If your office is in Makati or Quezon City, you are lucky as Dolor's Kakanin has branches in Cash & Carry, Makati City and in Kamias, Quezon City. This store also delivers via GrabFood and foodpanda, making it convenient for you to have your Pichi-Pichi party with your colleagues!
Palitaw
IMAGE from Via Mare's Facebook page
Because rice is a staple crop and a fundamental part of the Filipino cuisine, it comes as no surprise that some, if not most, of Filipino desserts are made using rice as a key ingredient, just like the Palitaw (or Palitao). This Filipino dessert is made of glutinous rice flour mixed with water to form a dough and shaped into small discs.
It is boiled until cooked, coated with grated coconut, and sprinkled with sugar. What makes it even delectable is the sesame seeds or toasted pinipig on top. The result is a chewy dessert that is a perfect afternoon snack.
IMAGE from Via Mare's Facebook page
Where to get them: Cafe Via Mare, a Filipino restaurant with several branches in the Metro, serves native delicacies on their menu among which is Palitaw. This can be paired with a cup of hot coffee for an afternoon snack.
Ginataang Bilo-Bilo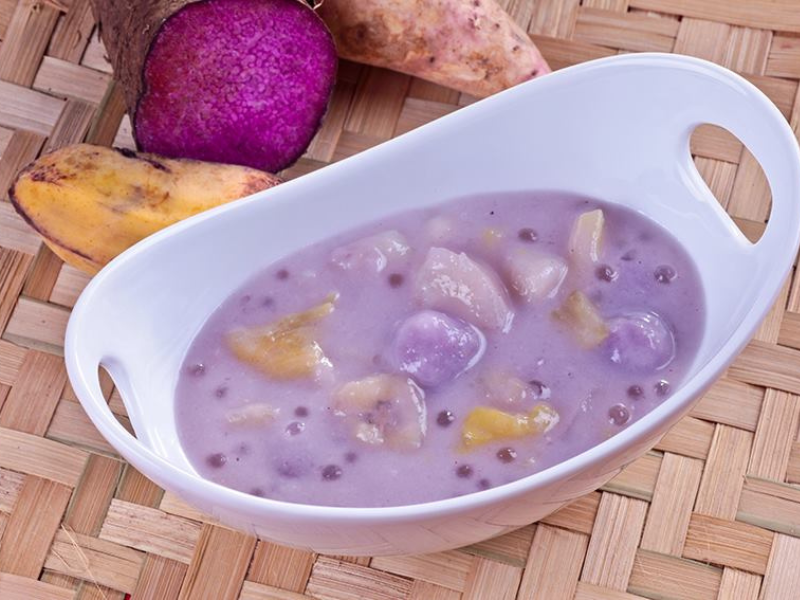 IMAGE from Via Mare's Facebook page
Also known as Ginataang Halo-Halo, this Filipino dessert is also made of glutinous rice flour, shaped into balls, and cooked in coconut milk or gata, together with other ingredients such as kamote (sweet potato), langka (jackfruit), and sago (tapioca pearls).
The finished product is a warm and comforting bowl of sweet treat that is a great after-meal dessert for many!
Where to Get Them: Just like the Palitaw, Ginataang Bilo-Bilo is available at Cafe Via Mare. It is served with purple yam, taro, and saba bananas, aside from kamote and langka.
Sapin-Sapin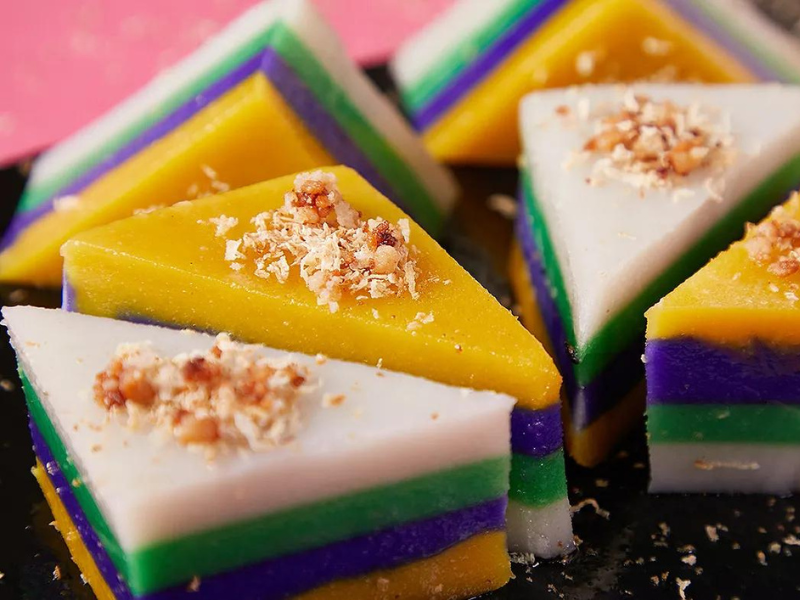 IMAGE from The Maya Kitchen
One more Filipino dessert made of glutinous rice flour is the Sapin-Sapin. Famous for its vibrant layers and delightful, rich flavors, this traditional Filipino dessert includes coconut milk, condensed milk, and sugar aside from the rice flour. Like the Pichi-Pichi, the Sapin-Sapin is often seen during big celebrations and family gatherings.
Where to Get Them: You may order Sapin-Sapin from Dolor's Kakanin just like the Pichi-Pichi! Branches of this native delicacies shop also lets you order a combination of different desserts in one big serving. Visit their Facebook page at Dolor's Kakanin!
Bibingka & Puto Bumbong
IMAGE from Via Mare's Facebook page
Often associated with the Christmas season in the Philippines, Bibingka and Puto Bumbong are well-loved for their flavors that embodies the warmth and tradition of Filipinos during this wonderful time of the year.
Both are rice cakes, cooked differently to produce two unique native delicacies that can also be considered desserts.
Bibingka, for example, is made from a mixture of rice flour, coconut milk, sugar, and eggs, allowing it to have a soft and slightly dense texture, similar to a sponge cake. What makes this even more flavorful is the addition of salted egg on top as well as the aroma of burnt banana leaves where it is often placed when cooked.
IMAGE from Via Mare's Facebook page
On the other hand, Puto Bumbong is a steamed rice cake, poured into bamboo or metal cylinders until cooked. It is typically served with a generous sprinkle of grated coconut, sugar, and butter.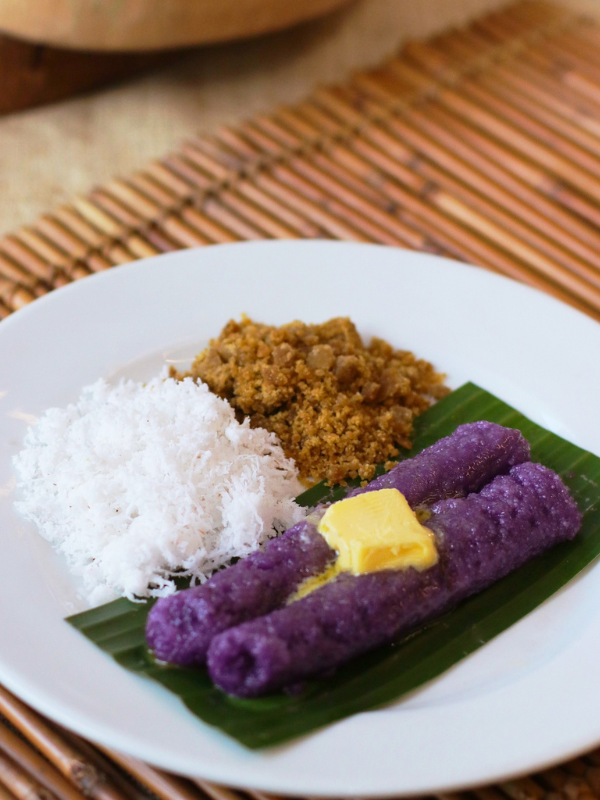 IMAGE from Via Mare's Facebook page
Where to Get Them: While associated with the holiday season, these two beloved rice cakes are available all-year round. They are often sold in pairs or can also be bought solo in several Filipino restaurants like Manam Comfort Food, Cafe Via Mare, and even Max's Restaurant during the 'Ber months.
What Filipino dessert would you like to try? Share them with us and let us celebrate the sweet flavors and tradition of Filipino desserts!