FYI: This is How You Apply for National ID
FYI: This is How You Apply for National ID
In 2018, President Rodrigo Duterte signed the Republic Act 11055, or the Philippine Identification System Act that aims to establish a single national ID for all Filipinos and resident aliens.
The national ID aims to boost efficiency, especially in dealing with government services where people will only need to present it during transactions.  Today, we're showing you the step-by-step process on how to apply for a national ID.
STEP 1  ONLINE REGISTRATION AND SETTING APPOINTMENT  
IMAGE Grab from Philippine Identification System  
FOR HOUSE-TO-HOUSE REGISTRANTS: There is no need to go online to register and book an appointment. Please wait for the SMS from PSA and updates from your local government units (LGUs) for your Step 2 registration schedule.

STEP 1.1  Online registration is the first step of the process. The information must be filled up through this link.   

STEP 1.2  Fill the necessary information correctly. Note that providing false information to PhilSys is punishable by law with a penalty of three (3) to six (6) years imprisonment and a fine of 1 to 2 million pesos in accordance with Section 19 of Republic Act No. 11055 or the PhilSys Act.
STEP 1.3  After registering online, an alert note will appear on your screen. It will automatically check the nearest available registration center near your address. Currently, there only 14 municipalities open for online booking since May 24, 2021. However, announcements will be made via the PhilSys Facebook page for the opening of more municipalities for appointment scheduling in the coming weeks.

STEP 1.4  Save your application as you wait for the nearest center to be available in your area and make sure every information is correct. Please take note that the email address and phone number registered are very important so you can receive updates on your national ID.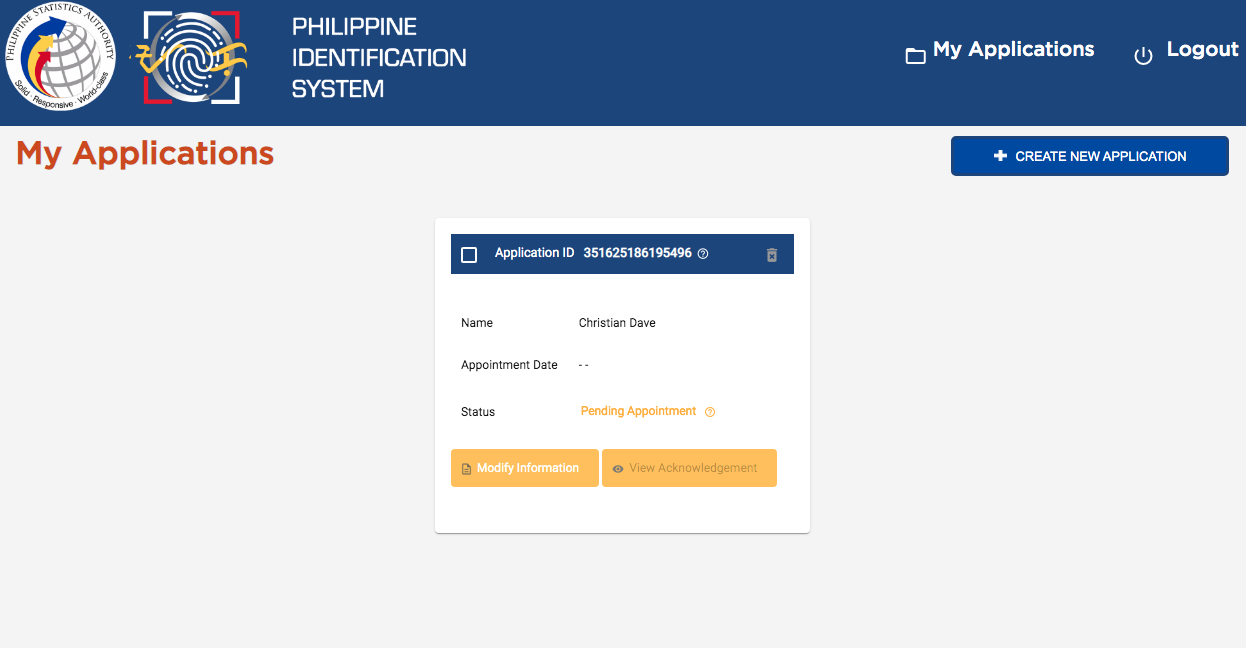 Also read: LOOK: Philippine Statistics Authority Tied up with Robinsons Mall for National ID Registration
***
STEP 2 VALIDATION OF INFORMATION 
In any case, you can proceed on Step 2 if there's an available registration center near you. The validation process requires supporting documents. Also, always wear your face mask and face shield, and observe social distancing in the registration area. Bring your own pen and alcohol or hand sanitizer. Wear proper clothing and avoid wearing shorts, sleeveless, etc. Step 2 registration includes the recording of your biometrics such as fingerprint, iris scan, and headshot. And most importantly, keep your transaction slip.
***
STEP 3 ISSUANCE OF ID
Registration for PhilSys is free of charge and the same goes for delivery. However, charges may apply for a lost or damaged ID.
 ***
SUPPORTING DOCUMENTS
PRIMARY: The registrant is encouraged to bring any of the following primary documents:
DFA-issued Philippine Passport or ePassport
GSIS or SSS-issued Unified Multi-purpose Identification Card (UMID)
Land Transportation Office (LTO)-issued Student's License Permit or Non-Professional/Professional Driver's License
PSA-issued Certificate of Live Birth AND one (1) government-issued identification document which bears full name, front-facing photograph, and signature or thumb mark
(If there are discrepancies between the PSA-issued Certificate of Live Birth and the government-issued ID presented, the PSA-issued Certificate of Live Birth would be considered as a secondary supporting document).
SECONDARY: If the registrant does not have any of the above-mentioned documents, he/she may bring the following secondary documents:
PSA-issued Certificate of Live Birth/NSO-issued Certificate of Live Birth with Birth Reference Number (BreN)
LCRO-issued Certificate of Live Birth
PSA-issued Report of Birth
PSA-issued Certificate of Foundling
Integrated Bar of the Philippines (IBP) Identification Card
Professional Regulatory Commission (PRC) ID
Seaman's Book
Overseas Workers Welfare Administration (OWWA) ID
Senior Citizen's ID
SSS ID
Pantawid Pamilyang Pilipino Program (4Ps) ID
License to Own or Possess Firearms (LTOPF) ID
NBI Clearance
Police Clearance/ID
Solo Parent's ID
PWD ID
Voter's ID
Postal ID
Taxpayer Identification Number (TIN) ID
Philhealth ID
Philippine Retirement Authority (PRA)-issued Special Resident Retiree's Visa (SRRV)
National ID from other countries
Residence ID from other countries
The following identification documents shall be accepted as secondary supporting documents provided that they have a front-facing photograph, signature/thumbmark, full name, permanent address, and date of birth.
Employee ID
School ID
Barangay Clearance/ Barangay ID
City/Municipal ID
---
Source: https://www.philsys.gov.ph/ 
Screengrab from Philippine Identification System