COMELEC Wants You: How to Register as a Voter
COMELEC Wants You: How to Register as a Voter
The 2022 Philippine presidential elections is just around the corner and there's no better way to ensure that only the best candidate will get the job for the next six years (of Filipinos lives) than to exercise your right to vote. But first, you have to be a registered voter.
There are certain requirements for applicants who want to file an application for registration as a voter. These requirements are embodied in Section 9 of Republic Act No. 8189, and stated by the Commission in Section 5 of COMELEC Resolution No. 10549.
STEP 1
Qualifications to Register
Any Filipino citizen who is not yet a registered voter, may apply for registration, provided he/she possesses the following qualifications for May 9, 2022, National and Local Elections:
At least eighteen (18) years of age on or before May 9, 2022, National and Local Elections;
A resident of the Philippines for at least one (1) year and in the place wherein he/she proposes to vote, for at least six (6) months immediately preceding the May 9, 2022, National and Local Elections; and
Not otherwise disqualified by law.
Any person who has not reached the required voting age or period of residence on the day of registration but will possess such qualifications on or before the May 9, 2022 National and Local Elections, may register as a voter. However, the reception of their applications shall commence only on May 10, 2021 (at least one year prior to election day).
Documentary Requirements
A person has to establish his (or her) identity upon filing his (or her) application. The following are valid identification documents:
Employee's identification card (ID), with the signature of the employer or authorized representative;
Postal ID ;
PWD Discount ID;
Student's ID or library card, signed by the school authority;
Senior Citizen's ID;
Driver's license;
NBI clearance;
Passport;
SSS/GSIS ID;
Integrated Bar of the Philippine (IBP) ID;
Licensed issued by the Professional Regulatory Commission (PRC);
Certificate of Confirmation issued by the National Commission on Indigenous Peoples (NCIP) in case of members of ICCs or IPs; and
Any other valid ID.
In the absence of any of the above-mentioned identification documents, the applicant may be identified under oath by any registered voter of the precinct where he/ she intends to be registered, or by any of his/her relatives within the fourth civil degree of consanguinity or affinity. No registered voter or relative shall be allowed to identify more than three (3) applicants.
Community Tax Certificates (cedula) and PNP clearance shall not be honored as valid identification documents for purposes of registration.
STEP 2
Registration Schedule
The resumption of the system of continuing registration of voters shall commence until September 1, 2020, except in areas declared under ECQ or MECQ.
1.1 If an area is under ECQ or MECQ, but later on transitioned to GCQ/MGCQ, click here.
1.2 If an area under GCQ/MGCQ or "no quarantine status" transitioned to ECQ or MECQ status, click here.
1.3 In both instances, click here.
  As per Press Release entitled: "COMELEC Extends Voter Registration Hours", all Offices of the Election Officer (OEOs) nationwide will be open to receive applications for voter registration from Tuesdays to Saturdays, including holidays, from 8:00 A.M. to 5:00 P.M.
Registration Centers 
By law, the registration centers are the local COMELEC offices or the Offices of the Election Officer (OEO). There is one in every district, city or municipality. Most of the time, it is located at or near the city or municipal hall.
Location of the Local COMELEC Office
If you do not know where your local COMELEC office is specifically located, you may view our Field Offices Directory for information.
Satellite Registration Offices
Pursuant to Section 8 of COMELEC Resolution No. 10549, every barangay shall have at least one (1) special satellite registration office, subject to certain condition.
Any interested party may request for the conduct of special satellite registration, which shall be conducted in barangay halls, public/private schools, commercial establishments and other public places within the city/municipality to ensure wider voter participation.
PDL (Person Deprived of Liberty) Satellite Registration

PDL, or Person Deprived of Liberty, are also entitled to satellite registration in detention centers/jails in accordance with certain guidelines. This is pursuant to Section 9 of COMELEC Resolution No. 10549.

Satellite Registration for Person with Disabilities (PWDs), Indigenous Cultural Communities (ICCs/IPs), Senior Citizens (SCs) and Internally Displaced Persons (IDPs) registrants
Pursuant to Section 9 of COMELEC Resolution No. 10549, a satellite registration shall be conducted in areas where there are PWDs, ICCs/IPs, SCs and IDPs registrants.
STEP 3 
ERB Approval Schedule
All applications for registration and other voter-related applications are not automatically approved. These applications have to be approved or disapproved by the Election Registration Board (ERB) in every applicable district, city and municipality.
The ERB is mandated by RA 8189 to hear registration applications every quarter of every year for the registration period.
Pursuant to COMELEC Resolution No. 10635, the ERB is set to hear all applications in the following schedules:
Screengrab from COMELEC's official website 
Registration Procedures
A qualified applicant need only to appear personally at the Office of the Election Officer (OEO), the local COMELEC office.
The applicant's identity and residence will be verified. (Bring a valid ID with photograph and signature.)
The applicant's status of registration will also be verified. This may be done using a computer application at the OEO.
After successful verification of the applicant's identity, he (or she) shall be given three (3) copies of the application forms to fill up. A blank Application Form is also available for download from this Website. This form may be downloaded and printed. It may be accomplished before proceeding to the OEO to save on time. However, it should only be signed and thumb marked before the EO.
The applicant's biometrics will then be digitally captured using the Voter Registration Machine (VRM) by an authorized VRM Operator.
An Acknowledgment Receipt will be given to the applicant afterward.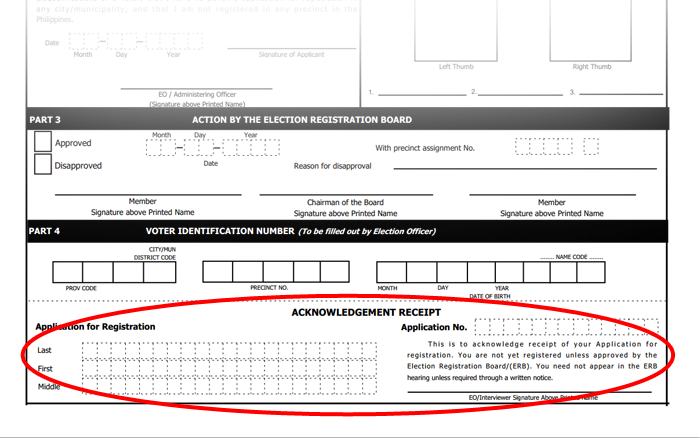 Screengrab from COMELEC's official website 
STEP 4
Biometrics Data Capture
It is the policy of the Commission to establish a clean, complete, permanent, and updated list of voters through the mandatory taking of photographs, fingerprints, and signatures (biometrics) in the registration process. This is declared in R.A. 10367.
The VRM is simply a desktop computer, with a digital camera, fingerprint scanner, and signature pad attached to it. Biometrics capture becomes possible with the use of this high-tech equipment, and the Voter Registration System (VRS).
Voter ID Card
The voters' identification card was being issued to the registered voter pursuant to Section 25 of Republic Act No. 8189. It shall serve as a document for his identification. In case of loss or destruction, no copy thereof may be issued except to the registered voter himself and only upon the authority of the Commission.
The Voter ID card is a valid ID that is recognized by all government offices and banks for a person's identification purposes. It is, however, not a requirement for a person to vote.
However, due to the approval by the House of Representatives of a bill seeking to establish a National Identification System, which proposes only one ID for all government transactions, the generation and distribution of Voter ID cards have been put on hold by the Commission.
---
Source: Commission on Election (COMELEC)