Guide to Ferry Routes Near Manila
Guide to Ferry Routes Near Manila
As an archipelago, the Philippines is surrounded by large bodies of water and in the past, ferries were used as a major transportation service. Today, however, smaller ferries are used for small tours and short rides.
In this guide, we have listed different ferry routes and tours you can hop on for your next Manila adventure!
Manila-Corregidor
The historical island of Corregidor sits at the entrance of Manila Bay and is accessible solely through the Sun Cruises Ferry. Tours, which depart from the Esplanade Seaside Terminal at the SM MOA Complex, are inclusive of ferry transfers, a guided tour, entrance fees to the island, buffet lunch, and day tour kits.
Travel time from Pasay, Manila to Corregidor Island is approximately 30 minutes. It is advisable to book your tour ahead of time or online. You can also park your car at the terminal.
Terminal Fee: Php 30
Corregidor Historical Tram Tour: Php 3,358 (Mon to Fri), Php 3,629 (Sat to Sun), Php 1,944 (Children 3-11 yrs old)
Bike Corregidor Package: Php 2,500
Corregidor Adventure Game (for team building): Php 3,500
For more information, visit their website or contact them through reservations@suncruises.com.ph or call 02-834-6857, 0998-968-5256, and 0998-968-3056.
Pasig River
Monitored by the Metropolitan Manila Development Authority (MMDA), the Pasig River Ferry has 11 stations going through Eusebio Avenue, Pasig City to Guadalupe, Makati City, and Escolta in Manila. All passengers are required to wear life vests through the duration of each trip.
First trip: 7 a.m. from Pinagbuhatan Station; 6:30 a.m. from Guadalupe Station
Last trip: 5:30 p.m. from Escolta Station; to 3:30 p.m. from Guadalupe Station
Below is the fare matrix for the Pasig River Ferry Service. For more information, visit the MMDA website.
Also read: Pasig River Ferry Service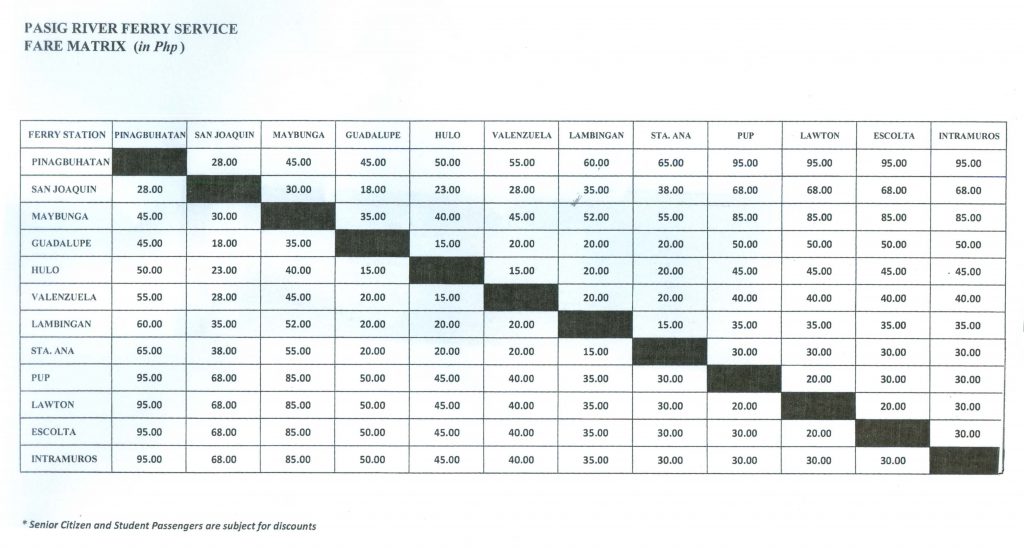 Manila-Bataan
Land travels to Bataan in Central Luzon usually depart from Pasay, but there is also a ferry from Esplanade Seaside Terminal that goes to the towns of Orion and Mariveles. Because of their limited schedules, time is key and the check-in counter will close 30 minutes ahead of departure.
Online booking is available through the 1Bataan Integrated Transport System website. The site also has additional reminders, updates, and other promotions or contact them through email its@1bataan.com or call 0917-629-4766 and 0908-888-6849.
Terminal Fee: Php 30
One way ticket: Php 450 (online rate), Php 500
Manila to Orion: 7 a.m., 12 p.m.; Orion to Manila: 9 a.m., 2 p.m.
Manila to Mariveles: 6 a.m.; Mariveles to Manila: 2:30 p.m.
Also read: Think about history and go to Bataan and Corregidor
2Go Routes from Port of Manila
2Go Travel has a ferry service from the Port of Manila in Tondo and a number of routes outside Metro Manila including Cebu, Cagayan de Oro, Bacolod, and Puerto Princesa. Their huge fleet and ports make them one of the largest land and sea travel providers in the country.
There is currently no set time and fare from 2Go.
For more information, other destinations, and schedules visit their website travel.2go.com.ph or contact them through info@2go.com.ph or call 02-528-7000.
Book this suite room on your next travel adventure to Coron and Puerto Princessa.It comes with a mini refrigerator,…

2GO Travelさんの投稿 2017年11月10日金曜日
Rates are subject to change without prior notice. Additionally, the government is currently working on improving the ferries around Manila including a Cavite-Pasay-Manila route this year.
So where will these ferries take you next? Tell us about your plans below!