Pahoy Pahoy Festival
Pahoy Pahoy Festival
Pahoy pahoy are scarecrows used by farmers in the province of Samar. In the town of Caliga, the humble pahoy pahoy is an indispensable part of farming, hence they celebrate it through a festival.
Pahoy-pahoy Festival of Calbiga town!

PIA Samarさんの投稿 2015年8月11日(火)
VIDEO PIA Samar
Every month of May, giant pahoy-pahoy made of indigenous materials dance on the streets with live bands playing the music. Traditionally, these bands use instruments made up of bamboos, cans, and stones. Its purpose is to scare maya birds and prevent them from pestering crops. If the giant scarecrows are not up on the streets, they can also be found in sari-sari stores and restaurants as displays.
IMAGE apcda.org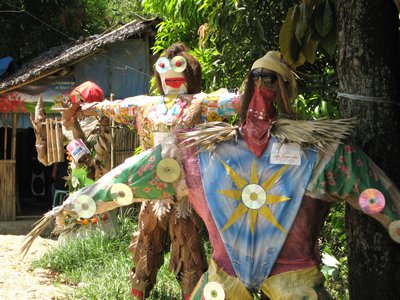 IMAGE dutchpickle.com
The festival has been a reason for family reunions and people from different places also travel and visit Samar to witness and experience the fun of this event. This coming month, the town of Caliga is going to celebrate the festival again and you might want to be there!
Details:
What: Pahoy Pahoy Festival
When: Every month of May
Where: Caliga, Samar