Expats' Guide: Philippine Red Cross
Expats' Guide: Philippine Red Cross
The International Red Cross and Red Crescent Movement is a global humanitarian movement geared towards protecting the life and health of everyone in the world. One of their recognized chapters is the Philippine Red Cross (PRC), one of the oldest organizations in the country.
A SYMBOL OF HOPE for anyone who's ever been in a "sticky" situation: the equal-armed cross representing the Philippine Red Cross.
History
Officially born in 1947, the PRC has been around since the revolutionary days of the country, giving aid and providing quality life-saving services that protect all Filipinos, most especially indigent citizens, in vulnerable situations.
It's a largely voluntary organization with hundreds of thousands of members across the country coming from all walks of life. These men and women are professionally trained and are ready to lend a helping hand at a moment's notice to whoever may be in need.
In its 69 years of existence, the PRC has evolved from simply providing short-term aids (like small outreach programs and medical assistance) to now providing an array of humanitarian services ranging from preventive medicine and therapeutic counseling to youth leadership.
PRC Today
PRC provides six major services to all Filipinos nationwide:
● Blood
● Disaster Management
● Safety
● Health
● Social Services
● Red Cross Youth and Volunteer Services
All of these services embody the fundamental principles of the International Red Cross and Red Crescent Movement: humanity, impartiality, neutrality, independence, voluntary service, unity, and universality. All Red Cross staff and volunteers embody these principles along with embracing the idea that being a Red Crosser is a way of life.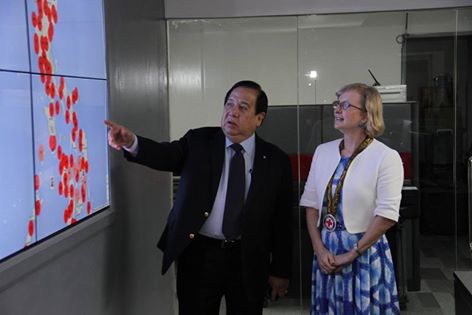 AT THE HELM. The man who's led the PRC for the past few years: incumbent Senator Richard Gordon. He's joined here by Australian Ambassador Amanda Gorely.
The PRC is led by its Chairman and Chief Executive Officer Senator Richard "Dick" Gordon, a man known for his impeccable public service record and the person responsible for transforming Olongapo City from a "Sin City" to one of the country's models for success.
How to be a member
If you're interested in joining the PRC, you can do so in three ways:
Membership. You can take part in the PRC as a Classic Member if you're between the ages of 6 and 25. There's also a Premier Membership (Bronze, Silver, Gold, and Platinum) for those between the ages of 6 and 65.
Volunteer. A popular way of joining the PRC, being a Red Cross Volunteer is more than just a title; it's a commitment to service. You can either be tapped for emergency situations or work on a regular basis for your Red Cross Chapter.
Donate. Blood donations have always been and will always be PRC's bread and butter. They provide blood services to all hospitals everywhere in the country. It's also the easiest way to be involved with the PRC, as they have blood donation centers around the country as well as blood donation drives.
If you would like to know more about the Philippine Red Cross, you can visit their website at www.redcross.org.ph. The PRC National Headquarters is located at 37 EDSA cor. Boni Ave., Mandaluyong City. Please visit their contact page for any questions, or you can also go to their Get Involved page to know how you can be involved with the PRC.
All photos grabbed from Philippine Red Cross Facebook page
Source: www.redcross.org.ph