Plug in and sweat those pounds away at Electric Studio
Everyone's been on a stationary bike, but being on a stationary bike and sweating like crazy is something a bit uncommon. Sweat those unwanted pounds away at Electric Studio, the Philippines' first indoor cycling studio.
INDOOR CYCLING AT ITS BEST. Electric Studio pioneered indoor cycling in the country, and they're doing great in keeping ahead of the pack.
Electric Studio is the pioneer indoor cycling studio in the Philippines. Tucked away nicely in Bonifacio Global City, they brought this fast-rising fitness trend to our shores last June 2015. They worked hand in hand with fitness professionals and doctors to create their one-of-a-kind Electric rides, which give anyone who hops onto their bikes a complete workout.
Ride with the pack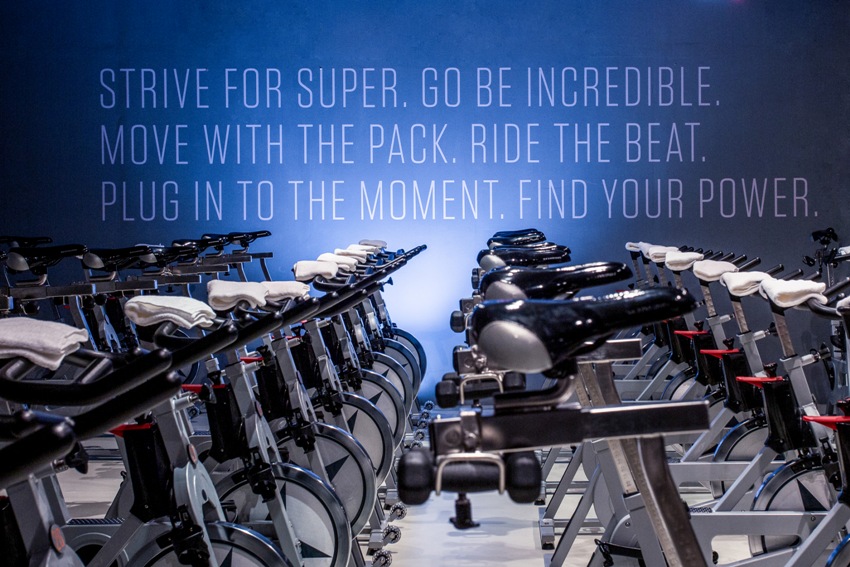 THESE WERE MADE FOR RIDING. And ride them you shall at Electric Studio.
Custom workouts are nothing new, but what makes Electric studio unique is their "we can do this together" attitude. Instructors are very passionate at pushing you towards your limits, but are always mindful if you need to take a backseat. The people you ride with share that passion, and encourage everyone to push themselves further than they have.
LOVE, SWEAT, AND GRATITUDE. These make up the ideals of their pack.
There's no need to worry about the kind of shape you're in. Their rides cater to all fitness levels, since each and every workout can be scaled according to how hard you want to push yourself. Trainers always advice riders to listen to their body, having them dial in the right amount of resistance for their fitness level.
Music is key
People who visit gyms on a regular basis will often tell you how important music is to working out. At Electric Studio, music plays a crucial role as these are part of the workout – instructors create playlists to get everyone in gear, all in a candlelit setting. No two rides will ever be the same at Electric Studio because you'll never hear the same playlist twice.
Choose from any of their four classes. Learn the fundamentals of indoor cycling with Jumpstart. Achieve your fitness goals with Pure Electric. Push past your limits with Power Hour. Go the distance with Electric Endurance.
If you feel the need to test the waters, you can try their different classes with the First Timer Package. It's only P1,500 for five rides, where you can choose whichever class you want to take for the next 30 days. It's a great way of figuring out which coach you like and what time you want to workout at Electric Studio.
Interested? Visit Electric Studio at the second floor of 8 Forbestown Rd., Bonifacio Global City, Taguig. They are open daily, with schedules posted on their website, electricstudio.ph. For more information, visit their website or call 02-833-6051, 02-833-6056, 0917-843-8424, or 0915-212-4929. You can also email them at letsride@electricstudio.ph.

WATCH OUT, RIDERS. There's a new den rising in Salcedo. Photo courtesy of Electric Studio's Facebook page.
BGC a bit too far from where you work or live? Head for Electric Studio Salcedo, located at 2 Central Bldg., 107 Valero St., Salcedo Village, Makati City. Follow their social media accounts: Electric Studio on Facebook and @teamelectricph on Twitter and Instagram.
Details:
Electric Studio
Taguig: 2/F, 8 Forbestown Rd., Bonifacio Global City, Taguig
Contact numbers: 02-833-6051, 02-833-6056, 0917-843-8424, or 0915-212-4929
Makati: 2 Central Bldg., 107 Valero St., Salcedo Village, Makati City
Contact number: 02-956-3537
Operating hours for BGC and Salcedo: Daily, schedules posted on electricstudio.ph
Website: https://www.electricstudio.ph/
Facebook: https://www.facebook.com/teamelectricph/
Twitter: https://twitter.com/teamelectricph
Instagram: http://instagram.com/teamelectricph/