LIST: Football Camps in Manila
As kids grow old, they will be involved in a lot of mind and physical activities which will be included in their line of interests and could eventually be their hobbies. It is important to know that a child has something that he or she is passionate about, may it be singing, cooking, dancing, or sports.
It's best to start them young. If your kids are into football, here's a list of football camps in Metro Manila that hold workshops, trainings, and football programs for kids.
Team Socceroo Football Club (TSFC)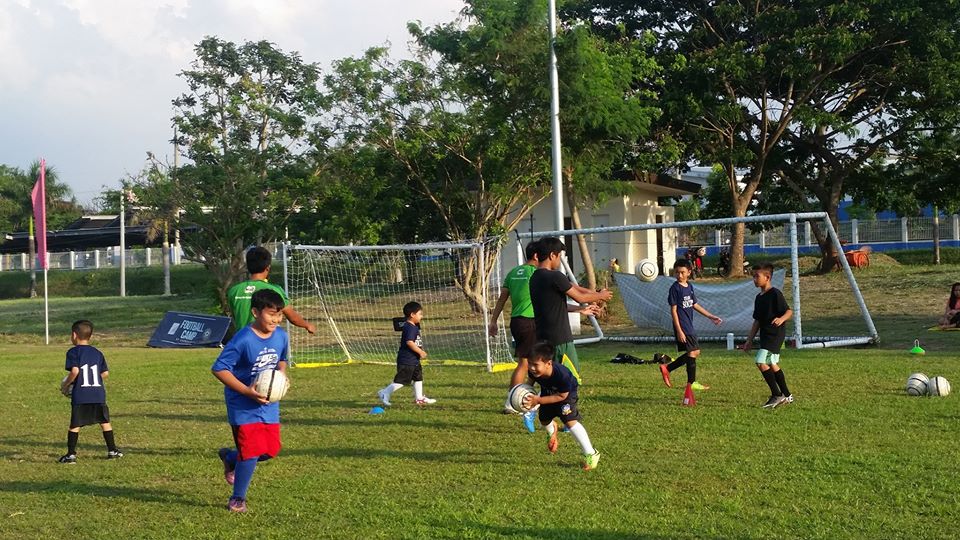 IMAGE/ TEAMSOCCERRO FACEBOOK
Team Socceroo FC (TSFC) is a football club based in Manila, Philippines established in 2005. It was founded by the Reyes brothers led by Jose "Wool" Reyes. They welcome all level of age groups from beginner to advanced (4yo-18yo). For Fees and Registration please see below;

Tahanan Village football field, Parañaque City (near SM BF Paranaque) every Tuesdays and Thursdays 4:30p.m. and every Saturdays 8:00a.m.

The Junction at Carmeltown Laguna (near Nuvali) every Friday 4:30p.m.

Php1500 for registration fee inclusions of 1set TSFC uniform

Php600 per session

Php4000 for 10 sessions
Telephone: 632-405-4357
Mobile: 0915-743-1475
Email: info@teamsocceroo.com
Website: http://www.teamsocceroo.com 
FC Barcelona Escola Camp Philippines
IMAGE/ @FBESCOLA PHILIPPINES FACEBOOK
FC Barcelona Football Camp is a five-day football camp by FC Barcelona Escola. It offers world-class football training to boys and girls, ages 6 to 14. The training is patterned after FC Barcelona's philosophy and methodology.
FC Barcelona Escola Camp Philippines aims to help the youth discover and experience the philosophy and training methodology of FC Barcelona. Training sessions are conducted by FC Barcelona Escola coaches and assisted by experienced local coaches.
E-mail: fcbescolaphilippines@gmail.com
Telephone number: +632-217-8666
Facebook: @FCBEscolaPhilippines
Website: www.fcbesolaphilippines.com
Kaya FC Academy
IMAGE/ KAYAFACADEMY FACEBOOK
As one of the most proud, respected, and professionally run football clubs in the Philippines, Kaya FC Academy aims to provide an avenue for the youth to harness their talents and pursue careers in professional football. The inclusive club tries to increase participation in the sporting community by delivering programs to nurture and develop individuals.
E-mail: info@kayafcacademy.com
Facebook: https://www.facebook.com/KayaFCAcademyOfficial/
Website: http://www.kayafcacademy.com
Mobile: 0917-827-1703
Manila Soccer Academy
IMAGE/MANILASOCCERACADEMY FACEBOOK
Manila Soccer Academy (MSA) established/founded in 2002, has been at the forefront of grassroots football in the Philippines for the past thirteen (13) years. Based at the Manila Polo Club with over 300 students and 25 coaches, MSA, is a non-stock non-profit corporation, that provides soccer training and education for kids aged between 3 to 18 years of age.
Mobile: 0977-843-4505
Email: manilasocceracademy@gmail.com
Facebook: https://www.facebook.com/ManilaSoccerAcademy/
Website: http://www.manilasocceracademy.com
Futball Funatics
IMAGE/ @FUTBALLFUNATICS
Futbol Funatics offers year-round camps in various locations around Metro Manila, specifically Cavite, Paranaque, Alabang, Makati, Taguig and Pasig. Each module is usually composed of 10 sessions. In a year, 5-6 modules are offered per camp venue. Training in most venues is on a twice-a-week basis, schedule being dependent on your selected camp venue. The Beckham Buddies sessions (ages 3 to beginner 6's and 7's) run for 1 hour, while sessions for all other older age groups run for 1.5 hours. Enrollees are accepted any time throughout a module.
Contact Number: 622-2898 / 0917-329-0011
E-mail: futbolfunatics@yahoo.com
Website: http://www.futbolfunatics.com
Facebook: https://www.facebook.com/futbolfunatics/
CCF Kids FC
IMAGE/ CCF KIDS FC
CCF Kids Football Club is the official kids' football (soccer) club of Christ's Commission Fellowship, Philippines. It is part of the CCF Sports Ministry family. The team is put together by passionate players, coaches, and followers of the Lord Jesus. CCF Kids Football Club continues to spend weekends with the kids for one G.O.A.L.
God first.
Others second.
Always give God my best.
Level-up my game.
They train on Saturdays, from 8am to 10:45am, at the Corinthian Gardens Football Field near Robinson's Galleria. The ministry is open to those 7 to 17 years old. As they train, they also host tournaments and join other leagues.
Contact Number: 09178048216
E-mail: futbolfunatics@yahoo.com
Facebook: https://www.facebook.com/CCFKidsFootball/
---
Information and image grabbed from: futbolfunatics, ManilaSoccerAcademy, KayaFCAcademyOfficial, fcbesolaphilippines, teamsocceroo
You might also like...