Bliss Yoga in Makati: Your Go-To Place for Overall Well-Being
There are many ways to overcome stress—one of which is attending relaxing yoga classes that Bliss Yoga sincerely promises.
As a distinguished yoga studio in the Metro, Bliss Yoga guarantees to be an aid for guests to strengthen the body and mind while learning how to express themselves.
The yoga studio embodies a warm and relaxing environment as manifested in the humble interior of the place.
Apart from that, the studio takes pride in its expansive practice and reception area—wide enough to accommodate a number of yoga class attendees.
They currently offer several class types including Gentle, Vinyasa, Hot, Power, Jivamukti, Yin, and Spiritual.
One of the popular class types is the Gentle flow, which concentrates on the foundation and alignment of poses and vinyasa yoga sequences. This flow is ideal for first-timers and for those who have physical limitations they need to improve on.
If you're into a hard workout, try their Power Yoga class, comprising of complete balance of backbends, forward folds, core strengths, hip openers, and inversions. These all focus on both physical and mental capabilities.
Additionally, the Hot flow is a 75-minute yoga class held in a heated room. The heat helps in detoxifying the body through sweating.
The Vinyasa flow, on the other hand, emphasizes on the synchronization of movement with breath. This helps in maintaining an active and healthy body.
On top of that, you'll be guided by Bliss Yoga's efficient teachers who are deeply fascinated with the practice. Some of them attended different yoga workshops as well as local and international seminars, so you're sure to learn only from the best.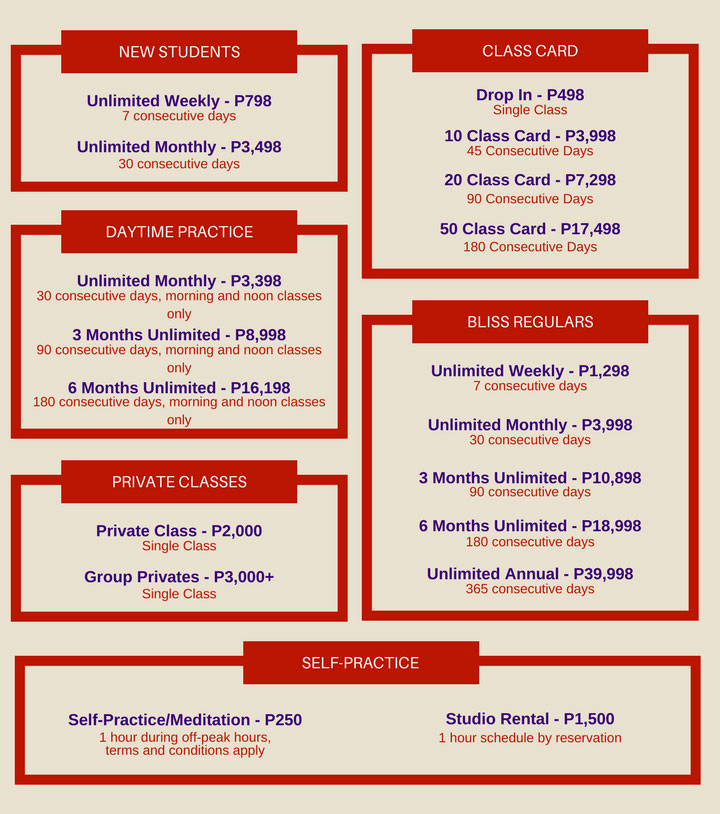 They have a wide variety of rates for new students and Bliss regulars. Other deals are also available here.
For more information and inquiries, visit Bliss Yoga's website or their Facebook page.
---
Source: Bliss Yoga website
Images grabbed from Bliss Yoga website