creaTECH Kids Summer Workshop by Power Mac Center from May-July 2019
Let's admit it. Getting your kids to turn down their gadgets is a headache. But if you turn it around and make use of it as a learning tool to help them nurture their skills and talents, then Power Mac Center's creaTECH Summer Workshop is the perfect platform to discover their potential.
This summer, nurture their potential in art, animation, programming, vlogging, and video production at Power Mac Center's summer workshop from May 6 to July 27, 2019. The workshop will be open for kids and teens aged 7 to 16 years old and will offer a series of digital and non-digital workshops to cater to all sorts of passion your kids have. 
The Summer workshop will be a digital playground for your kids imaginative and creative minds as they will undergo demo, lectures, hands-on training, actual project creation and workshops which includes the following:
Arts and Crafts (For Kids Ages 4-6)
May 6 to 10 (Greenbelt), June 3 to 7 (Trinoma), July 1 to 5 (Greenbelt)

Encourage your kids' creativity early on through this crafts-based workshop open to children four to six years old. Kids will experience creative and challenging activities involving art forms of different styles to allow them to discover their own style.
Course Duration: 2-hour session for five days.
AM class: 10 a.m. to 12 p.m.; PM class: 2 p.m. to 4 p.m.
Paperworks Monday
Clay Creations Tuesday
Popsicle Sticks Wednesday
Paint-on Thursday
Crafty Glue Friday
Digital Arts and Animation (For Kids Ages 7-12)
May 13 to 17 (Greenbelt), June 10 to 14 (Trinoma), July 8 to 12 (Greenbelt)
Sharpen your kids' creative imagination with these hands-on workshops in Multimedia Animation suited for 7- to 12-year-olds. Attendees will be able to explore augmented reality and bring life to their envisioned worlds or delve into webtoon-making through classes on film conceptualization, creation of storyboard and characters, animation, and film editing.
Course Duration: 2-hour session for five days.
Digital Arts: Art in Motion AM class: (10 a.m. to 12 p.m.)
Introduction to Art in Motion
Augmented Storytelling
Object Personification
Character and 3D Space Creation
Finalization and Presentation
Multimedia Animation: WebToon PM class: (2 p.m. to 4 p.m.)
Basics of Storytelling
Storyboard and Character Building
Animation
Film and Sound FX
Finalization and Presentation of Project
PMC Summer Workshop teachers are expert instructors that advance students' skills through demos, lectures, and one-on-one tutorials.
Swift Programming (For Kids Ages 9 to 13)
May 20 to 24 (Greenbelt), June 17 to 21 (Trinoma), July 15 to July 19 (Greenbelt)
Discover your kids' Silicon Valley potential with a series of programming lessons catering to children aged 9-13. It is never too early to enroll your kids and let them find the young tech developers in them. Here, students will learn how to code in a fun and interactive way and create basic apps that are compatible with Apple devices.
Course Duration: 2-hour session for five days.
Swift Programming: Beginners AM class: (10 am to 12 pm)
Think Like a Computer: Commands and Sequences
Think Efficiently: Functions and a Bit of Loops
Think Logically: Conditional Code
Think Again and Again: While Loops
Think the Same Idea: Algorithms
Swift Programming: Intermediate PM class: (2 p.m. to 4 p.m.)
Think Like a News Bot: Variables, Think Like an Architect: Types, Think Specifically: Parameters
Think Organized: Arrays
Think Like An App Designer: Touch Events
Think Like An Editor: Strings
Like an Animator: Event Handlers
Technology in Performing Arts (Teens Ages 12 to 16)
May 27 to 31 (Greenbelt), June 24 to 28 (Trinoma), July 22 to 26 (Greenbelt)
Elevate your kids' passion in the performing arts with workshop classes on video blogging, theater, and video production best suited for young techies aged 12-16. Perfect for aspiring social influencers and theater mavens, participants will be given in-depth lessons on video blogging — from conceptualization, video shooting, and editing, to uploading the final output online, or theatrical production via providing hands-on training and lessons on the use of digital backgrounds, additional video effects, and artistic projections.
Course Duration: 2-hour session for five days.
Vlogging: The Rise of Young Influencers AM class: (10 a.m. to 12 p.m.)
Introduction to Vlogging
Exploring iMovie
Exploring Keynote and Designing my Vlog
My Summer workshop story
iVlog
Theatre and Video Production PM class: (2 p.m. to 4 p.m.)
Performing Arts Sessions
Performing Arts Sessions
Performing Arts Sessions
Technical Design
Finalization
Recital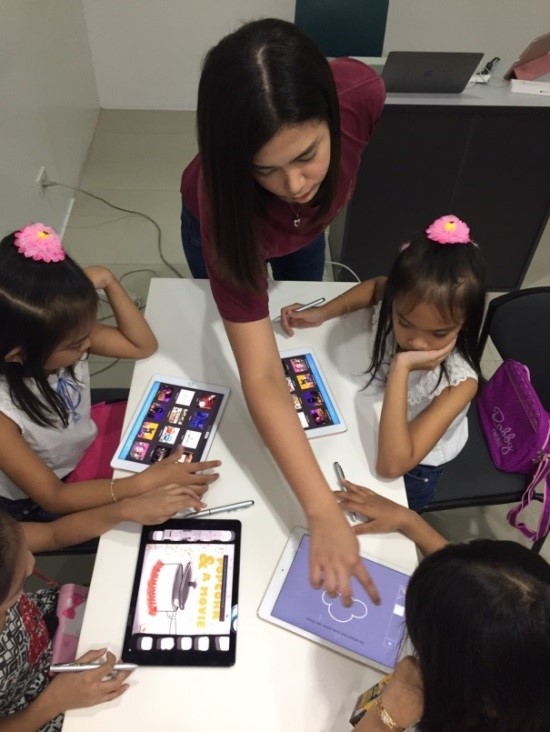 Attendees of Power Mac Center Summer Workshops learn art and technology in many forms using various applications on different Apple devices.
The workshop rate is at Php 5,900 per student and per course module, inclusive of the use of Apple devices with installed applications, as well as other learning materials required per course. Courses run for two hours each, with morning and afternoon schedules held at Trinoma in Quezon City and Greenbelt 3 in Makati. At the end of the workshop, participants will be given a course kit with a certificate of participation and a flash drive containing the individual projects they created.
Interested parents and kids can visit PMC stores at Greenbelt 3 and Trinoma, or the Apple Authorized Global Training Provider office at Cedar Executive Building 1, Makati City to reserve slots. To learn more about the PMC Summer workshops, visit the website at creaTECH Summer Worshops 2019. 
You may also contact them through 553-4211 or 553-6399 and follow their Facebook Page at facebook.com/PowerMacCenter for more updates. 
---
Featured image from Power Mac Center