PSE's Free Stock Market Seminars
Financial literacy is defined as the ability to use knowledge and skills to manage financial resources effectively for a lifetime of financial well-being. With this knowledge, one can be able to live on a budget as well have the financial security to support oneself or a whole family and their future. One of the ways to achieve stable financial status is by investing in stocks.
The Philippine Stock Exchange (PSE) is the national stock exchange of the Philippines as a non-profit, non-stock, member-governed organization. It is recognized as the Best Stock Market in Southeast Asia by the Marquee Awards of Alpha Southeast Asia magazine in 2016 and 2017. Its trading floor and offices are currently located at its new headquarters at the PSE Tower, 5th Avenue corner 28th Street, Bonifacio Global City, Taguig City.
To educate and inform the public on how to trade stocks, concepts, exchange-traded funds, investment procedures, local trading schedule, and stock market quotations.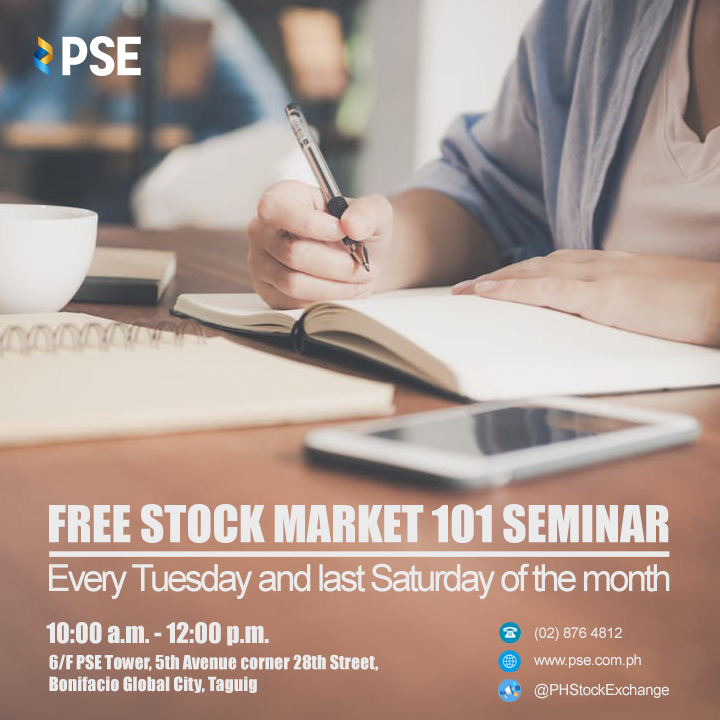 The PSE Academy is the official market education gateway of the PSE and provides a comprehensive, interactive, and practical web-based investor education for market participants, would-be equity investors, and the public in general. Online, they offer an e-Learning section for reading materials and video books and will soon roll out webinars, podcasts, and an investment calculator on their website, www.pseacademy.com.ph.
Their free stock market 101 seminar is held every Tuesday and last Saturday of the month. Every 10 AM to 12 PM at the 6th floor of the PSE Tower, 5th Avenue corner 28th St. BGC, Taguig. This basic stock market seminar is principally intended for interested individuals and first-time investors with no or little market knowledge and investment experience.