Manila Workshop's How to Gain Financial Freedom Workshop
Want to achieve your long-term financial goals? Now is the right time! Come and be part of Manila Workshop's How to Gain Financial Freedom: A Financial Planning Workshop from the Dreambook Project with Des Banting as its speaker and facilitator for the day!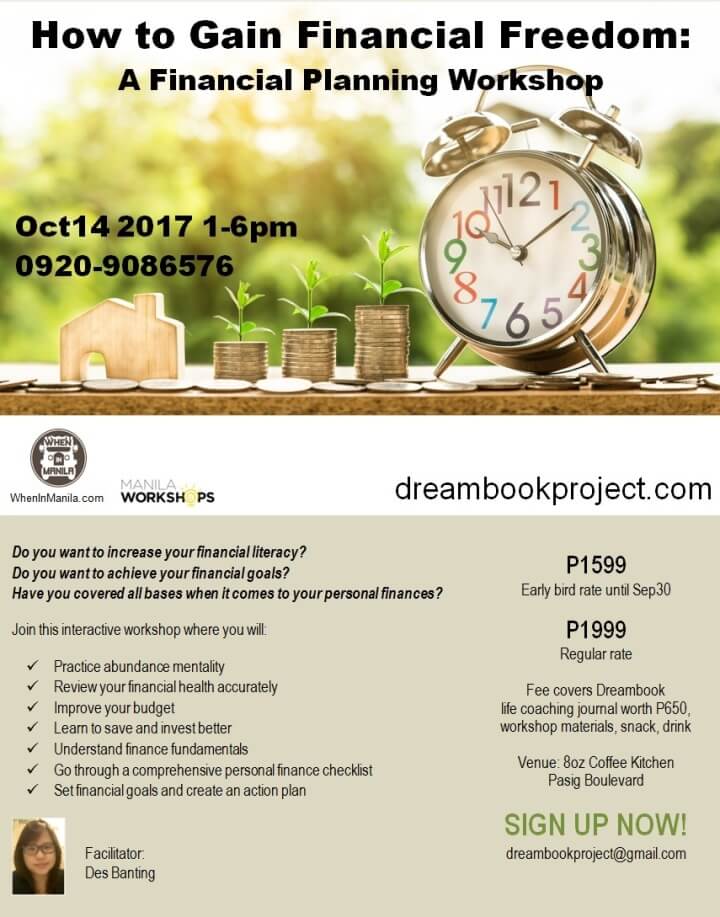 Des Banting graduated with a degree in Bachelor of Science in Accountancy with citation as Cum Laude at the Polytechnic University of the Philippines and gained units in Masters of Business Administration at the University of Sto. Tomas. She has been a Certified Public Accountant by profession for almost two decades. She works as a Finance and Management Consultant for small and medium enterprises (SMEs). She is also a licensed financial adviser and affiliated with Manulife Philippines. Des enjoys teaching personal finance, conducting seminars, facilitating workshops, and giving inspirational talks.
Happening this coming October 14, 2017 from 1:00 PM to 6:00 PM at 8oz Coffee Kitchen Pasig Boulevard, Pasig City, come and be part of a workshop that will further hone your knowledge with regards to financial literacy and be able to apply simple tools to let you assess your financial wellness truthfully and correctly that will make the best out of your hard-earned money and enhance your budget!
The workshop fee is P 1,999.00 inclusive of free covers Dreambook life coaching journal worth P650, workshop materials, snacks, and drinks.
---
This is a press release from the Dreambook Project.
Image Source: Dreambook Project
Details:
What: Manila Workshop's How to Gain Financial Freedom: A Financial Planning Workshop from Dreambook Project
Where: 8oz Coffee Kitchen Pasig Boulevard, Pasig City
When: October 14, 2017 from 1:00 PM to 6:00 PM
Ticket Price: Php 1,999
For inquiries and reservations:
CALL: 0920-9086576
EMAIL: dreambookproject@gmail.com