Ayala Museum's Painting Workshops for September 2017
A painting is a sensuous embodiment of a painter's thoughts and values about landscapes, physical objects, animals, or human beings, effected through the use of color on a two-dimensional surface to selectively represent those entities, and created primarily for the purpose of objectifying and contemplatively experiencing the kind of natural or human world the painter fundamentally values.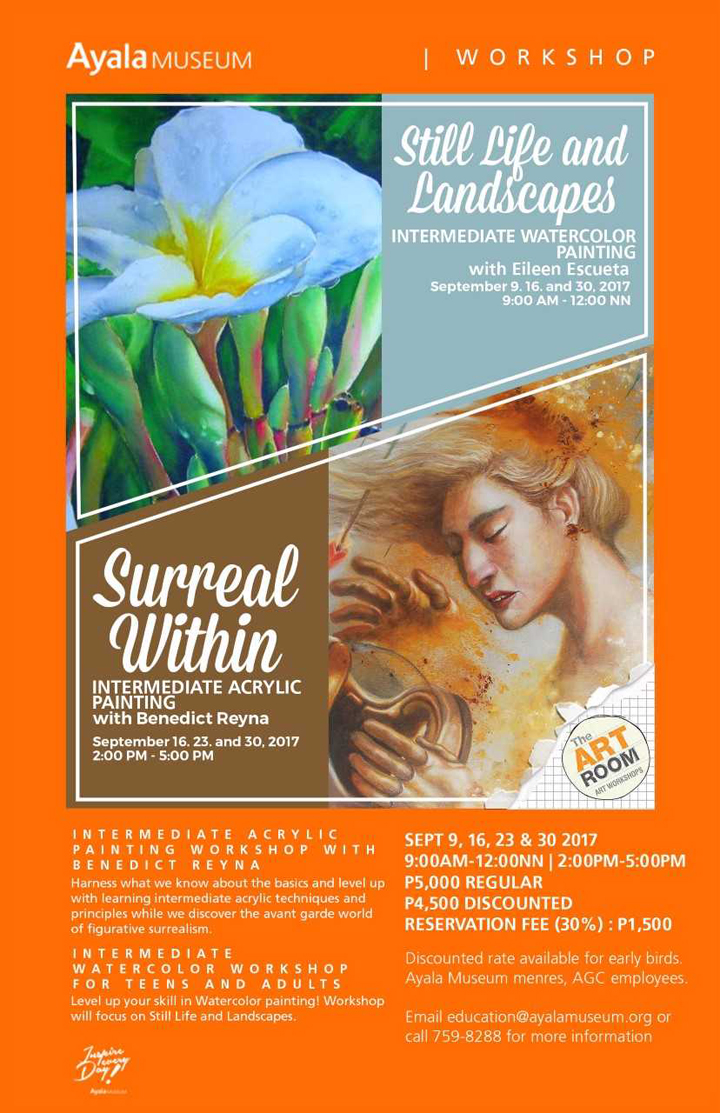 /IMAGE AYALA MUSEUM
Two painting workshops are in store for the month of September: "Still Life and Landscapes", an intermediate watercolor painting workshop hosted by Aileen Escueta happening on September 9, 16, and 30, 2017 from 9 am to 12 nn, and "Surreal within", an intermediate acrylic painting workshop hosted by Benedict Reyna happening on September 16, 23, and 30, 2017 from 2:00 pm to 5:00 pm. Ticket price for both workshops is priced at Php 5,000.
Come and let the inner Picasso in you shine with Ayala Museum's painting workshops running in the weekends of the month of September 2017!
---
Written By: Patricia Antoinette M. Nacianceno
Image Source: Ayala Museum 
Details:
What: Intermediate Watercolor Painting workshop with Eileen Escueta
Where: Ayala Museum, Makati City
When: September 9, 16 and 30 2017 from 9am to 12nn
Ticket Price: Php 5,000
What: Intermediate Acrylic Painting workshop with Eileen Benedict Reyna
Where: Ayala Museum, Makati City
When: September 16, 23 and 30 from 2pm to 5pm
Ticket Price: Php 5,000
Payment can be made at the Ayala museum counter or through bank payment to Ayala Foundation, Inc. (account no. 0011-1490-14) at any BPI branch. Deposit slip copies must be emailed at education@ayalamuseum.org
For inquiries and reservations:
CALL: 759 82 88 local 8272 / 759 82 72
EMAIL: education@ayalamuseum.org
LOOK FOR: Grace Jabal, or any Education Associate