Learn from the best with ABV's Master Class
Have you ever wanted to try your hand at making craft cocktails? If you're as clueless as everyone else, then you have to try ABV's Master Class.
EXPERIENCE WHAT IT FEELS LIKE BEHIND THE BAR. ABV Master Class is more than just an opportunity to drink: it's a chance to learn and experience what it feels like to be behind the bar.
Master Class is, as ABV (Alcohol by Volume) so aptly puts it, "a premier bartending and mixology program for different enthusiasts from beginners to bar professionals." They tap some of the country's best people from behind the bar including ABV's very own Kenneth Bandivas, the 2015 Diageo Philippines Bartender of the Year. Bandivas also won the Around The World challenge at last year's Diageo Reserve World Class Global Final with his Marula and Zacapa cocktail.
The main idea behind Master Class is for everyone to learn the basics of craft cocktails: the history, the process, and the ingredients that you use. It's purely an educational experience… with a bit of drinking on the side.
The Master Class Series is a set of 15 sessions that deal with all you need to know about being behind the bar. The first two are the most important, hence their name: Fundamentals of Craft Cocktails.
Master Class Volume 1 talks about Shaken and Stirred drinks. If you've ever wondered what the difference is between a shaken and a stirred drink (yes, there is a difference), then this is the class for you. It's also where they tell you all about cocktails, including how these delicious drinks came about.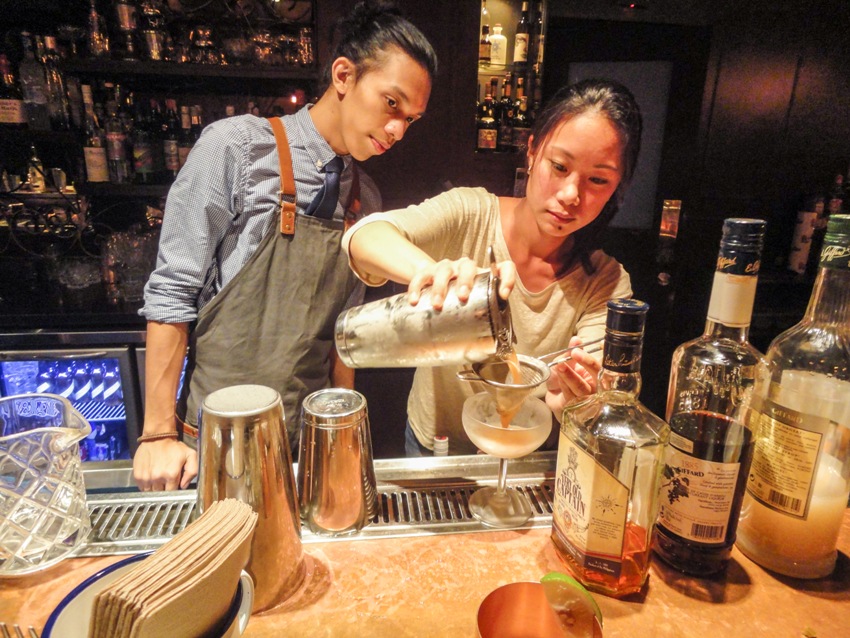 LEARN FROM THE BEST. That's Lester Ligon, a finalist at this year's Diageo South East Asia Finals in Bali, Indonesia teaching us the art of craft cocktails.
Master Class Volume 2 delves deeper with two more ways that can go into your cocktail: building or muddling. Volume 2's Built and Muddled Drinks talks about how these two are made, as well as the history behind each drink.
At the end of each class, everyone in attendance is given the chance to not just re-create some of the drinks that have been handed to them but also make their own craft cocktail. ABV has made it a point to make sure each and every person gets to stand behind the bar and experience making these cocktails for themselves.
The next series of classes deal with experiencing spirits of different kinds from different parts of the world. ABV has no shortage of these spirits, and in each session you'll get to learn how these came to be.
The best thing about Master Class (apart from all that drinking), is that you don't need to go through all 15 sessions. You can just take what you've learned from Volumes 1 and 2 and run away with it (i.e. give your friends a taste of what you know). But for those who are serious about going behind the bar, there's the last 2 sessions that will talk about bartending in general, as well as a flairtending session.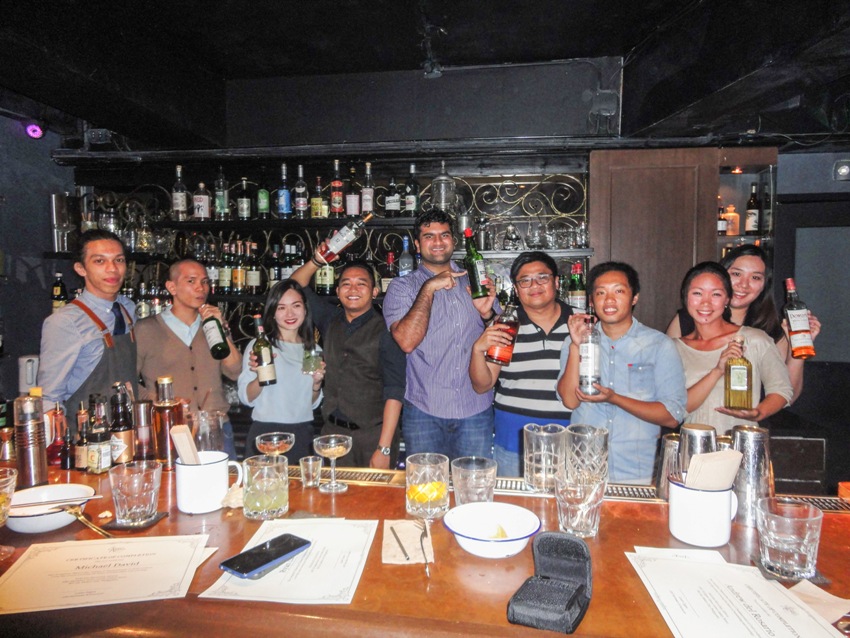 THE WHOLE CREW. You'll learn a lot from their relatively short sessions (it depends on how much you know/don't know). Bonus: you'll also make a lot of friends along the way!
ABV's Master Class is available twice a month for as little as P1,500 per session. This includes all the ingredients you will use during the class, all courtesy of ABV. Want them to hold a Master Class in your office? No worries! They also do corporate events where your company can experience a Master Class all to yourselves… in the comfort of your own office space!
For more information on ABV's Master Class, please visit masterclass.abv.ph or follow them on Facebook (ABV Masterclass or ABV). You can also contact Justin Qua at 0917-790-7134 Their classes are scheduled every other Saturday of the month. ABV is located at the Basement Floor, 22 Jupiter St. cor. Galaxy St. Bel-Air, Makati City.
Details:
ABV Master Class
Saturdays, twice a month
Basement Floor, 22 Jupiter St. cor. Galaxy St. Bel-Air, Makati City.
Contact number: 0917-790-7134, look for Justin Qua
Website: http://masterclass.abv.ph/
Facebook: https://www.facebook.com/abvbar/