UNMEI Nihongo Center
UNMEI started in 2009, and although it's a Japanese language school for Filipinos, it also offers English courses for Japanese. Its courses include Basic 1, Basic 2, Intermediate 1, Intermediate 2, Advanced 1, Advanced 2, Functional Japanese, Nihongo for Kids and Efficient English for Japanese. All courses have a range of 70-180 hours class duration. For the basic course, students are taught to read and write sentences in Hiragana, Katakana, and Basic 60 Kanji characters. For the intermediate course, students are taught additional 150 new Kanji characters and vocabularies.
UNMEI has branches in Ortigas Center, Paranaque City, and San Pablo City. The next batch of classes will start on Dec. 4 until the second week of April 2016. There are different available schedules to choose from around 9 a.m. to 10 p.m on Weekdays and Saturdays. If you prefer, you can have class-based, private tutorial, or online set-up.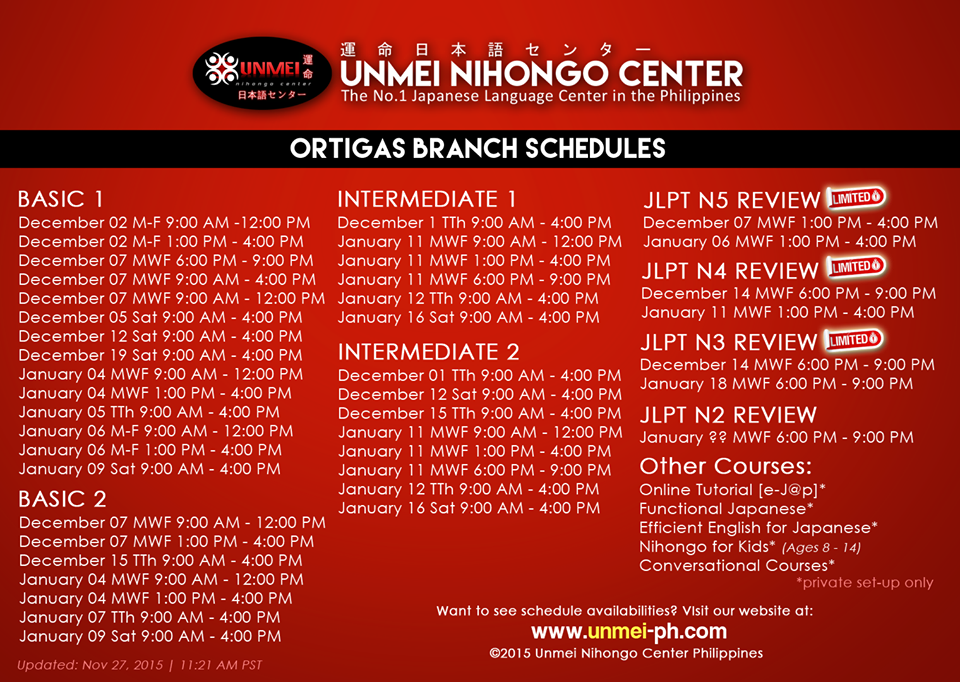 For more information, visit their website.

Google Map:
Ortigas:
Better Living:
San Pablo: