L!FE Yoga Center: Yoga. Music. Food.
A journey to nourishing one's body, mind and soul
Fitness and yoga studios are a dime-a-dozen in fitness-conscious Manila, but in the fray comes another young player in the market, with a unique and refreshing take to the science and art of wellness.
L!FE Yoga Center, a haven for those who wish to embark on a journey to wellness for their body, mind and soul recently opened at the new ForbesTown mall located within the Burgos Circle's burgeoning enclave in Bonifacio Global City.
–
Noelle Rodriguez, president of L!FE Yoga Center shares that L!FE celebrates everything that's whole, healthy, wholesome and fun.
–
More than just a yoga center, L!FE differentiates itself by offering a modern, artistic and cool approach to yoga, aiming to demystify its practice and make it less intimidating to those might be curious but are just too afraid to try it. "We want to remove the notion that yoga should be all serious and mystifying, serene and quiet. We want to make it young, hip and cool," shares Noelle Rodriguez, president of L!FE.
–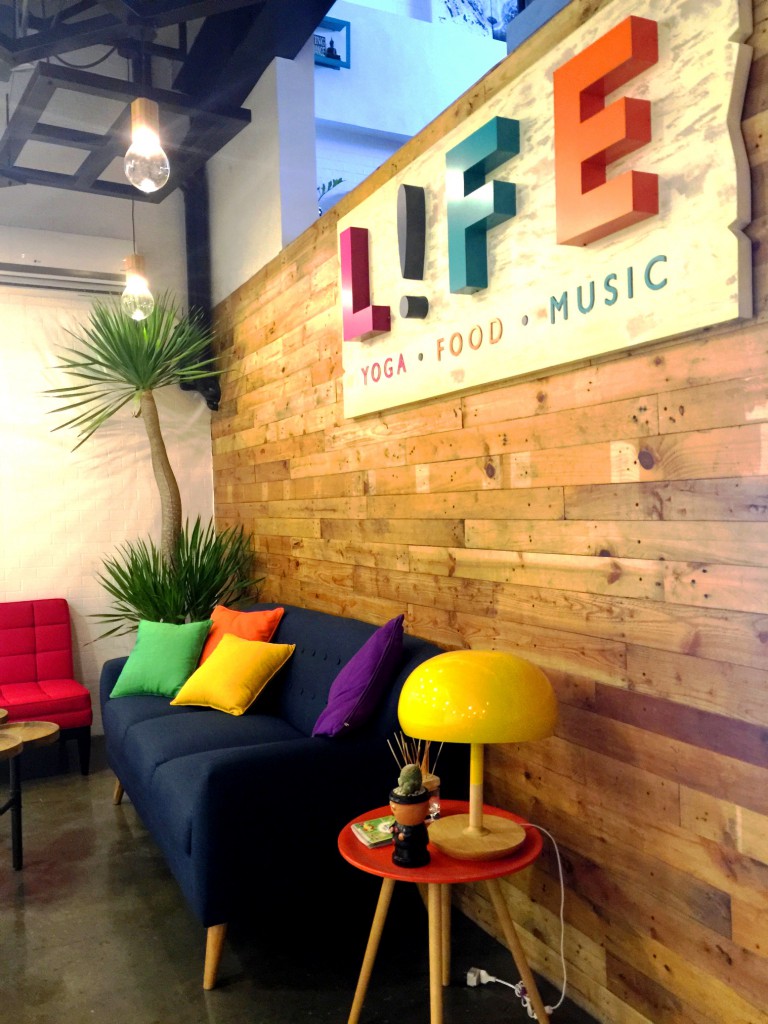 L!FE offers more than yoga and hopes to bring a holistic, fun approach to wellness to its patrons
–
Aside from yoga, L!FE positions itself as a place to appreciate good music, amazing (and healthy) food, hip yoga classes and take a look—even acquire—fine piece of art through the numerous art pieces on display at Vibe Café, which is adjacent to the L!FE Yoga Center. Individuals can also buy yoga paraphernalia and equipment, as well as peruse precious stones turned into necklaces.
The brain child of seven like-minded individuals who came together to establish a unique take on their shared passion for yoga, L!FE offers creatively crafted yoga lessons, all incorporated to music and made more approachable by Noelle and a roster of 35 yoga teachers, currently in rotation.
L!FE currently offers six types of classes: Ash Asana which is a more traditional kind of yoga; Hot Beat, a variation of the Bikram; Feel Good Flow, which focuses on breath-synchronized movements; Rock N Flow, a more powerful energetic form of yoga; Goin' Yin, which is perfect in improving circulation and Spiritual Warrior, a fully-balanced class which incorporates chanting. While the names can be a bit intimidating, Rodriguez assures that classes are L!FE are usually beginner-friendly. To catch the interest of the curious, L!FE will offer within the month Yoginners classes which is the best match for newbies. "Our programs show a modern approach to yoga, one that will not intimidate children," adds Rodriguez.  
–
An airy and unique yoga studio
–
The studio can accommodate 25 students per class and even dabbles as an art gallery on occasion. In fact, L!FE recently hosted an ARTAPALOOZA, where some of the country's most talented creative types have shown their artwork.
For rates or to know more about L!FE, go to www.lifeyogacenter.com.
–
L!FE Yoga Center
Facebook: https://www.facebook.com/Lifeyogafoodmusic
Instagram: @life.yoga
Address; R205, Eight Forbestown Road, BGC Taguig
Tel: (02) 239-0390
–
Photos and article by Melanie M. Suzon