The Y.A.R.D. (The Yardstick Academy of Resource & Development)
For coffee lovers, drinking coffee is not just an activity. It's an experience. And at Yardstick, it's not just an experience. It's a learning experience.
When Andre Chanco and his business partners decided to open up a coffee shop in Manila, it was because they felt that Manila was ready for specialty coffee. But being ready for something doesn't necessarily mean understanding it. That's why aside from selling coffee and machines to make coffee (as they're also the official distributors of La Marzocco products in the Philippines), they decided to add one more component to their business – education.
"A lot of people come in and ask about our coffee and I explain as much as I can about how we use specialty grade Arabica, but for someone who has no background or any ideas about specialty coffee, it's not easy to understand," Andre says when asked why they decided to offer workshops and courses at Yardstick.
…
Andre Chanco and students at a Drink Different workshop
… 
Their workshops take students about three levels deeper than usual barista courses, going in-depth about the origins of coffee beans, the process of roasting, appreciating the nuances of specialty coffee and much more. They also have more technical courses for professionals that are about different brewing methods, using an espresso machine, espresso flavor manipulation, and some certification courses that can help aspiring baristas with their coffee careers.
…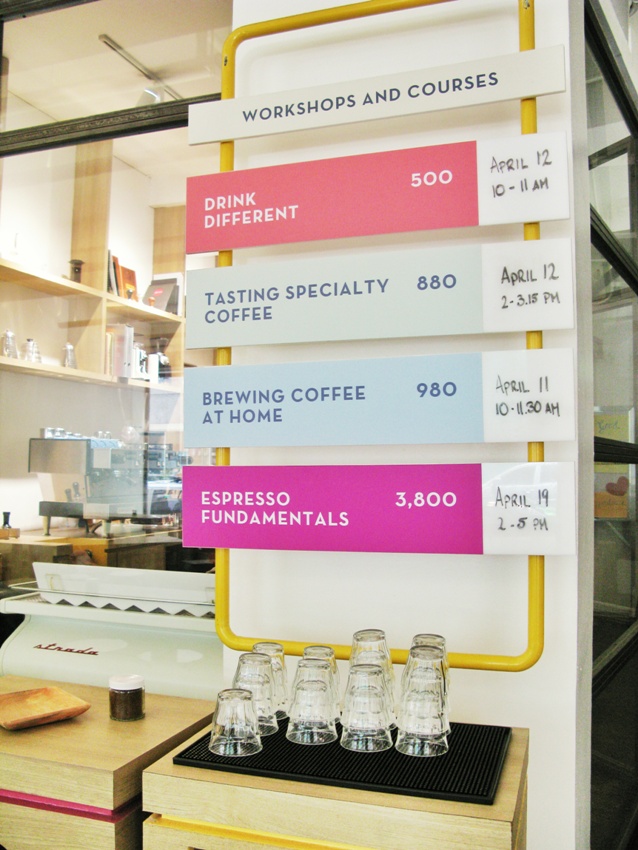 The four basic workshops and courses of The Y.A.R.D.
… 
All this may sound intimidating, but Andre admits that Yardstick's goal is actually really simple. "We want to make people more curious about specialty coffee," he says, believing that raising the standards of the Philippine coffee industry and having a larger coffee culture will naturally follow when customers have a deeper appreciation for coffee. Hence, the workshops are "not just about making coffee, but loving coffee and understanding it."

…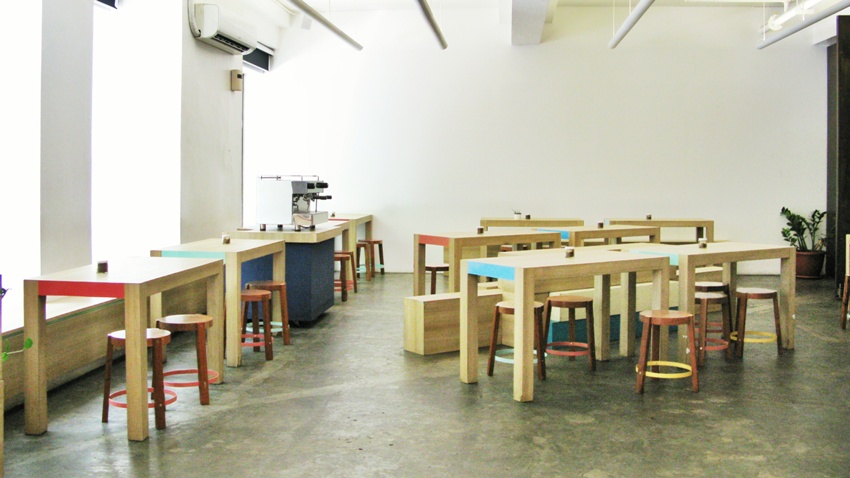 The tables at Yardstick are communal to encourage more interaction among coffee lovers.
… 
For more information about the workshops and courses that Yardstick offers, please visit their website or their Facebook page.
…
ADDRESS:
G/f Universal LMS Bldg., 106 Esteban Street, Legaspi Village, Makati City, Philippines 1229
TEL.NO.:
+632 845 0073 / +63 917 723 6079
STORE HOURS:
Monday-Saturday, 7:00 AM to 11:00 PM; Sunday, 8:00 AM to 6:00 PM
…
****
Photos and article by Ida Irigo