Inspire Leadership Consultancy: Training at its Finest
Does your company need high-impact training on modern-day leadership, superb presentation skills, effective teams, productivity and service excellence? Do you feel the need to be inspired and be more passionate in your personal and social life? Then, perhaps Inspire Leadership Consultancy is what you're looking for!
The training provider of choice of leaders from the top 1000 companies of the country, Inspire Leadership Consultancy has been in the business for around 10 years. They specialize in leadership, customer service training, sales training, corporate, workplace and teambuilding development training, personal development and youth leadership programs. They also offer customized programs fit for the needs of your business. Their clients include Banco de Oro, Smart, PLDT, Hewlett-Packard, Microsoft Corporation, Petron, Grepalife, Bistro Group, SM Supermalls, Metrobank, Sunlife Financial, Acer Philippines, Bayer, Dusit Thani Manila and Splash Corporations.
Their roster of trainers and speakers is also extraordinary. This group includes Ardy Abello, Anthony Pangilinan, Chot Reyes, Francis J. Kong, Edric Mendoza, TJ Manotoc, Butch Jimenez, Daniel Mayer and Maria Luisa Guinto-Aviento. See the complete list of their speakers here.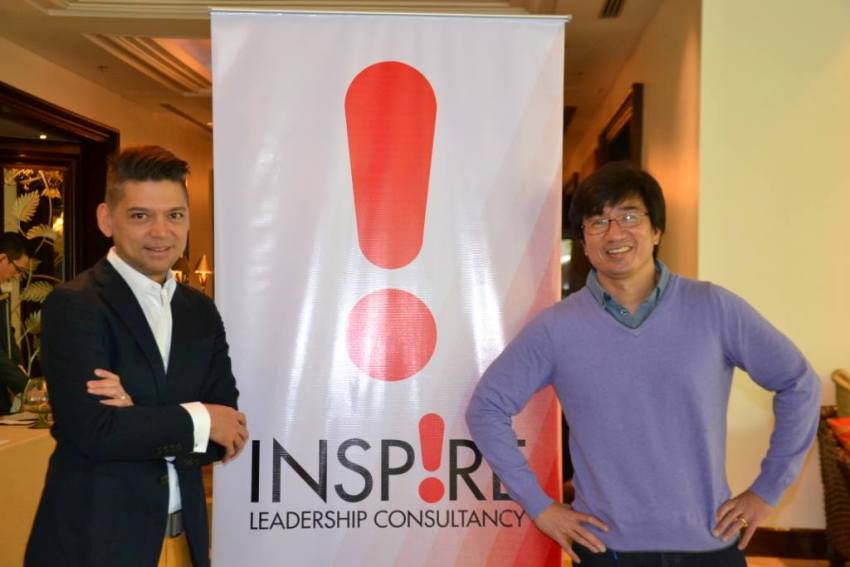 MR. ARDY ABELLO and his colleague pose for Inspire Leadership Consultancy.
Philippine Primer was lucky to attend one of Mr. Abello's talks on leadership and engagement. His talk, Aim High: Winning Insights for Top Performance, is the perfect motivator to those who feel the need to step up their game and achieve excellence in their fields. With four everyday insights to guide you, this talk does not only motivate you, but also reminds you of the gifts and talents you possess to help you reach your goals. (Interested? Learn more about this talk here.)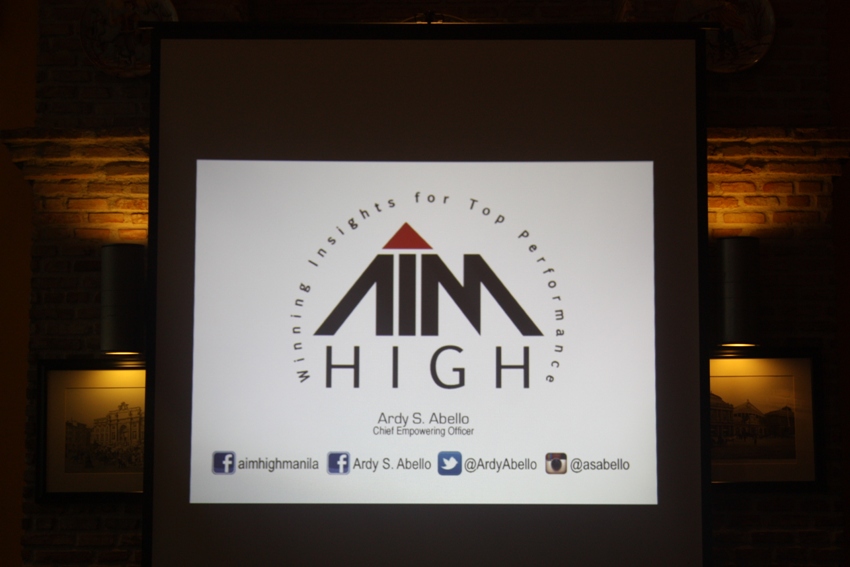 AIM HIGH inspires everyone to be motivated in their chosen fields.
For more details about their programs, email them at inquiry@inspire.ph.com or give them a call at (02) 631-0912 or 0922-8980196/0922-8980494/0917-8330723. Contact their sales executives, May (may@inspire.ph.com) and Marian (lylee@inspireph.com).
ARDY ABELLO in action
Inspire Leadership Consultancy
Address: Unit 2607 Prestige Tower, Emerald Ave., Ortigas Center, Pasig City
Website: www.inspireleaders.com.ph