Fuego Futsal Summer Clinic
Learn how to score goals like a football professional at this summer camp!
Does the word goal mean 'Lionel Messi' to you? Do you want to try the kicks you saw during the World Cup? Are you looking for a fun and productive activity this summer? Then, the Fuego Futsal Summer Clinic is for you!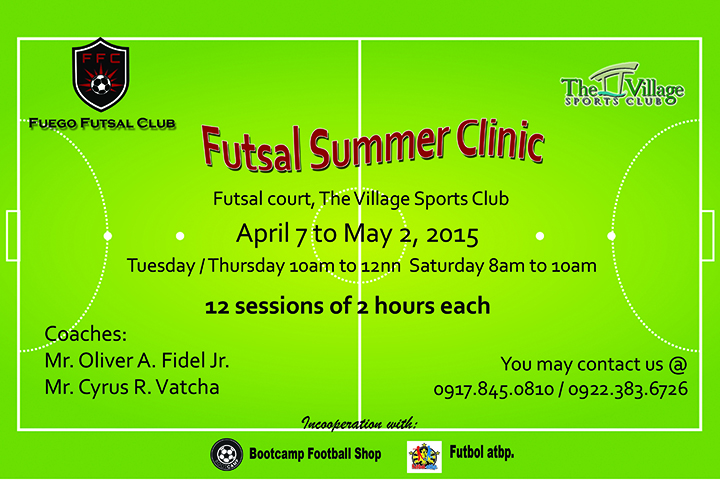 Futsal, also known as Five-A-Side soccer, is derived from the Spanish or Portuguese word for soccer – futbol or futebol, and the French or Spanish word for indoor – salon or sala. Fuego Futsal Club (FFC) aims to promote the growing sport of futsal. Their objective is to provide the foundation, skill set and exposure needed to succeed in this sport. Camaraderie, determination and team spirit are some of the key components that come in play during training sessions, festivals and tournaments.
The Fuego Futsal Summer Clinic will be held at The Village Sports Club in Paranaque. It will be conducted by Oliver Fidel Jr. (UAAP Men's Football – Champion, De La Salle University; Colegio San Agustin-HS Football Coach – Champion; Tribeca Football School – Coach) and Cyrus Vatcha (NCAA South – Champion; Laguna Futsal Cup – Champions; ACF Real Molinillo De Café, Vice-President).The clinic is open to children and adults, male and female. Anyone who is interested in learning or enhancing their skills in futsal is welcome. Students may be categorized depending on age and skill. The age/skill brackets are as follows:
4-9 yrs. old – Beginner
10-15 yrs. ld – Intermediate
15 yrs. old and above – Advanced
Rates are Php 4,000 for The Village Sports Club members and Php 6,000 for non-members. The Fuego Futsal Summer Clinic will be from April 7 to May 2, 2015 every Tuesdays and Thursdays (10:00 AM to 12:00 NN) and Saturdays (8:00 AM to 10:00 AM).
 —-
Article by: Manette Tuvida