Clara Ramona Flamenco Center
–
Clara Ramona Flamenco is a world renowned Filipino Flamenco dancer and choreographer sponsored by a particular dance company. She trains those who wanted to learn Flamenco of modern and traditional style. Every Wednesday evening, a night of Seville (Flamenco party) is held to enjoy Spanish style cuisine where everyone who wants to watch Flamenco dances can come.
–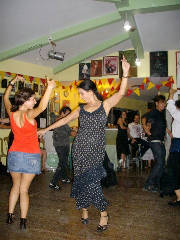 –
This time, primer editorial department came to experience the "tablao Flamenco" to experience their mimicking of bars in Spain. We enjoyed different Spanish dishes while listening to the live sounds of Flamenco guitars. The center's instructor and Clara Ramona also performed a Flamenco show followed by the other dancers. You can also participate in one of the dances if you really like to experience the Flamenco dance. You can avail of the dance lessons at an affordable price. The instructors will be teaching flamenco dance and introduction to beginners.
–
–
One of the remarkable people here is Aina Jason, a principal dancer and choreographer of Ramon de los Reyes Spanish Dance Theater in the United States. She mastered ballet at a young age in Ballet Academy of the United States and learned Jazz and modern ballet at the Boston conservatory and Boston Ballet.
–
–
Her performance in "CarminaBurana" become one of the best Choreographies in 1898 and was performed in Europe and North and South America several times. After that, the Mecca of Flamenco founded its own company and become popular because of Stravinsky's "rite of spring". The company stayed in Madrid for 20 years working with spectacular performers such as Miguel Angel, Antonio Alonso, etc.
Boston Conservatory of Music and some dance programs at Harvard University together with Boston University college of Art served as one of the lecturers of Clara Ramona Flamenco Center.
In 2010, Clara Ramona of Flamenco Dance Company of the Philippines starred in the movie "in Nomine Matris." This movie won the highest award in Spain's Film Festival and has also been screened by the Philippine embassy in Manila.
–
–
Clara Ramona & Co.
Clara Ramona and Co. is the Philippines' first Flamenco company that also masters orthodox artistic technique, pursuing a performance that expresses the dancer's personality. They are in charge of the dance committee of the National Arts council and Presidential committee on culture, and performed in different events such as in 2010 Philippine-Spanish Friendship Day, and other events in Hong Kong. They also have countless numbers of U.S tours and was promoted by FACP Asian Promotion Federation in the Kuala Lumpur tournament.
ADDRESS:
502 P. Burgos St. Corner Guerrero St., Barangay Poblacion, Makati City
TEL:
+632 899-1364
TEL/FAX:
+632 890-8030
MOBILE:
+63 915-434-5789
WEBSITE:
www.ClaraRamona.com
You might also like...