Celebrate Pocky Day 11.11 with this Fun TikTok Challenge!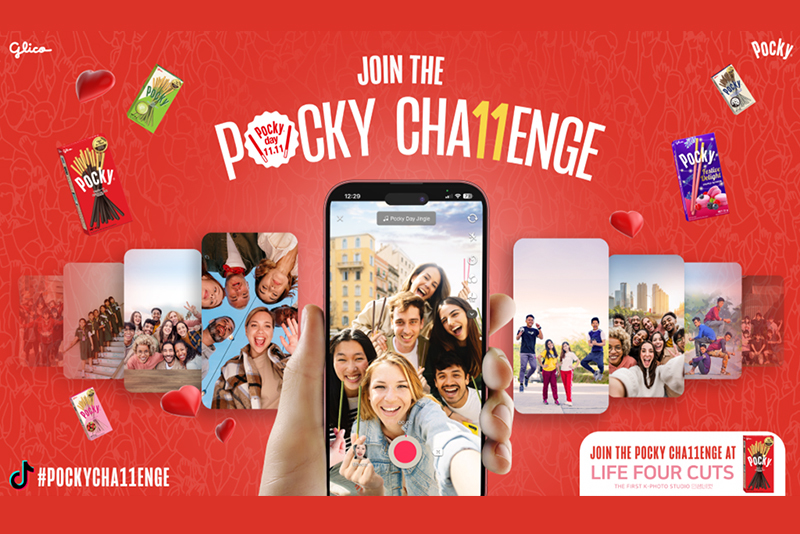 IMAGE from Glico
Join Glico Philippines in celebrating Pocky Day on 11.11 with fun and exciting challenges that will let you build real-world connections and share happiness with your Gen Z friends. Plus, don't miss out on the chance to win exciting prizes and make unforgettable memories with the #PockyCha11enge on TikTok!
So What's the Pocky Cha11enge?
Simply fit as many friends on screen in 11 seconds. Participants could get as creative as they want with their friends!
Step 1: Hold your palm up.
Step 2: Wait for the virtual Pocky Box to 'appear' on your palm.
Step 3: Watch for the timer to start.
Step 4: Fit as many friends creatively, on-screen within 11 seconds.
Step 5: Share it on TikTok with the hashtag #PockyCha11enge #ShareHappiness and tag @glico_philippines!
This challenge will start on November 8, 2023, and run until November 25, 2023. All you need is a Pocky and your friends!
Happiness Awaits at Pocky's LIFE FOUR CUTS Selfie Booths!
Another thing that Gen-Zers love? Selfie booths! Every hang-out with friends is not complete unless capped with a trip to the nearest selfie booth. That's why Pocky partnered with LIFE FOUR CUTS, a famous selfie booth chain in the Philippines, to share even more happiness with the Gen Z!
Curious how it will work? Just follow these steps:
Collect Pocky-themed props and enter the selfie booth.

Select the Pocky 11:11 frame.

Take your photo prints.

Open TikTok and activate the Pocky Cha11enge Branded Effect.

Share your photo booth session using the Pocky Cha11enge effect.

Show staff at the booth for a chance to get a free Pocky product!
These Pocky booths will be active from November 8, 2023, to November 30, 2023, at the following LIFE FOUR CUTS stores:
SM Mega Mall

Robinsons Galleria

AYALA Mall Circuit

SM City Grand Central

Robinsons Manila

AYALA Mall Trinoma

SM City Fairview

Uptown Mall BGC

Glorietta 1

Venice Grand Canal Mall

SM City North EDSA
Limited Edition Flavour: Festive Delight coming up!
In celebration of Pocky Day on 11.11, Glico Philippines will also be releasing a delicious, limited edition flavor, the Pocky Festive Delight! Get ready to taste this delightful mix of berries and macaron. This will be available starting from the end of November until December. Make sure to get one and share happiness with Pocky!
Communication
Official Facebook: https://www.facebook.com/PockyPhilippines
Official Instagram: https://www.instagram.com/glico_ph/
Glico Brand Store (Shopalyst): https://shop-ph-glico.com/brandstore/glico
Glico Asia Pacific website: https://www.glico.com/sg/
For all press and media inquiries: Claire Ho, Regional Corporate Communications Manager, Glico Asia Pacific Pte. Ltd.
Email: glico-singapore@glico.com
For consumer / product inquiries: Glico Philippines Consumer Hotline TEL: (+632) 8464-1105 / Email: consumer.hotline@glico.com.ph
About Glico
On February 11, 2022, the Glico Group celebrated the 100th year of its founding. In 1922, Glico's nutritious Glico caramel in its distinctive red box first hit the shelves of a department store. Headquartered in Japan, Glico has since expanded into Asia Pacific, European, and North American markets with the aspiration to stay true to its founding spirit of enhancing people's health through food.
Led by its well-loved confectionary brands such as Pocky, Pretz, and Pejoy, Glico has now expanded its portfolio* to include ice cream products, baby formula, milk products, desserts, food ingredients, and raw materials for cosmetic and health products. Its health and wellness offerings such as the SUNAO range of zero sucrose, low carbohydrate food products and Almond Koka almond milk are gaining popularity outside of Japan after becoming a hit in its domestic market.
https://www.glico.com/global/
* Some products in the portfolio may be available in Japan only.
About Pocky
Since its launch in Japan in 1966, Pocky has maintained its core concept while gradually changing its packaging and formulation to meet the times and society. The new Pocky range was launched in the Philippines on June 8, 2022 to cater to the evolving consumption pattern and purchasing behavior in Southeast Asia. With growing health consciousness, more and more consumers are seeking healthier choices that are guilt-free. In response to this demand, we added fiber into the pretzel of Pocky, providing additional health benefits. Furthermore, we have introduced wholewheat into the pretzel, resulting in a lighter and crispier texture. To achieve the right balance of sweetness, we have adjusted the cream-to-biscuit ratio, enhancing the unique aroma of the chocolate flavors while maintaining a rich and smooth taste.
About Pocky day
Pocky day was established in 2016 as a day to encourage people to start sharing happiness. November 11 was chosen because the Pocky biscuit stick resembles the number "1". It was first organized on November 11 in 1999, the eleventh year of the Japanese Heisei era: 11/11/11. It is an official day recognized by the Japan Anniversary Association1.
We hope that Pocky day will not only become the day to think of and appreciate the important people in your life, but also a day to take action and make them happy.
Their Distributor
GYMBOREE MARKETING INTERNATIONAL, INC.
Office Address: 917 Banawe St., Barangay Manresa, Quezon City
About LIFE FOUR CUTS
LIFE FOUR CUTS is a famous self-photo booth chain founded in South Korea. One can capture their unique moments with friends, family and colleagues and take advantage of this active engagement where one can snap all the fun and happy memories and enjoy a whacky face fest. LIFE FOUR CUTS has branches in other countries including the Philippines, Singapore, Malaysia, Japan, Vietnam, Canada, USA, New Zealand, Guatemala, Taiwan, and United Kingdom.
Their Products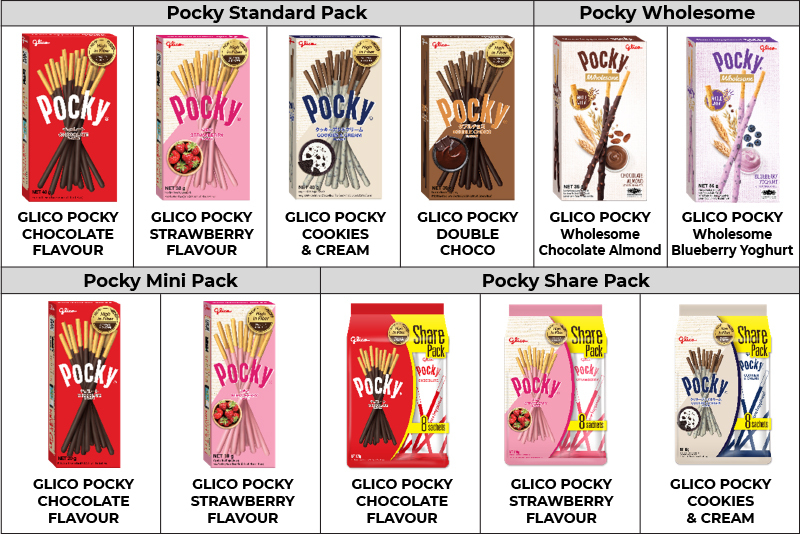 IMAGES from Glico
---
This is a press release. Minor edits were made prior to publishing.
Also read: Glico Philippines, Inc.