Explore the World of Japanese Cuisine with Chef Takashi Kawasaki This May 2023!
Similar to any other forms of art, the Japanese cuisine can be enjoyed and appreciated by anyone who desires to learn its intricacies and delights. With its emphasis on fresh, high-quality ingredients, delicate flavors, and elegant presentation, Japanese cuisine offers a unique and unforgettable dining experience for everyone.
Whether you are a seasoned foodie or just starting to explore the world of Japanese cuisine, there is always something new to discover and savor. And what could be a more exceptional way to experience this than by learning from the head chef of Takashi Japanese Cuisine, Chef Takashi Kawasaki!
Chef Takashi Kawasaki
Japanese Lifestyle Workshops
Interested participants may register now to attend Chef Kawasaki's Sushi and Ramen Lifestyle Workshop on May 20, 2023, from 1:30 p.m. to 5:30 p.m. to learn how to make rich and creamy Tonkotsu Ramen, hot and spicy Tantan Ramen, ball-shaped Temari Sushi, and crunchy Kani Mayo Sushi Roll!
IMAGE from Sylvia Reynoso Gala Culinary's Facebook page
For those who want to learn more about the Japanese traditional rice bowls and maki or rolls, you may also attend the Donburi and Maki Lifestyle Workshop on May 21, 2023, same time, to create hearty Japanese dishes like Gyudon, Oyako Don, California Maki, and Chicken Teriyaki Maki.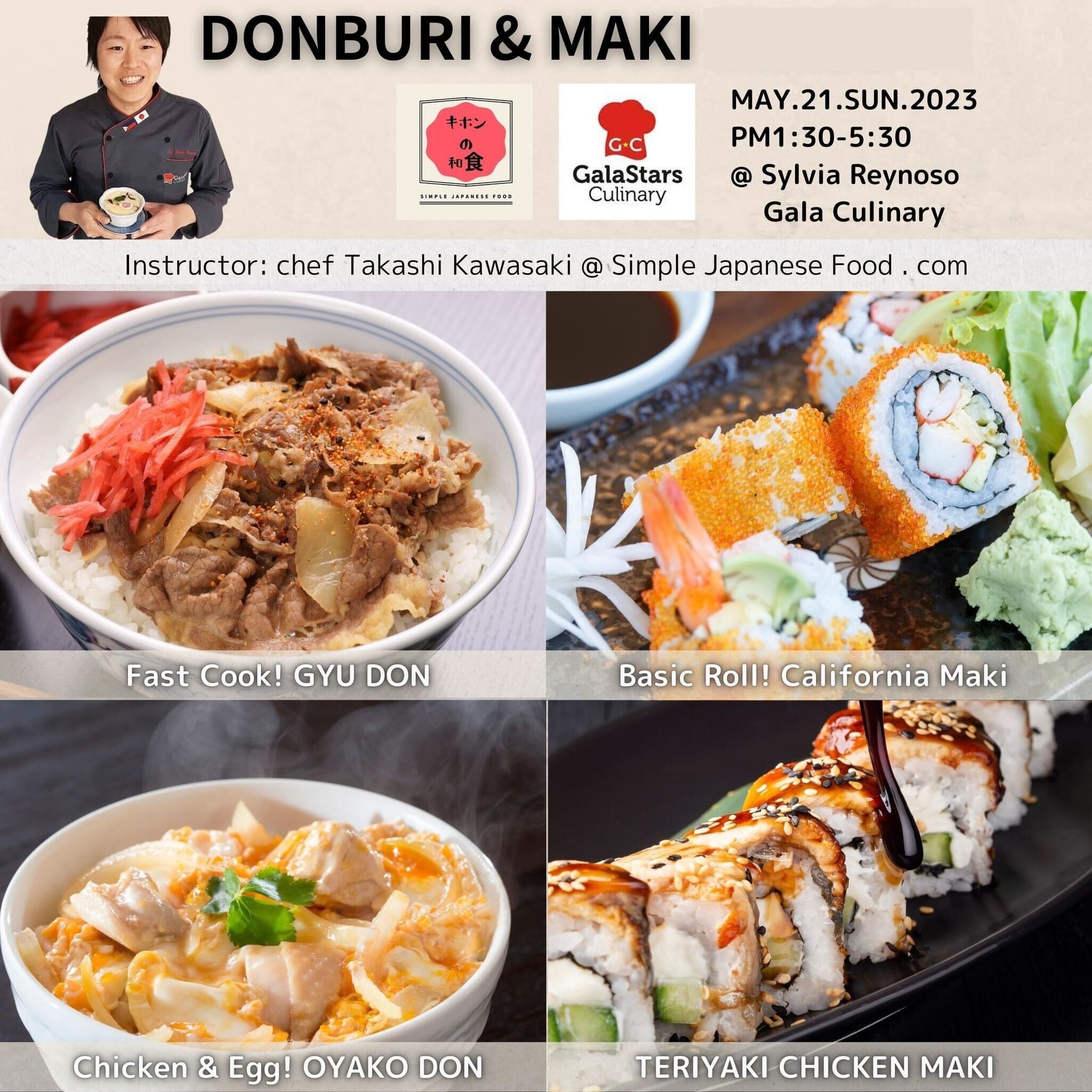 IMAGE from Sylvia Reynoso Gala Culinary's Facebook page
To join any or both of these workshops, simply call 02-8671-4489 anytime from 9:30 a.m. to 5:00 p.m. and learn their modes of payment to reserve your class.
Don't forget to bring your own apron and food containers during the workshop to maximize your learning experience and take home your freshly-made creations!
Catch Chef Kawasaki's two-day Japanese Lifestyle Workshops this May 2023, and learn how to make several of your Japanese favorites of sushi, ramen, donburi, and maki at Sylvia Reynoso Gala Culinary, 181 Shaw Boulevard, Pasig City, just across Lumiere Condo Residences DMCI!