Chief Representative Sakamoto Reports: JICA's Achievements for 2022
2022 has been very challenging yet notable because of numerous socioeconomic challenges such as the ongoing COVID-19 pandemic and high inflation rate. Despite those issues, the Japan International Cooperation Agency (JICA) continues its commitment to the Filipino people as it administers Japan's Official Development Assistance (ODA) through countless financial and technical aid and ventures that empowers the country.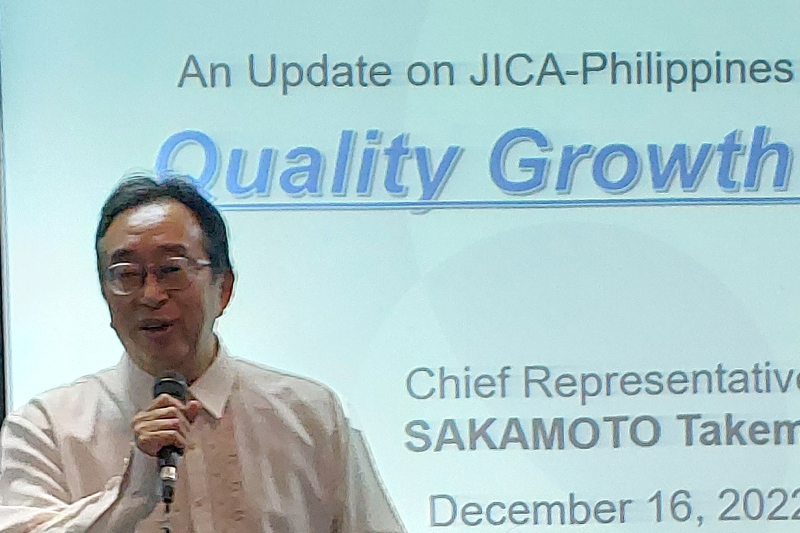 Takema Sakamoto / IMAGE from Philippine Primer
To cap off the year, JICA Philippine Office Chief Representative Takema Sakamoto made a summary report on the organization's accomplishments and other important matters regarding their mission in the Philippines at the Yuchengco Tower in Makati on December 16.
"JICA has two main missions: quality growth and human security. There are lots of vulnerable sectors in the [Philippines], but we would like to look into everyone," said Sakamoto.
For over 66 years, JICA has been and still is pursuing its mission by living up its values and principles in the way the organization serves its various internal and external stakeholders. To realize these, the organization handles technical cooperation, ODA loans and investment, and grant aid, as well as cooperation volunteers and disaster relief programs throughout the country.
"Because the Philippines is a very special country from the viewpoint of Japan, this country is one of our top aid recipients. We have a very optimistic view of the future of the country due to several factors. One is [steady] growth, healthy GDP-to-debt ratio, and [high] foreign-exchange reserves. These factors are among the best among ASEAN countries," Sakamoto added.
However, despite these positive indicators, Sakamoto highlighted various socioeconomic challenges—infrastructure, social development, inequality, disaster fragility, urban issues, and the Bangsamoro Peace Process—that must be addressed. "These [indicators] rank as some of the worst in region, but we see these as opportunities for growth," he added.
The representative then cited various finished and ongoing infrastructure projects funded by ODA loans throughout the country such as the Metro Manila Subway, MRT-3 rehabilitation, LRT-1 and 2, Davao City Bypass construction, and the 4th Cebu-Mactan bridge.
Sakamoto also shared JICA's recent cold chain donations to the Department of Health (DOH) such refrigerated containers, vehicles with freezers, thermal packaging system, as well as other development assistance projects such as webinars on the usage and maintenance of those equipment, among other financial, maritime security, and disaster management projects and initiatives.
Summing up his report, Sakamoto assured the country of Japan's continuous cooperation to achieve mutual development and prosperity. "We started our operations here in 1968, making [Japan and the Philippines] long-standing partners in the region. And most importantly, you know that we have no hidden agendas."
About JICA:
The Japan International Cooperation Agency (JICA) is the executing agency of Japanese Official Development Assistance (ODA), which handles technical cooperation, ODA loans and investment, and grant aid, as well as cooperation volunteers and disaster relief programs. JICA is the world's largest bilateral aid agency with its scale of operations amounting to about USD 16.69 billion for JFY 2020 and a worldwide network of almost 100 overseas offices including the Philippines.
For more information on JICA and JICA Philippines' activities, please log on to its website. Follow the organization's Facebook page for more updates.