Help Build Homes This Christmas with Habitat for Humanity Philippines
"Every Juan can start a ripple of impact." 
These are the words of Habitat for Humanity Philippines' CEO Mardi Mapa-Suplido during the launch of their Christmas campaign, "Pasko sa Bahay ni Juan".
Through the years, "Juan" has been a moniker used to describe the Filipinos as a whole. This Christmas, however, everyone can be Juan as Habitat revives the synergy of all communities in the Philippines and unites us into building homes for low-income families this Christmas!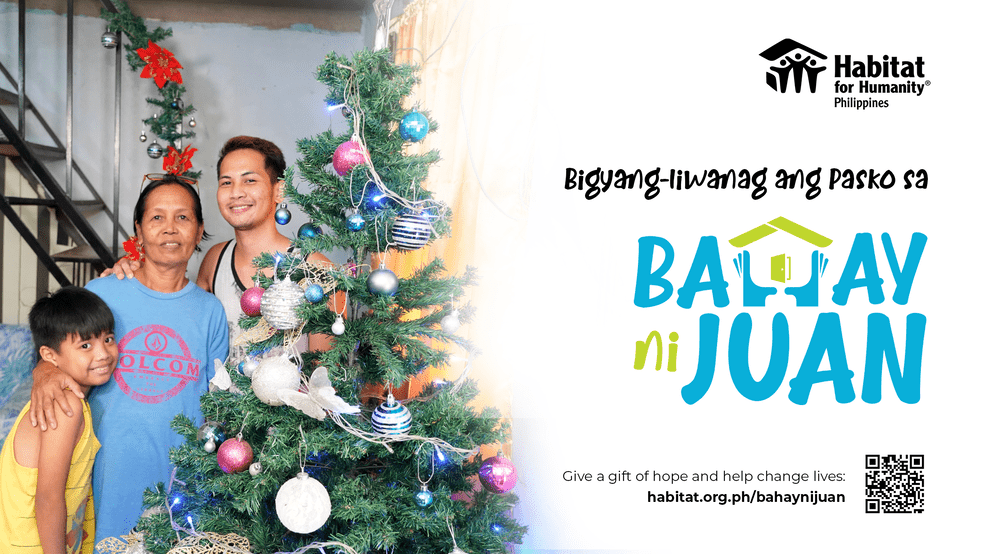 IMAGE Habitat for Humanity Philippines
Building Homes, Empowering Lives
With a goal to build disaster-resilient houses for low-income Filipino families, Habitat's Christmas campaign also aims to build partnerships with like-minded individuals and businesses to support the less-privileged this Christmas.
To make this possible, Habitat curated its annual Christmas catalog, which includes donation vouchers, Christmas baskets, a 'Gift of Hope' certificate, and handcrafted gift items that will help improve the livelihood of homeowners in communities built by Habitat.
IMAGE Habitat for Humanity Philippines
For as low as Php 500, which can provide one (1) sheet of marine plywood to a house, donors can support building houses that can shelter a family and empower the head of the household to lead them to safety.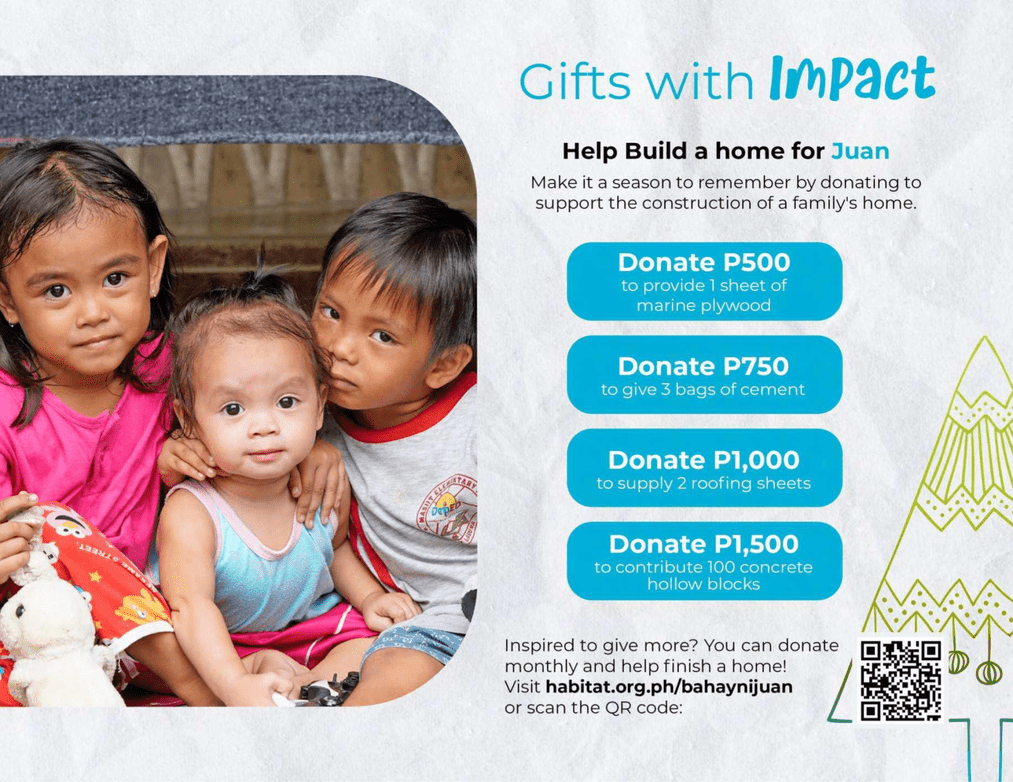 IMAGE Habitat for Humanity Philippines
Charlito Rasonable, one of the homeowners of a recently completed housing project in Cebu, feels a great "peace of mind" to own a decent house that provides his family with security that a "danger zone" can never offer.
"It is every parent's dream to have a decent home for the family. I came from a difficult life with nothing, so I aspired and strived for it. This is it! My dream became possible," Rasonable exclaimed.
Honoring the Donors
To thank the genuine hearts of donors who have supported their goal, Habitat will soon extend tokens of appreciation to every Juan who have contributed to the campaign. This includes merchandise, referral rewards, and an opportunity to participate in the legacy of building homes for the underprivileged.
To help build homes this Christmas, you can visit www.habitat.org.ph/bahaynijuan and download the 2022 Christmas Catalog on the organization's website.
---
Featured images from Habitat for Humanity Philippines.