Shop Smart this Christmas Season with Atome's Buy Now, Pay Later Promo
Now that the holiday season is fast approaching, everyone is getting into the holiday spirit and buying gifts for their loved ones. A great way to get friends and family gifts that they'll enjoy while sticking to budgets is to take advantage of special sales, shopping vouchers, credit card promotions, and increasingly, Buy Now Pay Later (BNPL) services.
IMAGE from Perceptions Inc.
Atome, Asia's leading BNPL brand, provides shoppers the choice and convenience to pay for their purchases via a flexible deferred payment schedule. First launched in Singapore in 2019 and officially available in the Philippines since October 2021, Atome is now a partner to over 600 merchants in the country covering a wide range of categories including fashion, beauty, wellness, home, travel, technology, and more.
"Filipinos have always been value-seekers and constantly on the lookout for ways to make the most out of their hard-earned money," shares Atome Philippines Country Manager, Zine Nedil .
"What Atome offers is convenience and better financial control. Shoppers can better manage budgets and have the freedom to get the things that matter most to them as they can easily split up the cost of their purchases into installments via Atome," Nidel adds.
Now that BNPL has grown in popularity, more shoppers are able to buy what they need while optimizing their monthly budget. ResearchAndMarkets.com found that BNPL payments in the country are expected to grow at a rate of 50.9% each year from 2022 to 2028. With this in mind, it's not a surprise that people are increasingly turning to this payment option when paying for items from everyday needs to special treats.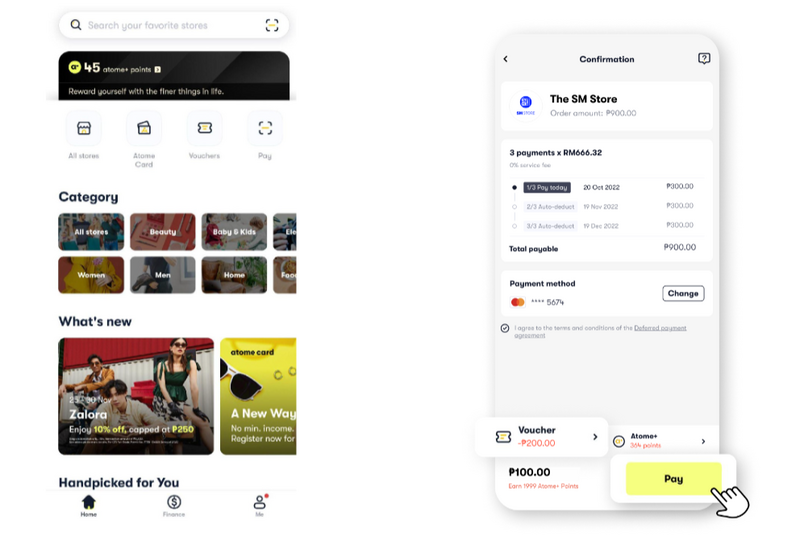 SCREENSHOTS from Atome
Using the Atome app is easy. To get started, users can either scan the QR code at checkout counters or search for the Atome app on the App Store or Google Play to download. Once they have signed up, customers can link either their credit or debit cards to their account. Users will gain access to BNPL terms of 0% interest for 3 months.
Atome's growing list of partner merchants like the SM Store, ShopSM, Rustan's online, Bench, Aldo, Charles & Keith, Forever 21, Watsons, The Body Shop, Innisfree, Converse, NEW Balance, URATEX, Anson's, Anker, and Planet Sports provide users with endless options for both essentials and the occasional treat or two.
Shop with Atome this holiday season to enjoy the best deals and steals to make shopping exciting without placing too much burden on the pocket. Sign up for Atome on the App Store or Google Play.
About Atome
Atome is a leading buy now pay later platform in Asia, partnering online and offline retailers to increase conversions and grow average orders and customer segments. It currently partners over 15,000 online and offline retailers in 10 markets (Singapore, Indonesia, Malaysia, Hong Kong, Taiwan, Vietnam, Philippines, Thailand, mainland China and Japan). Key merchant partners include Sephora, Agoda, ZALORA, SHEIN, Zara, Marks & Spencer, Charles & Keith, Aldo and Pandora. For consumers, Atome offers choice, convenience and control in how they choose to shop and pay. Atome is part of Advance Intelligence Group, one of the largest independent technology startups based in Singapore. Founded in 2016, the Group has presence across South and Southeast Asia, Latin America and Greater China. The Group is backed by top tier investors SoftBank Vision Fund 2, Warburg Pincus, Northstar, Vision Plus Capital, Gaorong Capital, Pavilion Capital, GSR Ventures and EDBI.
---
This is a press release. Minor edits were made prior to editing.