See the Whimsical Works of Averil Paras at Phantasmagoria at ArtistSpace from Aug 19 – Sept 1
See the Whimsical Works of Averil Paras at Phantasmagoria at ArtistSpace from Aug 19 – Sept 1
Averil Paras continues to open his narrative scope in Phantasmagoria, a series of works melding the mystical and mythical, in the artist's signature style of whimsical painting.
IMAGE from Ayala Museum
It will be on view from August 19 to September 1, 2022 with an Artist's Reception this Friday at 6:00 p.m. at the ArtistSpace located at Ground Level, Ayala Museum Annex, Makati Avenue corner De La Rosa Street, Greenbelt Park, Makati.
Tanglaw / IMAGE from Ayala Museum
In these mythic tableaux, sylvan scenes are populated by wistful characters and phantasmagoric creatures, arrested by a tuneful atmosphere that courses throughout, be it from the music of a lute, a fiddle, and a bassoon, or the quiet of still waters and open fields.
Matayog / IMAGE from Ayala Museum
Told in his distinctive visual language bearing the influences of cubism, surrealism, and magic realism, Paras works with a more limited palette that cloaks his mise-en-scènes with splendor and mystery. Central to each work are strong female figures, modeled after the formidable Filipina, whose stories of headstrong ambition and steadfastness Paras transcribes in works like Matayog and Kaagapay.
About the Artist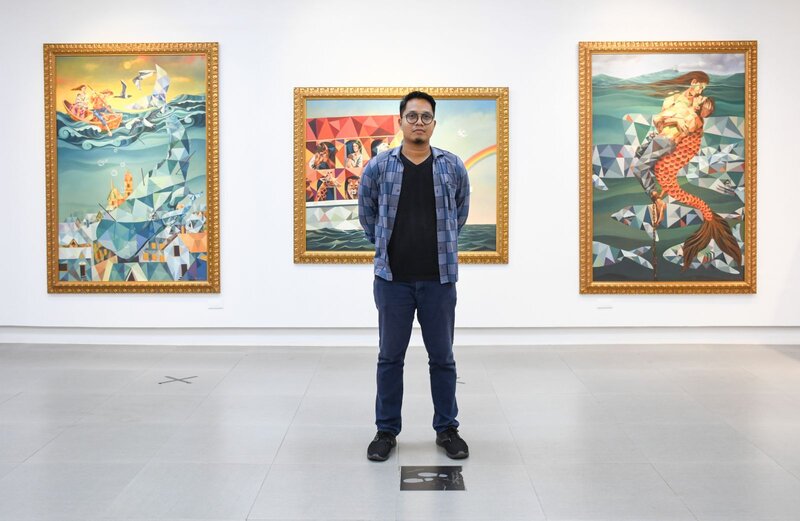 IMAGE from Ayala Museum
Averil Paras has been capturing his audience's attention through his stories carefully crafted in his paintings. A consistent Metrobank Art and Design Excellence finalist, he had formal training in Fine Arts (as an Advertising major) at FEATI University. His passion to transcribe stories onto his contemporary canvas has earned him spots in the Ateneo Art Auction for two successive years, and in the Asian Cultural Council (ACC) Auctions for three years.
For queries on the exhibition, you may call or email Galerie Joaquin at 0917-158-9243 or info@galeriejoaquin.com
About the ArtistSpace
ArtistSpace, an art gallery established in 2004, is dedicated to the promotion of contemporary visual arts featuring a wide range of styles and media from local and foreign artists in two-week exhibitions.
The gallery is open daily from 11:00 a.m. to 8:00 p.m. Admission is free.
For more information on ArtistSpace, you may call or email Ms. Jane Salvador at 0917 826 4425 or hello@artistspace.org.ph.
---
This is a press release. Minor edits were made prior to publishing.