BCCP Celebrates World Gin Day with 4th Bartending Competition
The British Chamber of Commerce Philippines in partnership with Ginebra San Miguel and sponsored by Philippine National Bank, Allianz PNB Life Insurance, William Hill, and Etihad Airways celebrated its annual World Gin Day event at Dusit Thani Hotel in Makati City last June 30.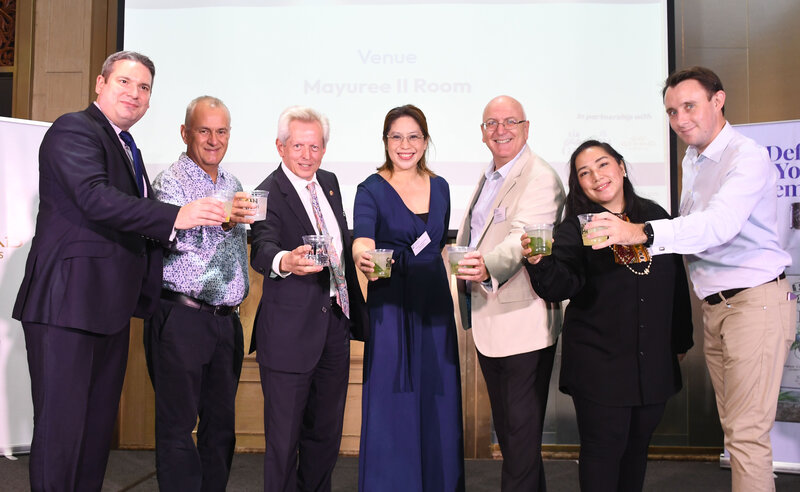 IMAGE from the British Chamber of Commerce
The BCCP introduced six British premium gin brands such as Chatsworth Gin, House of Elrick, Forest Distillery, Bolney Estate Gin, Silent Pool, and Shivering Mountain to promote its potential to enter the local market while simultaneously serving complimentary sample shots to members and guests.
The said event was also attended by honorary guests Richard Graham MP, UK Trade Envoy to the Philippines, and Allistair White, UK's Deputy Head of Mission. Besides the introduction of the British Gin brands, another significant highlight of World Gin Day was the 4th BCCP Bartending Competition with contestants from Raffles and Fairmont, Sawsaw Restaurant/Cafe Fleur, and Holiday Inn. Chris Ward, Chey Mayuga, and Chrysmas Gawaran were invited as guest judges to critique each round and decide the best cocktail in the competition.
IMAGE from the British Chamber of Commerce
In the end, Jeremie "Auie" Benisao from SawSaw/Cafe Fleur was hailed as the champion of the bartending competition.
To further commemorate the occasion, Dingley Dell Pork was served at dinner, especially since it was among the nine representatives from the recent PH-British Meat Trade Mission.
IMAGE from the British Chamber of Commerce
All things considered, the British Chamber is pleased to see the success of World Gin Day after intensive preparation which then leads to its succeeding Food and Beverage Trade Mission geared this September 2022.
Furthermore, the Chamber is looking forward to continuing its commitment to serving the Philippine-British business community through future events, webinars, and programs that reinforce business relations and further direct investment beneficial for the economy.
---
This is a press release. Minor edits were made prior to publishing.