LIST: More Manila Concerts this 2022 and 2023
The Manila concert scene is back! And what better way to support your idols than to attend their concerts? Well, the second half of 2022 is filled with lots of international acts that will get you grooving. Award-winning artists such as Justin Bieber, LANY, Maroon 5, and Westlife have confirmed their concerts in Manila. So go get that dab outfit you've been saving for a special occasion ironed, reserve your ticket, and experience (finally!) why they are global hitmakers. Below, you'll find a list of upcoming concerts in the Philippines you shouldn't miss.
Louis Tomlinson
IMAGE from TicketNet
Louis Tomlinson is heading here this July 16 as part of his world tour, which will now be held at the Smart Araneta Coliseum.
Red Velvet
IMAGE from Red Velvet
K-Pop group Red Velvet are coming to the Philippines this July. The group will be performing at the BE YOU The World Will Adjust event on July 22 in Mall of Asia Arena with P-Pop groups BGYO, BINI, and Lady Pipay.
Billie Eilish
IMAGE from SM Tickets
Billie Eilish is coming to the Philippines this August for her very first concert in the country, which will be held at the MoA Arena on August 13.
The Script
IMAGE from The Script
The Script will be holding a one-night concert in the Philippines on September 23 at the MoA Arena as part of their Greatest Hits Tour 2022.
Calum Scott
IMAGE from TicketNet
British singer Calum Scott is bringing his Bridges World Tour to Manila on October 20, 2022 at the New Frontier Theater.
Justin Bieber
IMAGE from Justine Bieber Music Philippines
The Canadian singer announced that he'll be coming to Manila (CCP Open Grounds) on October 29 as part of his Justice World Tour.
LANY
IMAGE from Philippine Concerts
Pop group LANY will be coming to Manila in November and will perform at the MoA Arena from November 11-13.
Maroon 5
IMAGE from Maroon 5
Pop-rock band Maroon 5 announced on Saturday, July 2, that they will return to Manila for an upcoming 2022 World Tour. News about ticket prices are yet to be announced.
Westlife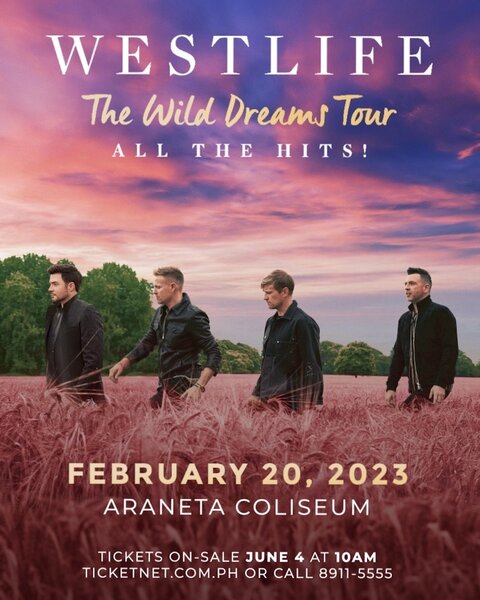 IMAGE from West Life
Westlife is returning to the Philippines, at the Smart Araneta Coliseum, on February 20, 2023. The concert is part of the Irish boyband's Wild Dreams Tour.
Also read: Concerts and Music Festivals to Watch in PH this 2022