Glico Philippines Inc. Wins Bronze Awards at ICE Awards 2021
Glico Philippines Inc. has won 2 bronze awards at the ICE Awards 2021.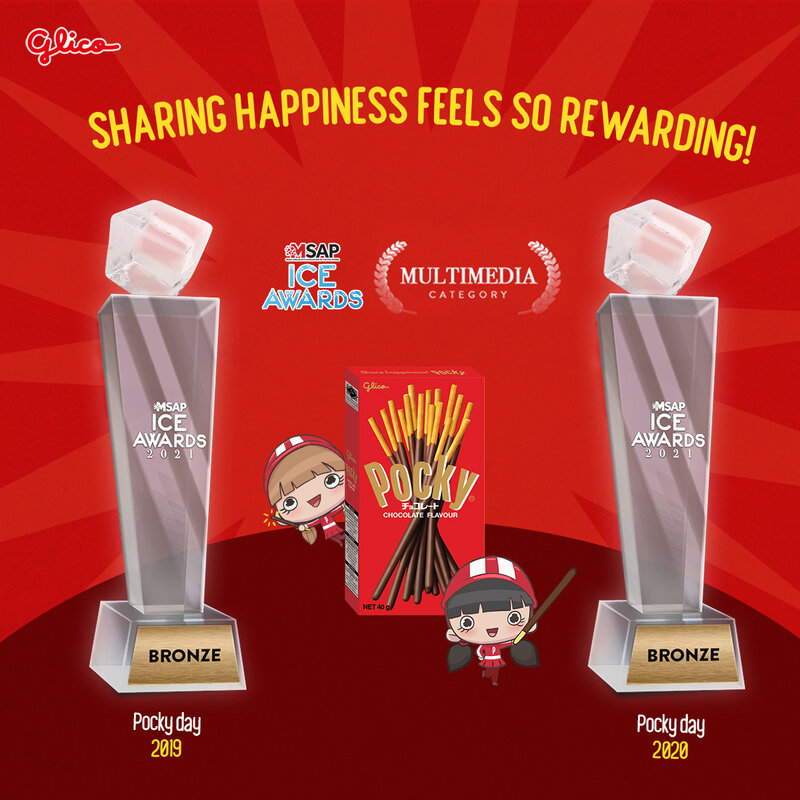 IMAGE from Glico Philippines Inc.
Under the Multimedia Category, the multinational company's PR campaigns Pocky day 2019 and Pocky day 2020 were lauded for its innovation, creativity, and effectiveness in spreading the brand's image by The Media Specialists Association of the Philippines (MSAP).
These multimedia marketing campaigns leveraged the power of social media to encourage people to share happiness on November 11 (11/11). "1" represents the shape of the iconic Pocky sticks people from all over the world know and love.
"We are really excited to have won the awards at the ICE Awards 2021.The pandemic has led to an increase in anxiety levels and unhappiness, as the future continues to be unpredictable social conditions. So we asked ourselves, 'How can Pocky help create shared moments of happiness to bring genuine smiles back?' Pocky is designed to be shareable, and simply saying 'Pocky!' can bring smiles to people's faces. said Glico Philippines, Inc. Marketing Head Takashi Miki.
IMAGE from Glico Philippines Inc.
"We believe that Pocky can be used to bring 'Share happiness' among all generations," he added.
To celebrate this momentous event, the company will hold offer special promos and discounts for their products on Shopee and Lazada from April 15-17, 2022.
For updates and announcements, visit their official website or check them out on Facebook and Instagram.
About Glico
Ever since the launch in 1922 of the nutritious, fortified Glico caramel in its distinctive red box, the business activities of Ezaki Glico Co., Ltd. adhered to the corporate philosophy of "Enhancing Public Health Through Food." Glico caramel – the company's first product – incorporates the innovative creativeness of Mr. Riichi Ezaki, the company's founder. Ever since the beginning, the entire staff has likewise been heartily dedicated to further enhancing people's health and quality of life. This has led to the expansion of business lines beyond confectionery to include ice cream products, processed foods, desserts, milk products, baby formula, food ingredients, and raw materials for cosmetic and health products.
About Pocky
Pocky is popular chocolate-based confectionary that has been loved by people all over the world since it was launched in Japan in 1966. It is made of a crisp pretzel, a kind of biscuit, coated by creamy chocolate. Pocky is so shareable that you'll want to share it with your friends and family any time, and anywhere. Pocky is all about 'Share happiness!'. Let's all share Pocky and bring happiness around the world.
Also read: Glico Philippines, Inc.