MRT-3 to Offer Free Rides from March 28 to April 30
After the successful inauguration of the newly-renovated Metro Rail Transit 3 (MRT-3) this week, President Rodrigo Duturte along with Department of Transportation (DOTr) Secretary Art Tugade announced the same-day a month-long free ride of MRT-3 effective from March 28 to April 30.
The President made the decision official as he graced the completion ceremony of MRT-3. Present at the event was Japan Ambassador Koshikawa Kazuhiko who joined the celebration to witness the newly-renovated trains.
MRT-3/IMAGE from DOTr
"I'd like to announce that Secretary Tugade decided that the MRT-3 rides will be free from March 28 to April 30, 2022," President Duterte said.
Duterte highlighted that the train's system would not have returned to its original prime design without the technical competencies and professional aid of service providers from Sumitomo Corp., Mitsubishi Heavy Industries and Test Philippines Inc which helped the whole Japan-funded MRT-3  Rehabilitation Project.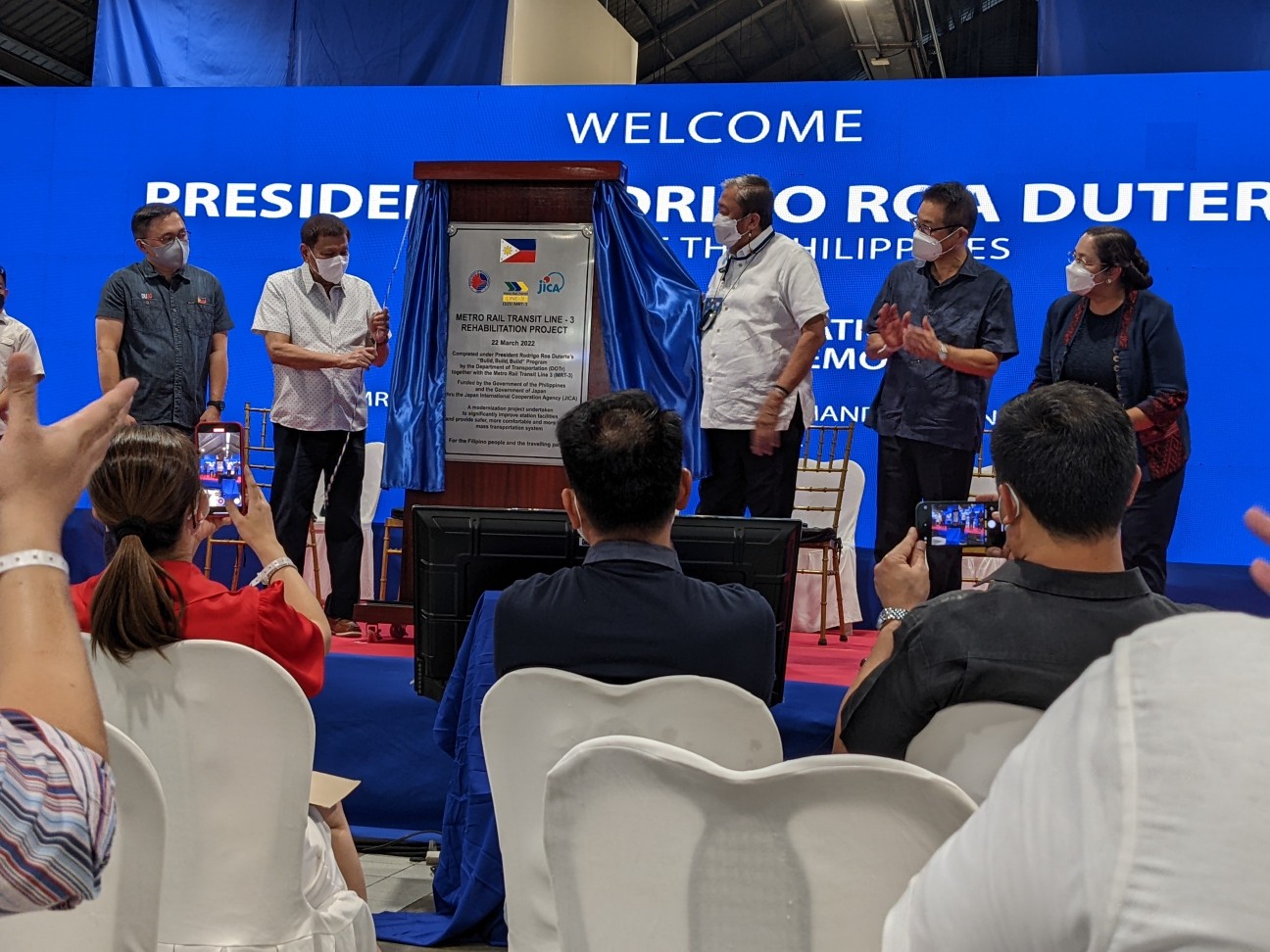 The inauguration of upgraded MRT-3/IMAGE from DOTr
Financed by the Government of Japan through the Japan International Cooperation Agency (JICA), the MRT-3 Rehabilitation Project started in 2018 with Japanese contractors, Sumitomo Corporation and Mitsubishi Heavy Industries (MHI). All MRT-3 facilities and equipment were renovated and improved, including replacement of worn-out tracks, upgrading of signaling system, and overhaul of the Light Rail Vehicles (LRVs).  
"Important milestones in the transportation projects have been achieved one after another, we attribute this to the strong leadership and determination of President Rodrigo Roa Duterte Secretary Tugade. These railway projects will form part of their long-lasting legacies and a driving force of economic development for many generations to come. We are determined to build more accomplishments, and to further strengthen the excellent relation of Japan and the Philippines," Ambassador Kazuhiko said.
IMAGE from DOTr
Meanwhile, Secretary Tugade clarified that train passengers can ride the MRT-3 free of charge in all its stations during the exclusive dates.
According to Tugade, the free ride initiative aims to ease the financial burden of the riding public, especially amid inflation, rising fuel prices, and many Filipino workers now returning to on-site work.
LOOK: DOTR: MRT-3 to pause operation during Holy Week 2022
MRT-3 now operates at a top speed of up to 60 kph from the 25 kph before. The number of trains has also increased from as few as 13, now up to 23 operational trains.
The headway or the waiting time between trains has been reduced from around 10 minutes to as low as 3.5 minutes. And travel time from North Avenue in Quezon City to Taft Avenue in Pasay City has been reduced to just 45 minutes from the previous 1 hour and 15 minutes.
In addition, the MRT-3 can now accommodate up to 600,000 passengers daily, from the previous passenger capacity limit of only 300,000.
---
Source: Department of Transportation and MRT-3  
Written by Cedie Salido