DONATE NOW: Here's How You Can Help The Victims Of Typhoon 'Odette'
A heartbreaking tragedy happened in parts of Visayas and Mindanao as Typhoon Odette ravaged those areas, causing massive damage to properties as well as ending the lives of countless Filipinos, last week.
Surigao/IMAGE from Philippine Red Cross
Currently, the Philippine government along with private sectors and non-profit organizations are working hand-in-hand to send relief packages to those who are affected by the storm. That's why we at the Philippine Primer are listing down organizations where you can donate, volunteer, and help those people in need.
Philippine Red Cross
The Philippine Red Cross appeals for donations in helping the affected communities in the Visayas and Mindanao regions as super typhoon Odette has devastated many parts of the country. You can click here to know more about its relief efforts.
IMAGE from  Philippine Red Cross
PhilSTAR Media Group's Operation Damayan
The Philstar Media Group is raising funds for typhoon damage through the organization "Operation Damayan."
According to Philstar President and CEO Miguel Belmonte, Damayan is a typhoon that collects past donations from San Miguel Chairman Ramon Ang (Php 1M), SM Prime Holdings management and employees (Php 500,000). They will immediately send support to Cebu Island, which was damaged by the disaster. The Rescue activities will be carried out by volunteer employees of the Cebu-based group publishing company "The Freeman".
Funds are raised via Gcash (search for Philstar Daily Inc. in the Payment Solution tab) and the PayMaya app (click Scan to Pay, scan the QR code and enter the amount). For inquiries, please contact damayan@philstarmedia.com, 09174695009 (Emie Cruz), or 8527-7777 local 2111.
QR code for donation/IMAGE from the Philippine Star 
The Philippine Disaster Resilience Foundation
The private sector and humanitarian organizations are working together to deliver the immediate needs of communities devastated by Typhoon #OdettePH. You can donate through the following channels:
For cash donations:
IMAGE from The Philippine Disaster Resilience Foundation
Account Name: Philippine Disaster Resilience Foundation, Inc.
BDO Savings Account: 005310633988
Swift Code: BNORPHMM
BDO Dollar Account: 105310463926
Swift Code: BNORPHMM
BPI Current Account: 0201051215
Swift Code: BOPIPHMM
RCBC Current Account: 7590684073
Swift Code: RCBCPHMM
PayMaya: bit.ly/PDRF-PayMaya-Odette
US-Philippines Society: bit.ly/USPS-Donate
Give2Asia: bit.ly/PDRF-Give2Asia
FintechAlliance.Ph digital wallets: 09152939533
For in-kind donations, contact their Cluster Coordinators at pacruz@pdrf.org.ph and bcvillanueva@pdrf.org.ph.
Save The Children Philippines
Access to clean water, food, and hygiene essentials is crucial in ensuring that children and their families stay healthy as they rebuild their homes damaged by #OdettePH. Please help provide assistance to more children and families by donating today at bit.ly/SaveChildrenOdette or through the methods below:
IMAGE from Save The Children Philippines
Ateneo de Manila University
The ADMU is once again asking for cash donations for Typhoon Odette Relief Operations. Donations received will be used to provide food for communities that will be affected by the typhoon. Donate through your preferred channels, or visit giving.ateneo.edu for more details.
IMAGE from Ateneo De Manila University 
Ayala Foundation
Call for donations: Typhoon Odette

Support Ayala Foundation's disaster resilience initiatives. We are now accepting cash donations to help communities affected by #OdettePH.

You may donate through:https://t.co/oF8Cp5JepL
GCash
BPI Account No. 0011-1681-08#MagingMagiting pic.twitter.com/j3oXeXSEah

— Ayala Foundation (@ayalafoundation) December 17, 2021
Caritas Manila 
Caritas Manila, through its Damayan Program, is appealing for your prayers and donations for our brothers and sisters severely affected by Super Typhoon #OdettePH.

Help in the ways you can. Visit https://t.co/Pc7hHjHgLO to share your blessings. pic.twitter.com/f8vvJcqhjd

— Caritas Manila (@CaritasManila) December 17, 2021
Tanging Yaman Foundation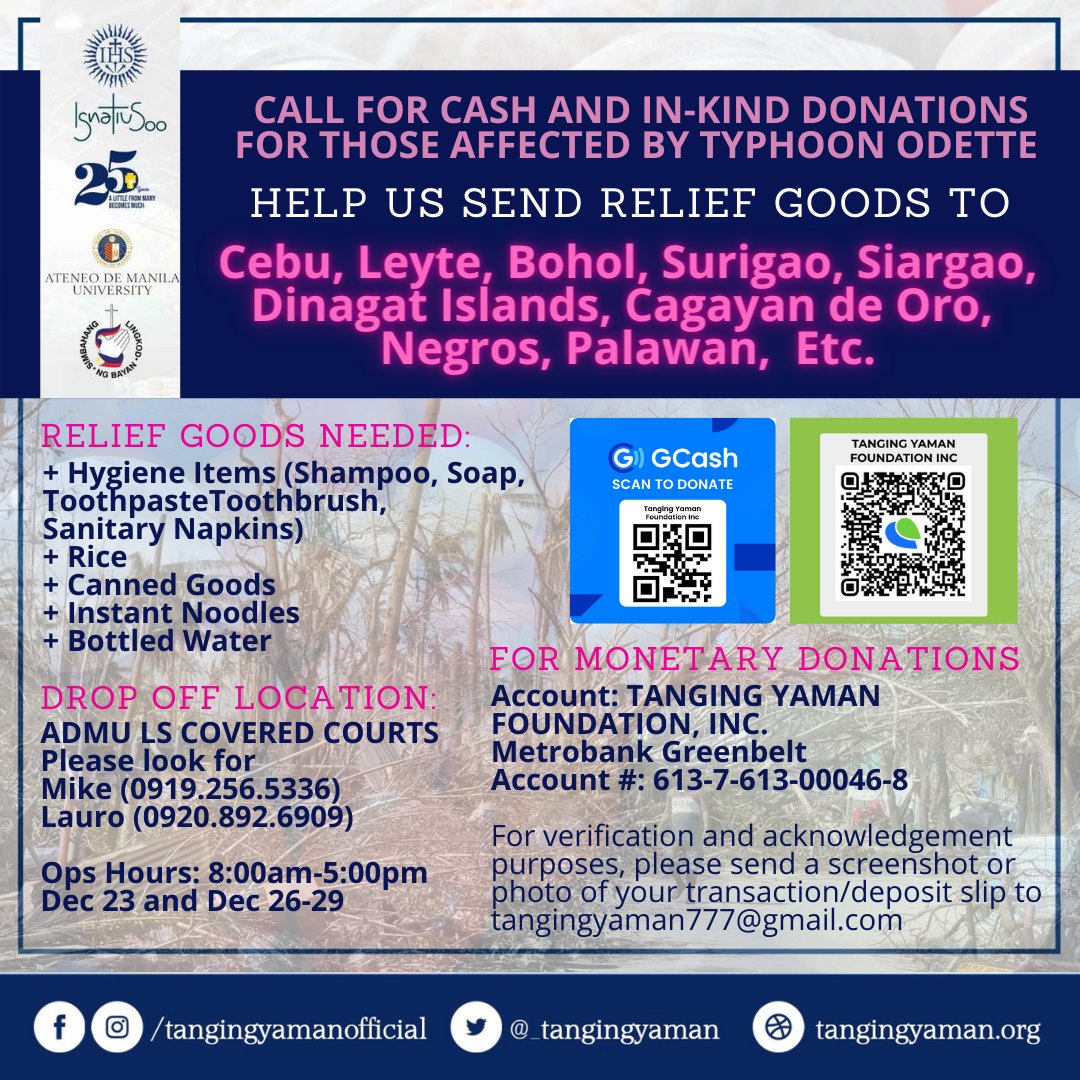 IMAGES from Tanging Yaman Foundation
Youth Advocates for Climate Action Philippines
📣 CALL FOR DONATIONS! 📣

With a Category 5 strength, Typhoon #OdettePH is one of the strongest storms this year and has hit thousands from Visayas and Mindanao. Affected residents were prompted to evacuate and need assistance. pic.twitter.com/7DfVrraRSk

— 🇵🇭Youth Advocates for Climate Action Philippines (@YACAPhilippines) December 17, 2021
University of the Philippines Visayas
In the aftermath of Typhoon Odette, many of our brothers and sisters in Central and Western Visayas have been affected by its onslaught that will affect their celebration of the season.

We would like to appeal to your generous hearts. pic.twitter.com/StnfESo2Mn

— UP Visayas (@UPVOfficial) December 20, 2021
National Union of Journalists of the Philippines
The National Union of Journalists of the Philippines is launching a fundraiser to provide immediate relief to media colleagues in areas devastated by Typhoon Odette and help them get back on their feet.

We are accepting donations via GCash, Paymaya and Metrobank.#OdettePH pic.twitter.com/ChOqygOQ3r

— NUJP (@nujp) December 22, 2021
UNICEF Philippines
#OdettePH Emergency: You can help send lifesaving emergency supplies to children and families in evacuation centers. See the various ways to donate below.

DONATE NOW and help us send lifesaving emergency supplies to areas most in need: https://t.co/bRtpmdFTNd#OdettePHRelief pic.twitter.com/4isbTlN6l1

— UNICEF Philippines (@unicefphils) December 21, 2021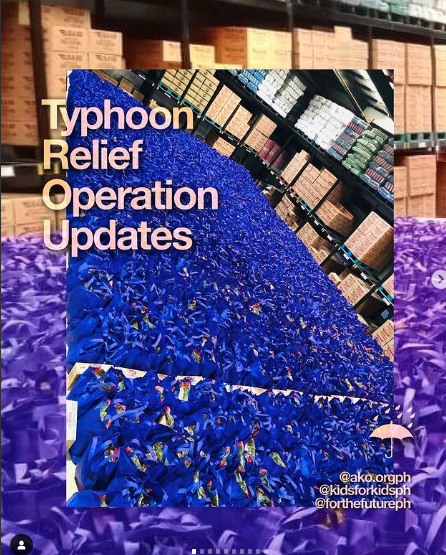 Xavier University
XU Call for Donations pic.twitter.com/5kyVwjvObS

— Xavier University – Ateneo de Cagayan (@XavierAteneo) December 21, 2021
---
This article will be updated. 
Listicle by Cedie Salido