Meet Makati's Newest Outdoor Dining Innovation: the Rada Promenade
The inviting cool December breeze calls for more time spent outdoors. Makati, the city that makes it happen, has come up with another exciting spot to hang out with family and friends for the whole year round. Expect more outdoor innovations as Makati Commercial Estate Association (MACEA) and Ayala Land, Inc. (ALI), supported by the Makati LGU, unveil the first phase of a new permanent outdoor dining initiative: the Rada Promenade.
The launch of the Rada Promenade Parklets was attended by (L-R) MACEA General Manager Jonathan David, Brgy. San Lorenzo Captain Ernesto Moya, MACEA Board of Governors Member Manny Blas, Ayala Land Estates Group Marketing and Communications Head Chrissy Roa, and International Relations Department and Makati Tourism Head Maria Concepcion M. Yabut
Located along Rada Street in Legaspi Village, the city premieres a safe dining alternative to accommodate more customers at the MCBD. Once used for street parking, the space was converted to host permanent and more al fresco dining options open daily, coupled with fun outdoor activities like the Makati Live busking performances.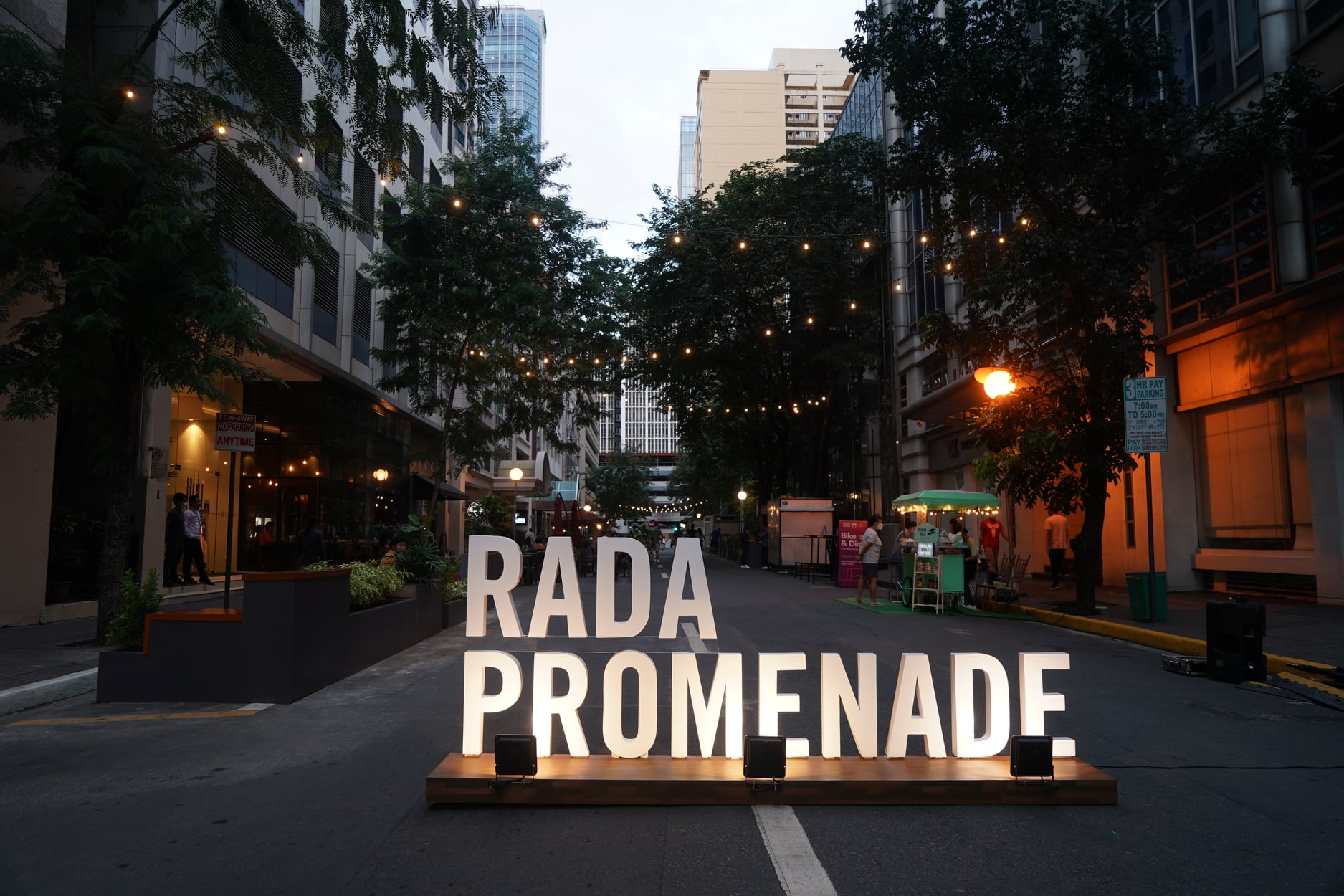 Rada Promenade signage lit up at night
The Rada Promenade is complete with pet-friendly features and festive decorations to provide a perfect dining experience. Bikers are also welcome to dine at the unique Bike and Dine racks allocated within the area. The car-riding public is still welcome to pass by Rada St. and enjoy a wide array of unique food concepts, provided by partner Makati restaurants and merchants, Wildflour, Nikkei, Coffee Bean and Tea Leaf, Sarsa, Wicked 'Wich, and many more! Its strategic location provides an interesting linkage to Makati's well-loved community parks, such as Washington Sycip and Legazpi Active Parks, thus further establishing Makati as a walkable city.
Makatizens enjoying the Rada Promenade parklets and other features with pet-friendly outdoor dining innovations
MACEA Board of Governors Member Manny Blas shares how Rada Street is not just a place for cars but also for people. "It now becomes a place [where] we can enjoy [and] we can spend time in, hopefully not just on weekends but more often. We have a much livelier neighborhood because of this."
The 1st phase of Rada Promenade features three different sizes of outdoor innovations scattered along Rada Street. To provide maximum comfort and convenience for diners, the outdoor dining area is fenced with the provision of an ample amount of seating areas. Art and nature coexist with people as additional trees are placed at vacant tree wells and movable planters and string lights, adorn the street to give it a festive and Parisian ambiance in the middle of the city. Customers can also expect harmonious tunes to enliven their visit, as performed by Makati Live's talented buskers.
Makatizens enjoying the Rada Promenade
These initiatives are just Phase 1 of the Rada Promenade project. The community is sure to be delighted as MACEA targets its completion by 2022, furnishing the area with more permanent alfresco spaces that are perfect for convergence with family and friends in the CBD, safely and daily.
"I would really like to thank the Ayala Group for being such a great partner to the tourism of our city. They are coming out with great ideas like the Street Meet [and] the Parklets [at] Esteban, which will really contribute to our tourism potential," said International Relations Department and Makati Tourism Head Maria Concepcion Yabut.
Makati continues to offer more safe, alfresco dining options to the community, providing more facilities and activities that elevate life in the city. For more information, visit the social media channels of Ayala Land and Make It Makati.
---
This is a press release. Minor edits were made prior to publishing.