Escape to Tagaytay: 7 staycation spots worth checking in to
After almost two years, we bet you already miss those quick getaways in Tagaytay with family and friends. Fortunately, its local government unit has recently reopened its borders to the public, allowing outsiders to visit the famous city and its equally famous tourist attractions.
So if you're itching to visit Tagaytay, here's  a list of some of the best Tagaytay City hotels and resorts with scenic views of Taal Volcano and the surrounding areas where you can check in to.
PS: Each of these hotels and B&Bs may have specific health and safety protocols that you will need to follow in order to stay there.
1. Taal Vista
IMAGE from Taal Vista Facebook page
Whether for lodging or a delicious meal, Taal Vista is a go-to spot for many tourists visiting the city. Located along Km. 60, Taal Vista Hotel used to hold former President Manuel Quezon's cabinet meetings when it was built in 1935. Taal Vista remains one of most popular hotels in Tagaytay due to its scenic views of Taal Lake and the surrounding areas, with rooms offering either a lakeside or mountainside view, all equipped with top-of-the-line amenities such as airconditioning, WiFi, flat-screen TV, and and many more.
The hotel also offers numerous facilities for comfort and relaxation such as an outdoor swimming pool, a gym, a game room, a wellness spa, a souvenir shop that sells local products and trinkets, and 4 restaurants serving local and international dishes.
General Information
Address: Kilometer 60, Aguinaldo Highway, Tagaytay City
Contact numbers: 0917-809-1254 / (+6346) 413-1000
Facebook: taalvistahotel
Website: taalvistahotel.com
2. Anya Resort Tagaytay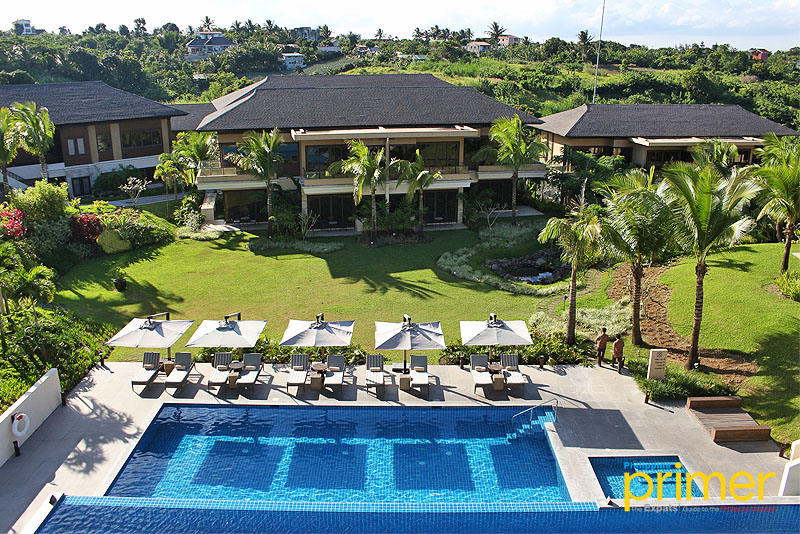 Anya Resort Tagaytay is one of the city's most underrated sanctuary, hidden in the quieter parts of the neighborhood, making it the perfect place to relax and unwind. In addition to their comfy rooms, this 7.2-hectare paradise has got some luxurious amenities such as a spa, library, and two on-site restaurants.
It will also let you experience the best of Filipino hospitality from the moment you book your stay down to your departure through their Anya Experience Assistant that lets you customize your ideal vacation, from the room's scent to meals and beverages.
General Information
Address: Anya Resort Tagaytay, Buenavista Hills Road, Brgy., Mag-asawang Ilat, Tagaytay City
Contact numbers: 02-8657-1640 / 0917-704-6159
Facebook: www.facebook.com/anyaresorttagaytay
Website: anyaresorts.com
Read more: Anya Resort Tagaytay Offers Exclusive Serenity and Luxurious Amenities Tailored to Your Taste
3. Twin Lakes Hotel
IMAGE from Twin Lakes Hotel Facebook page
A staycation at Twin Lakes Hotel will definitely make you feel like royalty. Sitting atop of one the highest peaks in Tagaytay, guests will be feasting their eyes on some of the most beautiful views in the city. What makes this extra special is that you'll be able to do so from their posh suites!
All rooms have airconditioning, cable television, and a safe box, to name a few. Guests checking in at spacious premium suites will enjoy perks such as complimentary fruit basket and a bottle of wine. The hotel also has a heated outdoor infinity pool, an in-house restaurant that serves local and international favorites, fitness center and game room. Meanwhile, guests with children will enjoy kid-friendly facilities such as a wading pool and a kids' corner.
General Information
Address: Tagaytay-Nasugbu Highway, Laurel, Batangas
Contact numbers: 0917 846 1389 / 0917 853 7468
Facebook: twinlakeshotel
Website: twinlakeshotel.com.ph
4. Escala Tagaytay
IMAGE from Escala Tagaytay Facebook page
Escala Tagaytay has everything you will need for the ultimate staycation: comfy rooms, stunning views, and amazing amenities. With its modern architecture, made even more beautiful with glass and wooden furnishings, Escala Tagaytay is arguably the focal point from which to enjoy everything Tagaytay has to offer. After all, it is just 6 km more or less away from famous tourist spots like People's Park, Sky Ranch, and Picnic Grove.
Each one of Escala Tagaytay's 60 rooms have amenities include air-conditioning, free WiFi access, toiletries, and some with bathtubs. One of its main features is an outdoor infinity pool overlooking the famous Taal Lake. Other facilities include a gym and an in-house restaurant offering a wide variety of local and international dishes. Parking, bottled water, and daily breakfast are free for hotel guests.
General Information
Address: Purok 102, Poblete Street, Barangay Maharlika West,Tagaytay City
Contact numbers: +63 285194444 / 0917-675-3806
Facebook: EscalaTagaytay1
Website: escalatagaytay.com
5. The Lake Hotel Tagaytay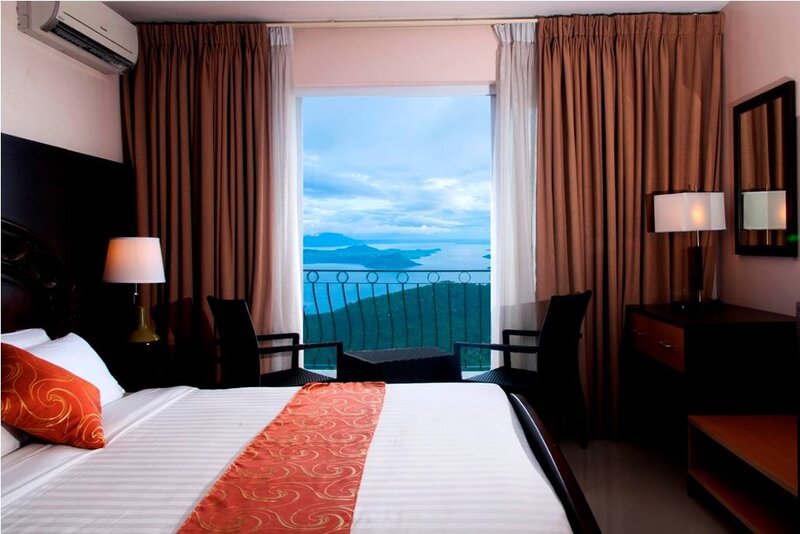 IMAGE from The Lake Hotel Tagaytay Official Facebook page
The Lake Hotel Tagaytay is situated in a prime along Aguinaldo Highway and has one of the best lakeside views of Taal Volcano. Because it is conveniently located at the heart of the city, guests can visit countless restaurants nearby that offer delicious local and international dishes.
Its rooms offer stunning views of the famous Taal Volcano and have modern amenities such as airconditioning, free WiFi, cable TV, and mini bar. There is also a game room, a KTV lounge, a fitness center, kiddie room, indoor swimming pool, and an outdoor infinity pool with lakeside views for guests who prefer to stay indoors.
General Information
Address: Km. 58 Maharlika East, Gen. Emilio Aguinaldo Highway, Tagaytay City
Contact numbers: (+632) 85844470 / 0917-593-9431
Facebook: Thelakehoteltagaytayofficial
Website: lakehoteltagaytay.com
6. Chalet de Tagaytay
IMAGE from Chalet de Tagaytay Facebook page
Located along the Tagaytay-Nasugbu Highway, the charming Chalet de Tagaytay, like the other entries in this listicle, is also conveniently located within a 6 km radius of popular tourist sites and shopping centers such as Sky Ranch, Ayala Malls Serin, and Summit Ridge. It also offers quiet surroundings and stunning lakeside views, away from the hustle and bustle of Tagaytay.
This private resort is equipped with a kitchen, bathrooms with hot shower, a living area, a dining corner, and a fire place. Hotel guests are even assigned a butler who will cater to their needs and provide the pampering they so much deserve.
General Information
Address: Tagaytay-Talisay Rd, Tagaytay,
Contact number: 0917-508-1524
Facebook: chaletdetagaytay
7. Summit Ridge Tagaytay
IMAGE from Booking
Offering one of the most in-demand staycations in the city, Summit Ridge Tagaytay is also located near tourist attractions and retail outlets such as Ayala Malls Serin, Sky Ranch, and Robinsons Tagaytay.
All of its 108 rooms are equipped with modern amenities such as airconditioning, cable television, and free WiFi, while suites have premium add-ons like bathtubs, kitchen, and separate living room. The hotel also features an indoor basketball and badminton courts, a gym, a spa, and an infinity pool. Free breakfast is served at Cafe Summit, the in-house restaurant, while other dining options are available in nearby establishments.
General Information
Address: Km. 58 Gen. Aguinaldo Highway, Maharlika West,, Tagaytay
Contact numbers: 0917-888-7788 /  0998-888-7788
Facebook: SummitHotelsAndResortsPH
Website: summithotels.ph/hotels/summit-ridge-tagaytay