LIST: Senatoriables in the May 2022 Philippine elections
Since we already know the hopefuls vying to become the next president and vice president in 2022, the next questions is quite obvious: who's going to run for senator?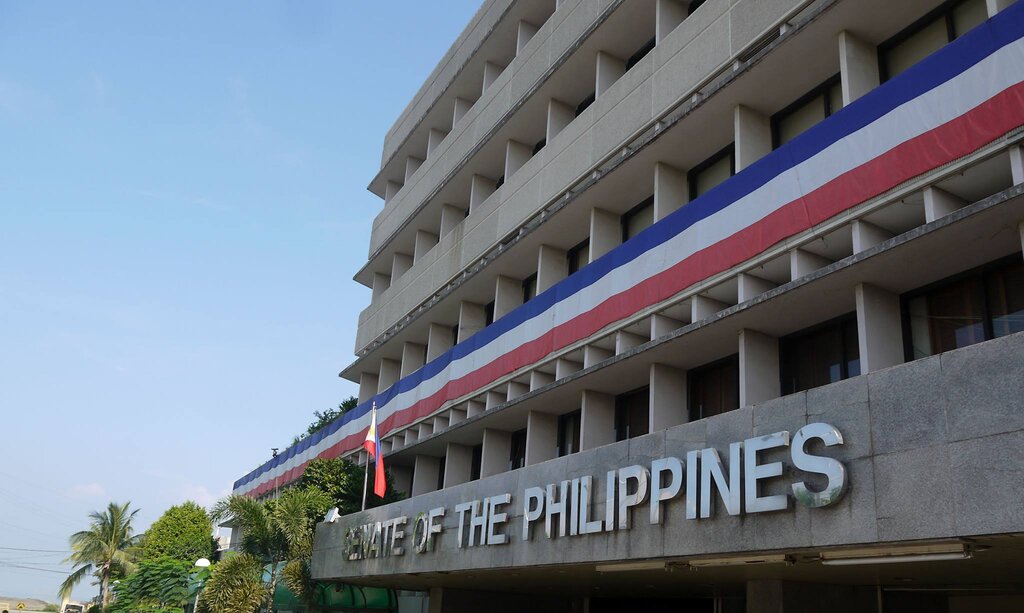 IMAGE from Official Gazette
Only a handful of presidential and vice presidential aspirants have endorsed senatoriables, who will be vying for 12 seats in the Senate. It's a mix of familiar names and neophytes, with many veterans in multiple slates of various standard bearers. Election winners are decided by the plurality rule: the top 12 candidates who receive the highest number of votes win.
So to help you decide who are you going to vote for the 2022 Philippine elections, here is a list of Senate aspirants who have filed their COCs:
Agnes Afable, Philippine Green Republican Party
Abner Afuang, Independent
Joseph Agabon, Independent
Antonio Alabata, Independent
Bilgadil Albani, Independent
Ibrahim Albani, Workers and Peasants Party
Lynn Alegre, Partido Pederal ng Maharlika
Anita Alingod, Independent
Gil Almasco, Independent
Filipino Alvarado, Independent
Nelson Ancajas, Independent
Manuel Andrada, Independent
Roberto Aniceto Jr., Philippine Green Republican Party
Joel Apolinario, Independent
Luz Aquino, Independent
Oscar Arcilla Jr., Independent
Jesus Arranza, Independent
Pedro Austria Jr., Philippine Green Republican Party
Edgar Avinado, Independent
Rowena Awang, Independent
Teodoro "Teddy" Baguilat Jr., Liberal Party; In senatorial slate of: Robredo
Agnes Joyce Bailen, Independent
Rosemarie Balinzon, Independent
Carlito "Carl" Balita, Aksyon Demokratiko; In senatorial slate of: Moreno
Mario Bangasan, Independent
Loreto Banosan, Independent
Bandao Bansilan, Independent
Lutgardo Barbo, PDP-Laban; In senatorial slate of: Pacquiao
Herbert Constantine Bautista, Nationalist People's Coalition; In senatorial slate of: Lacson
Ramon Bayron, Independent
Greco Belgica, Pederalismo ng Dugong Dakilang Samahan; In senatorial slate of: PDP-Laban
Silvestre Bello Jr., PDP-Laban
Orlando Bernardo, Independent
Deviendo Biazon Sr., Independent
Reynaldo Biluan, Philippine Green Republican Party
Jejomar Binay, United Nationalist Alliance; In senatorial slate of: Lacson, Pacquiao, and Robredo
Pol Bulilan, Independent
Dennis Cabada, Independent
Roy Cabonegro, Partido Lakas ng Masa; In senatorial slate of: De Guzman
Lorenzo Cagote, Independent
Eleazar Calampiano, Philippine Green Republican Party
Luzminda Calicdan, Independent
Mario Camba, Independent
Napoleon Capitulo Sr., Independent
Florencio Carlos, Philippine Green Republican Party
Arnel Paciano Casanova, Katipunan ng Nagkakaisang Pilipino
Jose Castillo, Independent
John Castriciones, PDP-Laban; In senatorial slate of: PDP-Laban
Anthony Castro, Philippine Green Republican Party
Alan Peter Cayetano, Independent
Melchor Chavez, Workers and Peasants Party (Labor Party Philippines)
Neri Colmenares, Makabayang Koalisyon ng Mamamayan; In senatorial slate of: De Guzman and Pacquiao
Marcelino Cotelo Jr., Independent
Ernesto Cruz, Independent
David D'Angelo, Partido Lakas ng Masa; In senatorial slate of: De Guzman
Panfilo Dabandan Jr., Independent
Lourdes Candy Darimbang, Partido Pederal ng Maharlika
Leila de Lima, Liberal Party; In senatorial slate of: De Guzman, Robredo
Bertito del Mundo, Independent
Monsour del Rosario, Partido para sa Demokratikong Reporma; In senatorial slate of: Lacson
Rosita Maura delos Angeles, Philippine Green Republican Party
Phil delos Reyes, Independent
Vilma Detera, Independent
Fernando Diaz, Partido Pilipino sa Pagbabago
Jose Eduardo "Joed Serrano" Dimbla, Independent
Jose Manuel "Chel" Diokno, Katipunan ng Nagkakaisang Pilipino; In senatorial slate of: De Guzman and Robredo
Jamila Dipatuan, Partido Pederal ng Maharlika
Rodrigo Duterte, Pederalismo ng Dugong Dakilang Samahan
Joseph Dy, Independent
Ashleah Ebad, Independent
Manolo Ebora, Independent
Joseph Victor "JV" Ejercito, Nationalist People's Coalition; In senatorial slate of: Lacson
Guillermo Lorenzo Eleazar, Partido para sa Demokratikong Reporma; In senatorial slate of: Lacson
Jesus Embuscado, Independent
Ernesto Ereño, Partido Maharlika
Paul Medard Escolano, Independent
Francis Joseph "Chiz" Escudero, Nationalist People's Coalition; In senatorial slate of: Lacson, Pacquiao, and Robredo
Bai Maylanie Esmael, Independent
Norberto Esmeralda Jr., Independent
Renecio "Luke" Espiritu Jr., Partido Lakas ng Masa; In senatorial slate of: De Guzman
Jinggoy Estrada, Pwersa ng Masang Pilipino
Leodegario Estrella, Independent
Baldomero Falcone, Democratic Party of the Philippines
Melissa Fortes, Independent
Bobby Francisco, Philippine Green Republican Party
Lorenzo "Larry" Gadon, Kilusang Bagong Lipunan
Sherwin "Win" Gatchalian, Nationalist People's Coalition; In senatorial slate of: Lacson
Ziegfred Ryan Giron, Independent
Richard "Dick" Gordon, Independent; In senatorial slate of: Lacson, Pacquiao, and Robredo
Marcil Guay, Independent
Junbert Guigayuma, Independent
Samira Gutoc, Aksyon Demokratiko; In senatorial slate of: Moreno
Claro Guzman Jr., Philippine Green Republican Party
Gregorio "Gringo" Honasan, Independent; In senatorial slate of: Lacson, PDP-Laban
Ana Theresia "Risa" Hontiveros, Akbayan; In senatorial slate of: De Guzman and Robredo
William Iliw Iliw, Independent
Eugenio Insigne, Independent
Manuel Insigne, Independent
Samuel Aloysius Jardin, Independent
Rodolfo Javellana Jr., Independent
Joseph Ross Jocson, Katipunan ng Demokratikong Pilipino
Ali Kagui, Independent
Nur-Mahal Kiram, Independent
Elmer "Ka Bong" Labog, Makabayang Koalisyon ng Mamamayan; In senatorial slate of: De Guzman and Pacquiao
Mark Anthony Lacap, Independent
Alexander "Alex" Lacson, Kapatiran Party; In senatorial slate of: Robredo
Sixto Lagare, Independent
Roel Lamoste, Independent
Reynante "Rey" Langit, PDP-Laban; In senatorial slate of: PDP-Laban
Barbara Lawagan, Independent
Lorna Regina "Loren" Legarda, Nationalist People's Coalition; In senatorial slate of: Lacson and Pacquiao
Ponciano Leyte Jr., Independent
Ernesto Librando, Independent
Ariel Lim, Independent
Darwin Logronio, Philippine Green Republican Party
Bethsaida Lopez, Independent
Pedro Lopez, Independent
Iluminado Macalalad, Independent
Emily Mallillin, Partido Pederal ng Maharlika
Mario Mangco, Philippine Green Republican Party
Donabell Manzano, Independent
Rodante Marcoleta, PDP-Laban; In senatorial slate of: PDP-Laban
Francis Leo Marcos, Independent
Norman Marquez, Independent
Jose Sonny Matula, Independent; In senatorial slate of: De Guzman and Robredo
Ariel Mazo, Independent
Luther Meniano, Independent
Marieta Nor-Aisha Mindalano-Adam, Katipunan ng Kamalayang Kayumanggi
Edgar Miranda, Philippine Green Republican Party
Ramon B. Mitra, Katipunan ng Demokratikong Pilipino
Rundy Montoya, Independent
Julian Navarra, Independent
Adz Nikabulin, Independent
Rex Noel, Independent
Leo Olarte, Bigkis Pinoy Movement
Ma. Dominga Cecilia "Minguita" Padilla, Partido para sa Demokratikong Reporma; In senatorial slate of: Lacson
Robinhood "Robin" Padilla, PDP-Laban; In senatorial slate of: PDP-Laban
Roy Padilla Jr., Independent
Rosemarie Palacio, Independent
Salvador "Sal" Panelo, PDP-Laban; In senatorial slate of: PDP-Laban
Roben Parashan, Independent
Roger Pasa-an, Independent
Lamberto Payongayong, Independent
Henry Petrola, Independent
Rodelo Pidoy, Independent
Astravel Pimentel-Naik, PDP-Laban
Emmanuel "Manny" Piñol, Nationalist People's Coalition; In senatorial slate of: Lacson
Jigger ND Pitos, Philippine Green Republican Party
Romeo Plasquita, Independent
Wilfredo Red, Independent
Willie Ricablanca Jr., Partido Maharlika
Herminio Harry Roque Jr., People's Reform Party
Nur-Ana Sahidulla, Pederalismo ng Dugong Dakilang Samahan
Najar Salih, Independent
Samuel Sanchez, Independent
Maria Lourdes Santiago, Philippine Green Republican Party
Joseph Peter "Jopet" Sison, Aksyon Demokratiko; In senatorial slate of: Moreno
Aaron Soguilon, Independent
Narciso Solis, Independent
Elbern Suguipit, Philippine Green Republican Party
Jennet Tam, Independent
Gilberto Eduardo Gerardo "Gibo" Teodoro Jr., People's Reform Party
Chelsa Tomaquin, Independent
Antonio "Sonny" Trillanes IV, Liberal Party; In senatorial slate of: Robredo
Raffy Tulfo, Independent; In senatorial slate of: Lacson, Pacquiao
Reynaldo Valeros Jr., Independent
Emmanuel Joel Villanueva, Independent; In senatorial slate of: Lacson, Pacquiao, and Robredo
Mark Villar, Nacionalista Party; In senatorial slate of: PDP-Laban
Carmen Zubiaga, Independent
Juan Miguel "Migz" Zubiri, Independent; In senatorial slate of: Lacson, Pacquiao, and Robredo
---
Source: COMELEC