From Paris With Love: Olympics 2024 sets in France
After the most challenging Olympic game in history, the Tokyo Olympics 2020 has finally ended. Despite a year of setbacks, Japan managed to host the sports event amid the pandemic with ease and grace. Indeed, it was one of the most epic, unconventional, and truly monumental tournaments in all Olympic events so far.
Not only that, but history has been made and carved by many athletes as they brought honor and pride to their respective countries. Like our very own Hidilyn Diaz, a weight lifting olympian who bagged the first-ever Olympic gold for the Philippines.
Eiffel Tower/IMAGE from Unsplash
In addition to the gold of Diaz, Nesthy Petecio (boxing, featherweight division) and Carlo Paalam (boxing, men's flyweight division) won silver medals, while Eumir Marcial got the bronze medal in men's boxing middleweight division.
As the Philippine team sets the bar high, the pressure is on to prepare on the next quest for gold in Paris 2024.
But before we head to the main event, let see what Paris, France has to offer.
HOME OF BEAUTY AND FASHION 
With its iconic landmarks such as the Eiffel Tower, Paris has many architectural and historical places you can visit. It's also the home and the capital for beauty and fashion like Chanel, Louis Vuitton, Givenchy, Balmain, Christian Louboutin, Pierre Cardin, Yves Saint Laurent, and much more high-end brands. But Paris is more than beauty and aesthetic, they are beyond that.
With 1077 days left before the official day of the Paris 2024 Olympics, many local and regional authorities are now preparing for the big events.
"From the bid phase, Paris 2024 made it clear – these Games will be for the whole of France. With the Terre de Jeux 2024 label, we are honoring that promise. This initiative, the only one of its kind in the history of the Games, recognizes local authorities taking action to promote more developed and inclusive participation in sport, at town and regional levels, and engages with various stakeholders in the sporting movement. Paris 2024 is bringing all the regions on board and going even further by including structures from the sporting movement and French communities abroad at the heart of this approach," an official statement from Paris 2024 organization. 
ARENA LIKE NO OTHER
According to them, Paris 2024 will provide an arena like no other incorporating their history, traditions, and to be a sustainable place for sports.
"Paris 2024 wants sport values to become a key part of people's lives and to prove that we can achieve excellence while also championing sustainability," they said. "Paris' iconic landmarks are being transformed into sporting arenas to offer spectators an unparalleled experience and provide an outstanding backdrop for sporting prowess."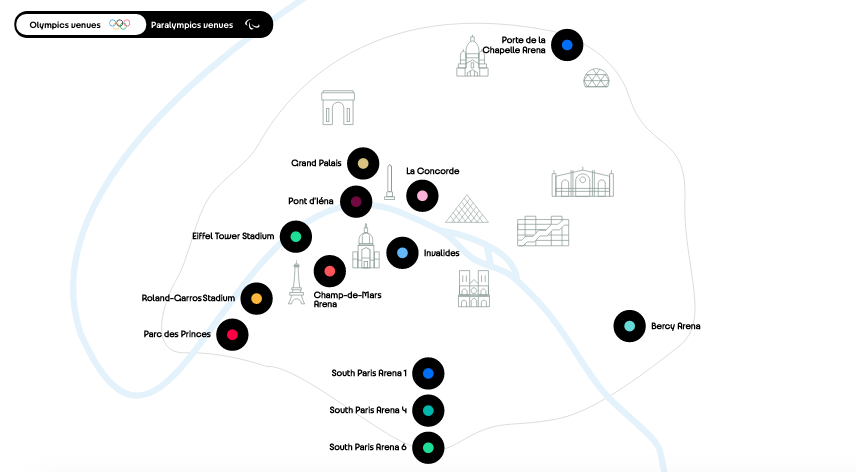 Olympics venues/Screengrab from Paris 2024 Organization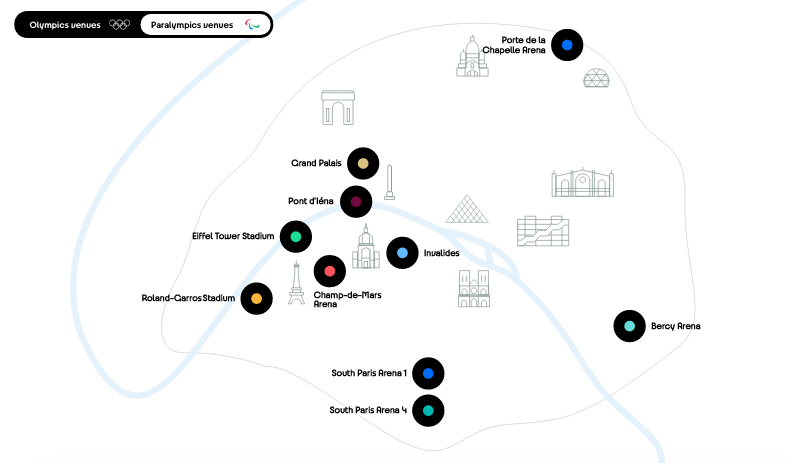 Paralympics venues/Screengrab from Paris 2024 Organization 
PARIS 2024 Olympic games' Key Figures 
This would be the  XXXIII (33rd) Olympiad.

The event will happen from July 26 to  August 11, 2024.

There will be 206 nations confirmed to join the Olympics.

28 sports + (including 4 additional sports)

There will be a total of 306 events throughout the tournament

About 10, 500 athletes are expected to participate in the game
Screengrab from Paris2024 Organization 
---
Source: www.paris2024.org 
Written by Cedie Salido