PSA: Major Mall Schedules in NCR from Jul 31 to Aug 20
The National Capital Region (NCR) will be placed under enhanced community quarantine (ECQ) on August 6 to help curb the spread of the COVID-19 virus and its deadly variants, and only essential activities can be done outside of one's home.
Until then, additional restrictions will be implemented as Metro Manila is placed under general community quarantine (GCQ) with heightened restrictions until August 5.
Ayala Malls
From August 6-20, 2021, only supermarkets, drugstores, banks, health services and restaurants with takeout options may be accessed at Ayala Malls in NCR.
IMAGE from Ayala Malls Facebook page
Robinsons Malls
Robinsons Malls announced that it'd be implementing store adjustments until August 5. Persons below 18 years old and above 65 years old will be allowed entry to access essential goods and services, including medical appointments.
IMAGE from Robinsons Mall Facebook page
SM Supermalls
From July 31 to August 5, SM Supermalls restaurants in NCR will offer take-out and delivery services, and all retail and services stores will be open daily.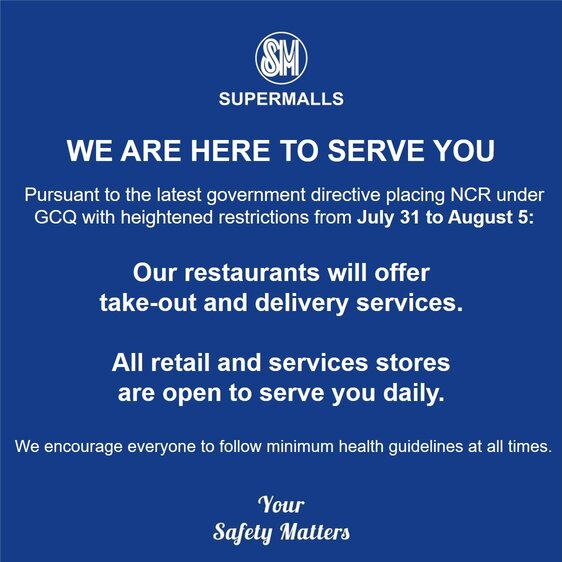 IMAGE from SM Supermalls Facebook page
Rustan's
In a Facebook post, Rustan's has implemented changes in its operational hours until August 5 due to health and safety concerns.
IMAGE from Rustan's Facebook page
Megaworld Lifestyle Malls
Megaworld Lifestyle Malls are open to serve customers with some operational adjustments from July 31 to August 5.
Mall Hours are as follows:
• Eastwood City – 10 a.m. – 9 p.m.
• Uptown Bonifacio – 10 a.m. to 9 p.m.
• Venice Grand Canal – 10 a.m. – 8 p.m. on weekdays
• Lucky Chinatown Main Mall – 10 a.m. – 7 p.m.; Annex A – 9 a.m. – 6 p.m.; Annex B (weekdays) – 8 a.m. – 6 p.m.
• Forbes Town – 10 a.m. to 9 p.m.
• Newport Mall – 11 a.m. – 9 p.m.; establishments outside the mall – 10 a.m. – 7 p.m.
• The Clubhouse at Temple Drive – 10 a.m. – 9 p.m.
• Arcovia City – 10 a.m. – 8 p.m.
• Paseo Center – 10 a.m. – 8 p.m.
• San Lorenzo Place Mall – 10 a.m. – 8 p.m.
• Festive Walk Iloilo – 10 a.m. – 9 p.m.
• Mactan Alfresco – 11 a.m. – 8 p.m.
• California Garden Square – 10 a.m. – 8 p.m.
• Alabang West Parade – 10 a.m. – 7 p.m.
• Greenhouse at Village Square Alabang – 10 a.m. – 7 p.m.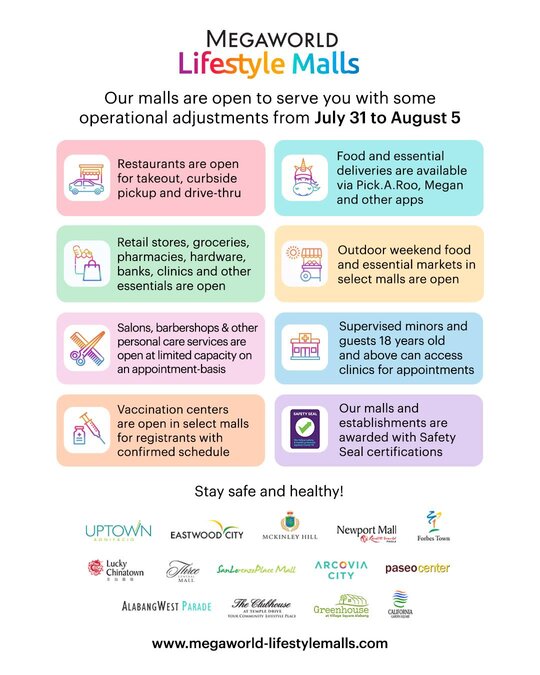 IMAGE from Megaworld Lifestyle Malls Facebook page
Vista Mall
Vista Malls within NCR shall remain open to serve customers for pick-up, takeout, and delivery needs. One may also order essentials and more through GetAll Services and Viber.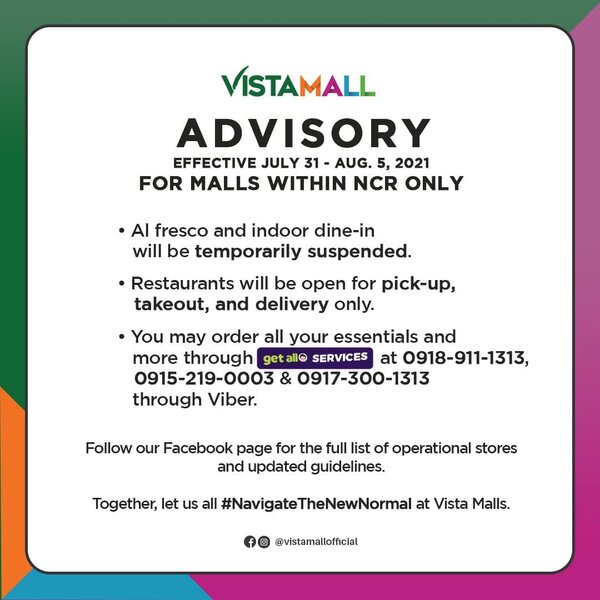 IMAGE from Vista Mall Facebook page
Bonifacio High Street
The management of Bonifacio High Street, through a Facebook post, announced that restaurants would only be open for takeout and delivery, and personal care services may operate at 30% capacity at adjusted mall hours (10 a.m. – 8 p.m.) from July 31 to August 20.
IMAGE from Bonifacio High Street Facebook page
Araneta City
To comply with the latest health and safety protocols mandated by the government, the following will take effect in Gateway Mall, Ali Mall, and Farmers Plaza from July 31 to August 5.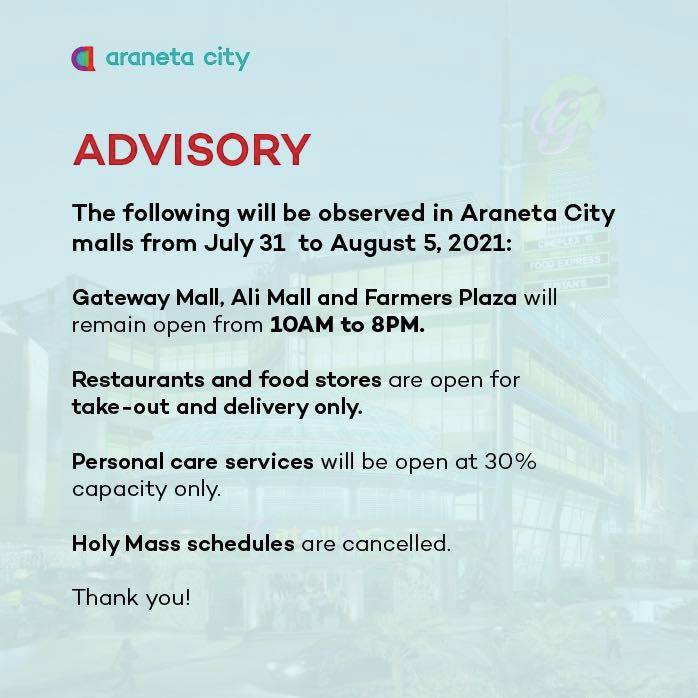 IMAGE from Araneta City Facebook page