BEYOND LEGACY: How The German Club in Manila Thrives Through the Years
It was a test of faith when the world welcomed 2020, especially for the Philippines. With the long list of unfortunate events during the pandemic, everyone was down on their knees, one way or another. In fact, many businesses were forced to shut down, travel bans and restrictions were implemented all over the place, and a lot of people lost their loved ones due to the coronavirus.
But if there's a silver lining to all of these devastating events: we always come back better, stronger, and wiser. Take it from The German Club, one of the oldest clubs in the Philippines and in Asia since 1906.
With their 115 years of history, Mr. Klaus Buecheler, the Club Manager of the German Club, was pleased to share their stories of wins and losses over the years.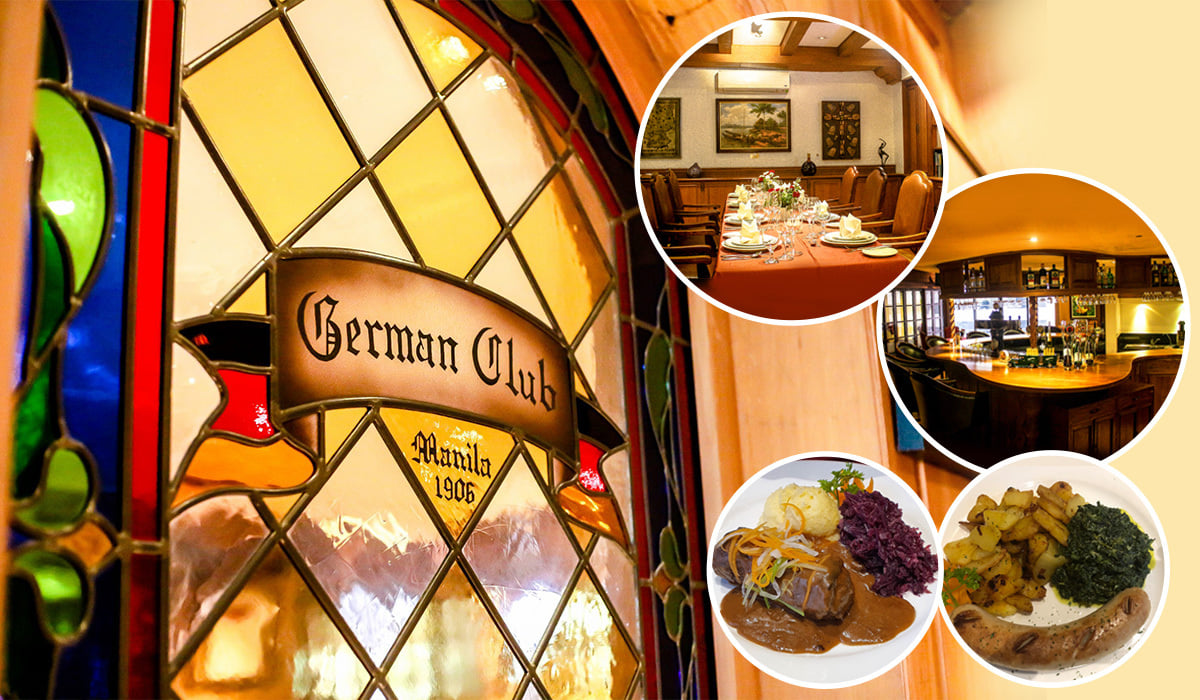 IMAGE from the German Club
THE CLUB AND ITS LEGACY
Buecheler began his story by greeting us with a piece of good news.
"We got a good number last month (June 2021). The month is starting very well," Buecheler said.
As happy as he was, Buecheler remembered the days when the lockdown was enforced last year. He mentioned the level of distress he experienced brought by the pandemic. However, the situation didn't stop them at all. With full of hope and trust, the German Club put its confidence in its members' hands to fight this dilemma head-on.
IMAGE from Philippine Primer 
"For the team of German Club, it was a scary (encounter). In the beginning, it was a complete shutdown. So everybody was scared, especially (employees) to lose their jobs. Or to have unpaid leave not only for one month." he said. "Nobody knew what to expect but the good thing is, the German Club, unlike other restaurants, has been able to deal with this situation."
Buecheler stated that their strength lies in numbers, which reflect the spirit of comradery on their team. The full support from its members helps the club to survive and paid all its dues. He also added that though the business wasn't at its peak compared to previous years, the team remained grateful that no one was left behind.
"A lot of restaurants ran into a financial problem very fast. We are a club, which means we have a strong membership and the members supported us. They continued paying their membership fees and that's the big difference for our club compared to other restaurants," he said. "We're able to pay all the staff during the whole pandemic and there was no period of 'no work no pay' like in other restaurants and in other businesses."

THROUGH THE YEARS 
Over the course of the century, the German Club has gained a fair share of stories to tell when it comes to rising above the challenges. Back on January 16, 1906, in old Manila, the German Club was officially founded. With only a small group of Germans who lived in the country, a community was made.
IMAGE from Philippine Primer
Buecheler also reminisced one of the most trying times in their history: World War II. He admitted that Germany was indeed, in a bad light on that period of time, although he clarified that Germans who resided in the Philippines were actually opposed and completely not in favor of what their country did.
STRONG SENSE OF COMMUNITY
After the war, the German Club picked up the pieces of the past to rebuild a new one. This time, it's bigger and bolder. Fast forward today, the club has now multiple and diverse members all over the world. They have members from all walks of life such as businessmen, politicians, and upper-class citizens of the society. Through their liberal mindset to keep moving forward, the German Club is now open for a greater change.
"We came out (strong) from those difficult periods. We have now the club here in Makati, since the '80s. Nowadays, we have 400 plus members but we're not only German of course, " Buecheler said.
IMAGE from the German Club Manila
The vision of the German club is to create a strong sense of community and connect to a wider range of networking. Joining the club as a member will give you perks and benefits that you can truly appreciate.
・Networking and socializing platform
・Join the Club Soccer Team, the Golf Group, or the Skat (Cards) Group
・Endorse friends or business partners to dine in at the German Club
・Members only events
Aside from the connections that you'll gain, a team member can also use the facilities for business meetings, forums, or recreational activities. Discounts and deals within the community are also available.
State of past events/IMAGE from the German Club
According to Buecheler, there are two ways to be a member: formal application and endorsement. "You need to be endorsed by a member with good standing and they should be regular members of The German Club," he said.
If you're new in the area and don't know anyone, you can always approach the club directly. In addition, fees vary from member to member. They have a standard fee of Php 2500 but for the provincial members, it's only Php 980.
HOME OF COMFORT FOOD, EXCLUSIVITY, AND PRIVACY
When it comes to food, The German club is an illustrious place to dine. Not only because of the exclusivity and privacy they offer but also the authenticity and quality of food that they serve.
"It's all about comfy food. Not super fancy, but really authentic actually. We want to be authentic as possible, as classic as possible. In terms of restaurant and bar, our place the have typical German restaurants," Buecheler said.
Veal Bratwurst with Potato Salad (Php 290 at member price)
Buecheler also emphasized that food is created as close to home as possible while maintaining them at a modest price. Moreover, their local chefs were highly trained by their German counterparts.
"The food, which is like a fine-dining setup, comes at a very affordable price for the members. That means it kind of subsidized through membership fees. In a regular restaurant food and beverages are very pricey, compared to what you pay here in our restaurant," he added.
Meanwhile, Buecheler couldn't help but acknowledge that Filipinos are indeed food enthusiasts. "Filipinos are food lovers, they are open to anything, whatever is new to them and they will try it. They want to experience new things," he said.
FROM ONE GENERATION TO ANOTHER 
Now that The German Club is taking their time to bounce back once again, one thing is for sure: they're in it for the long haul.
As the club embodies the culture of excellence, empowers their community, and most of all their unending resiliency, without a doubt, the German Club will withstand the test of time.
"The Club has seen the good times and the bad times. At the end of the day, the pandemic situation was really bad but it doesn't scare us away or stop us from what we're doing, especially on what we love to do," he said.
Club manager Klaus Buecheler 
Buecheler noted that the German Club prepares slowly but surely to pass the torch from one generation to another. Inviting new blood to their community, one member at a time.
"We also have to open a little bit more to none members. We started our social media recently, such as our Facebook, Instagram and that's how we approached the younger generation now," he ended.
****
GENERAL INFORMATION                     
Address: Penthouse, Eurovilla II Building, 118 V.A. Rufino 1229 Makati, Metro Manila
Contact Information: 02-8817-3552 | 02-8894 2899
Restaurant Business Hours: 11:00 a.m. to 11:00 p.m.(Monday to Saturday)
Email: reservations@germanclub.ph
Restaurant Capacity:40 people (Pre-pandemic is 120 pax)

Website: www.germanclub.ph 
Restaurant Payment (credit cards): Yes
Restaurant Smoking Area:  Yes
Grab Food and Food Panda: Yes
Facebook: @german.club.manila.philippines
Instagram: germanclubmanila
---
Written by Cedie Salido