Office Chair Recommendations for Work From Home Setup 
The key to having a work-life balance lies not only on the management of your workload, but also in how orderly your workplace is. Given that many of us are forced to do work from home due to the pandemic, it's important that we pay attention to how we put boundaries between life and work. Furniture, for example, is the best way to make physical attributes to put things in their respective spaces. At Philippine Primer, we understand the needs of this grey area that most people often forget. This month, we are sharing tips and tricks on home renovation that is both easy and practical.
If you want a comfortable working station…
The key to improving work efficiency is getting a comfortable work chair with proper height. 

 Invest in a chair that suits your height and weight
The Philippines follows the American standard chair height of 45 cm. Depending on your height, this could be too tall, resulting in your heels not touching the floor. This may get you tired faster at work though so you should consider the height when purchasing a chair. Otherwise, you can buy an office chair with adjustable height.
Choose a quiet place for work 

Create a working space that will you help you focus and work efficiently
Ambient sounds matter more than your background in a workstation. Many people feel anxious about their rooms being shown in the background when attending online meetings. However, if if you are not required to turn your webcam on, rather, focus on getting rid of unnecessary background noise. It will surely distract you if you hear them during meetings. If you don't have a noise-canceling microphone, work in a quiet place or somewhere where there are few people around if possible.
***
Office Chair Recommendations for Work From Home Setup
Are you using a comfortable chair at home? Sitting down for long hours will make you tired. That's why we are featuring these amazing products courtesy of Uchida Yoko Global Co., Ltd.
AJ Chair (SRP : PHP 19,000)


It has a leaning back in 3D mesh structure, which is made up of 356 pcs of cells. The reclining strength is automatically adjusted according to the physique and posture of the sitting person, making this the perfect chair for offices, meeting rooms, and receptions.

Where to buy:
INFINUS CORPORATION
#30 ITC Compound Saint Dominic Street Brgy. Canumay East Valenzuela City Philippines
*Listed prices are for Filipino stock items (color, model) only. Please contact us for details. 
EPO Chair (SRP : PHP 18,000)

For the first time in this series, we have adopted a free synchro mechanism for our chairs that makes them reclines in conjunction with the back seat. The New Basic Chair, which comes in different types, can be used in both offices and work from home setup.
Uchida Yoko Global Limited | Website: www.uchidayoko.com/office/
***
Primer staff workplace makeover!
Like many others, Primer's staff suddenly had to start working from home without any kind of preparation last March 2020, and had no choice but to work with a temporary set up in their bedroom. After working like this for a year, Primer staff finally decided to improve their work space. It seems working from home will continue for a while. The Primer staff has decided to organize the workstation in his house and buy a desk. Let's see how things have changed.
Before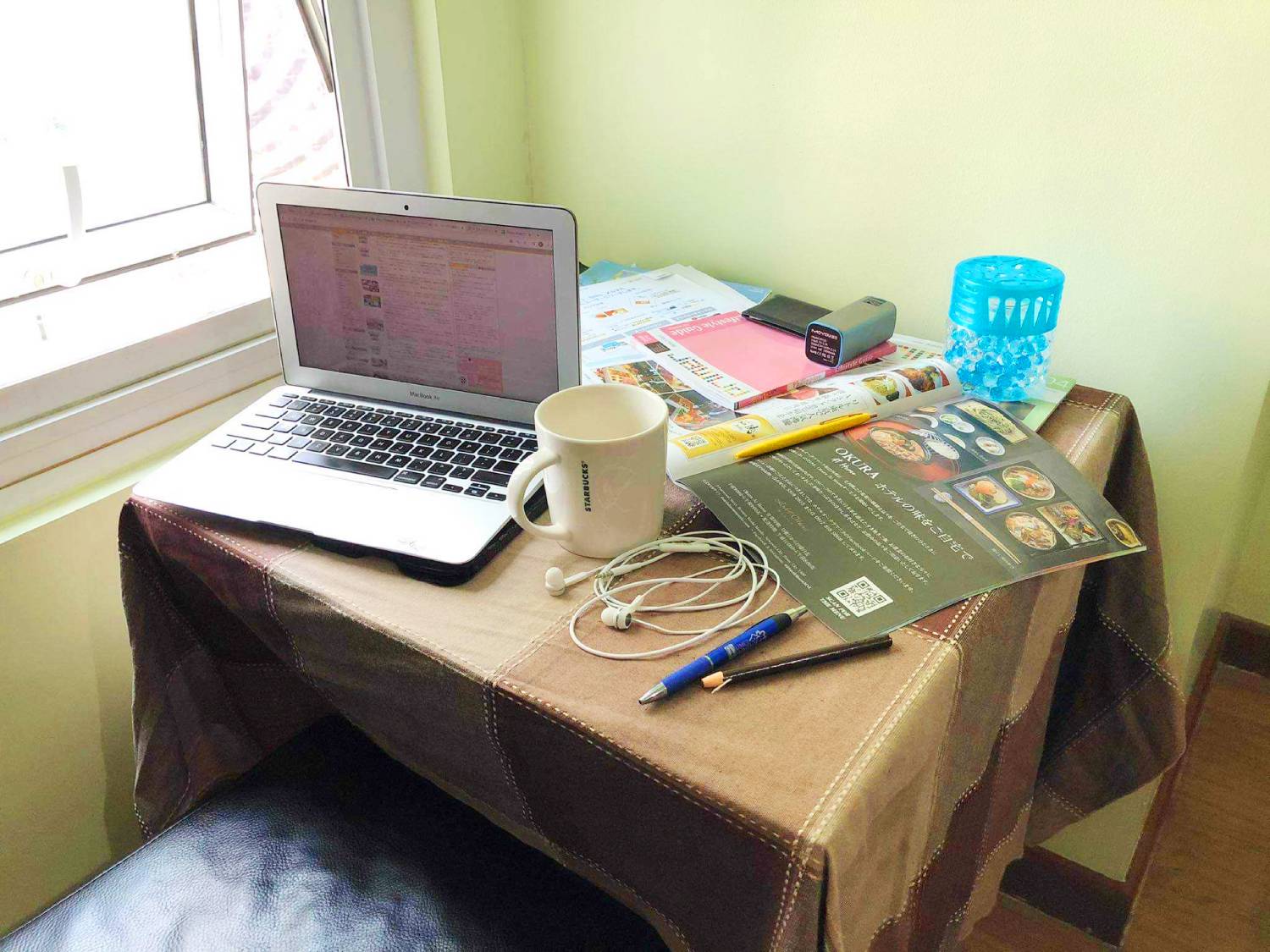 A temporary desk made by covering a square table with a table cloth. Random stuff can be found around the MacBook. Primer magazines, deodorants, ballpen, mugs, etc. are scattered all over the desk, which is placed by the window for better lighting during Zoom meetings.
After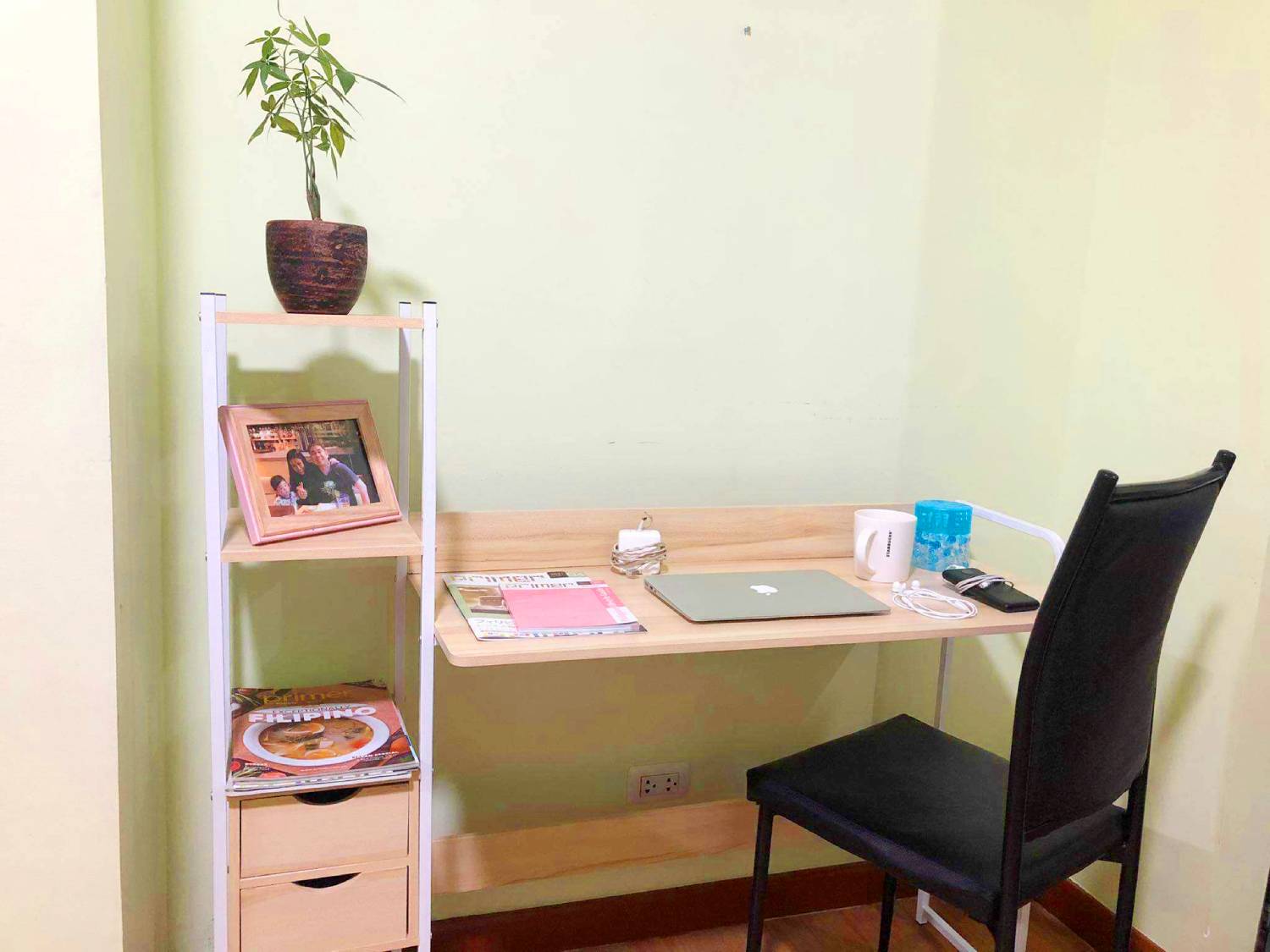 Primer staff purchased an assemblable desk for P1,400 on Lazada, an online shopping app. It has enough width, yet the depth is shallow so it fits perfectly in the space allocated for it in the room. The work station is quite large: with shelves and drawers for storage. The staff decorated it with a photo frame and plants to create a relaxing atmosphere.
We asked Mr. Terada to rate it! Mr. Terada's rating:
Since there is a cabinet on the side, at first glance it felt like the desk itself was small. Cabinets with top and bottom shelves are highly recommended because they provide extra storage space.
---
This first appeared in Philippine Primer's English and Japanese Magazines May 2021 issue