LIST: Japanese Restaurants Offering Party Platters for Home Celebrations
Go for Japanese cuisine this holiday season and take home these party platters offered by your favorite Japanese restaurants! Whether you want steak or sushi or a whole complete party set for your intimate holiday celebrations, we prepared a list for you below!
HIRO Japanese Yakiniku Restaurant
Enjoy a luxurious set of meats from HIRO Japanese Yakiniku Restaurant, serving A5 grade of wagyu and premium meats.
We recommend their Yakiniku Family set that includes Wagyu ribeye, wagyu tokujo calbi, wagyu jo calbi, jo harami, US Rouse, and US jo calbi. Small bowls such as kimchi and namul, and yakiniku sauces are also included, so you can enjoy yakiniku at home.
Address: 1D Palanca St.cor. Dela Rosa St., Legaspi Village, Makati, City
Contact number: 0916-583-0793
Facebook: HIRO Japanese Yakiniku Restaurant
Hatsu Hana Tei
Hatsu Hana Tei is Herald Suites' Japanese restaurant known for its traditional cuisine.
They are currently offering a luxurious Japanese Platter (Php 5,800) that includes 15 kinds of dishes such as various thin rolls and scroll platters, fried foods, teriyaki, dumplings, yakitori, etc. 
Address: 2/F Herald Suites 2168 Don Chino Roces Ave. Makati City
Business Hours: 10 a.m. to 2 p.m.; 5 p.m. to 9 p.m.
Contact number: 0917-316-9250/0939-938-3718
Facebook: HatsuHanaTei
Website: hatsuhanatei.com
Fukudaya
Fukudaya is well-known for its omakase-kaiseki courses that bring a modern Japanese dining experience to the country. 
Level up dining at home with Fukudaya's three-party sets. If you want a small serving, Party Set A (Php 5,500) is composed of 4 dishes such as shrimp and vegetable tempura, Chinese cabbage salad, crab cream croquette, and California roll with shichimi mayo sauce.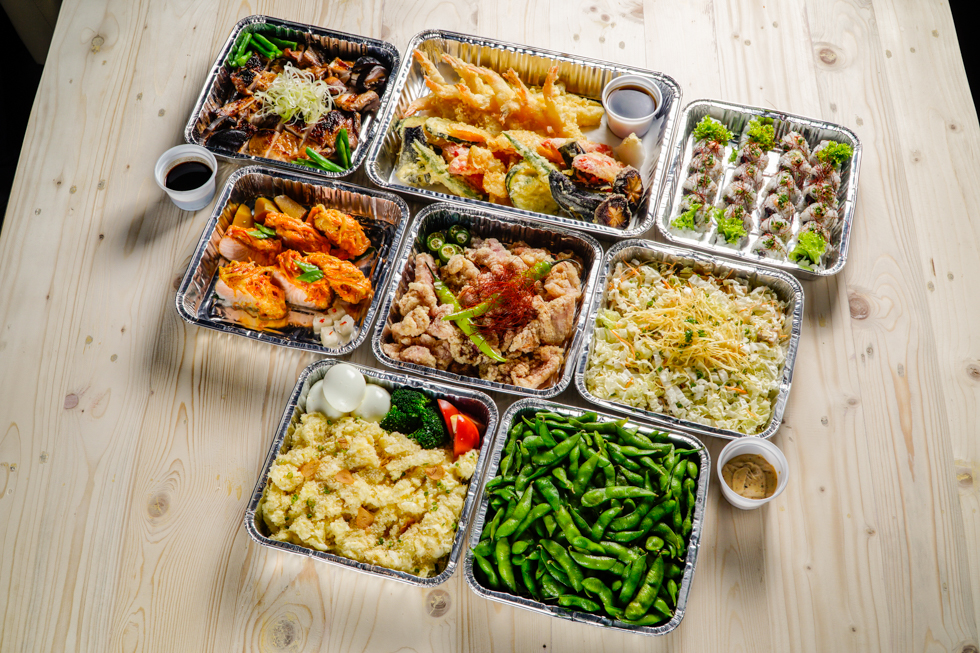 Meanwhile, those who opt for bigger servings can avail of Party Set B (Php 8,000) or Set C (Php 12,000). Party B has the same inclusions from Set A but with edamame mayo sauce, edamame, potato salad, fried pork ribs, and spicy tuna roll.
Party Set C on the other hand, has the same set as B but with a fried pork belly instead of ribs and includes chicken peach fried chicken and salmon chigusa grilled.
Address: Unit 7, The Plaza, Arya Residences, McKinley Parkway cor. 8th Avenue, Bonifacio Global City
Contact Number: 0927-264-0171/02-8800-3563
Facebook: FukudayaPhilippines 
Website: fukudaya.ph
Kazunori Japanese Restaurant
With its highly extensive menu, Kazunori Japanese Restaurant will let you experience both traditional, modern, and ingenious renditions of Japanese cuisine.
If you're looking for party snacks or lunch sandwiches, you can enjoy Japanese-style sandwiches such as A4 Wagyu beef sandwich (Php 2,500), Crispy Chicken Sandwich (Php 380), and Shrimp Sandwich (Php 550) at Kazunori's Japanese Sando Sets. For home dinner parties, we recommend their Grilled Sablefish (Php 1,320).
Address: 2301 Chino Roces Avenue Extension, G/F Mazda Building, Magallanes, Makati, City
Business Hours: 10 a.m. to 7 p.m.
Contact number: 0917-836-2695
Facebook: kazunorijapaneserestaurant
Hotel Okura Manila
Craving for some good and authentic Japanese food? Look no further as Hotel Okura Manila is offering its Japanese cuisine for pick-up and takeout service called Okura At Home.
Hotel Okura's newest package includes an Okura at Home lunch box set, 1 hour of virtual entertainment, and Takara Shuzo "Mio" sparkling wine. Minimum order of 10 sets. 
Address: 2 Portwood Street 1309 Pasay, City
Business Hours: 9 a.m. to 9 p.m.
Contact number: 02-5318-2815/0917-818-9868
Facebook: hotelokuramnl
Website: hotelokuramanila.com
Kenshin Japanese Restaurant
Kenshin Japanese Restaurant is an Izakaya style restaurant that offers affordable authentic Japanese cuisines.
They are currently offering three types of groupsets like the Pine Set (Php 2,280) good for 4-5 servings and includes California roll, fried chicken, sukiyaki beef, assorted tempura, fried rice, crab salad, DIY takoyaki, sashimi, miso soup, and iced tea. 
They also have the Bamboo Set (Php 1,880), good for 3-4 people with the same food set as the pine set except without takoyaki and sashimi. The Plum Set (Php 1,580) on the other hand has grilled pork ginger instead of sukiyaki beef along with the same inclusions as the bamboo set. 
Address: 1/F Makati Cinema Square, Chino Roces Ave., Makati City
Business Hours: 11 a.m. to 7 p.m.
Contact number: 0917-185-9271/0918-941-8532
Facebook: kenshinphilippines
KOMORO Japanese Dining
As a franchise store of the famous Komoro Soba in Japan, KOMORO Japanese Dining serves good Japanese dishes at a reasonable price. If you miss feasting over Japanese cuisines, Komoro offers your favorites in big servings.
Try their Platter Set of Tempura (Php 900), Spicy Sushi (Php 990), Yakisoba (Php 900), and Dumplings (Php 1,100) all good for 6 to 7 servings each. Take note that reservation is required 2 days in advance.
Address: Unit 1A Berosi V Makati, 9746 Kamagong St, San Antonio Village, Makati City
Contact number: 0977-470-3357/0999-438-5943
Facebook: Komoro.Philippine
Website: komoro.co
Miyazaki Gyu
Japan's luxurious wagyu restaurant, Miyazaki Gyu, boasts one of the best wagyu or Japanese beef in town.
Enjoy high-quality Miyazaki beef at home and avail of their Package 1 (Php 3,500/person) that includes beef sushi and omelet, caesar salad, mixed green salad, consomme soup, grilled meat, steak rice, and red bean jelly. Package 2 (Php 5,500/person) on the other hand is more luxurious with additional beef sashimi and premier steak.
Address: Podium Level, One Mckinley Place, 26th Corner 4th Avenue, Bonifacio Global City, Taguig
Business Hours: 11 a.m. to 9 p.m.
Contact number: 0917-168-6673/02-8829-6167
Facebook: miyazakigyuPH
Website: miyazakigyu.com.ph
New Hatchin
Japanese Grocerant New Hatchin offers the annual Christmas and New Year holiday party sets with a variety of menus perfect for small gatherings.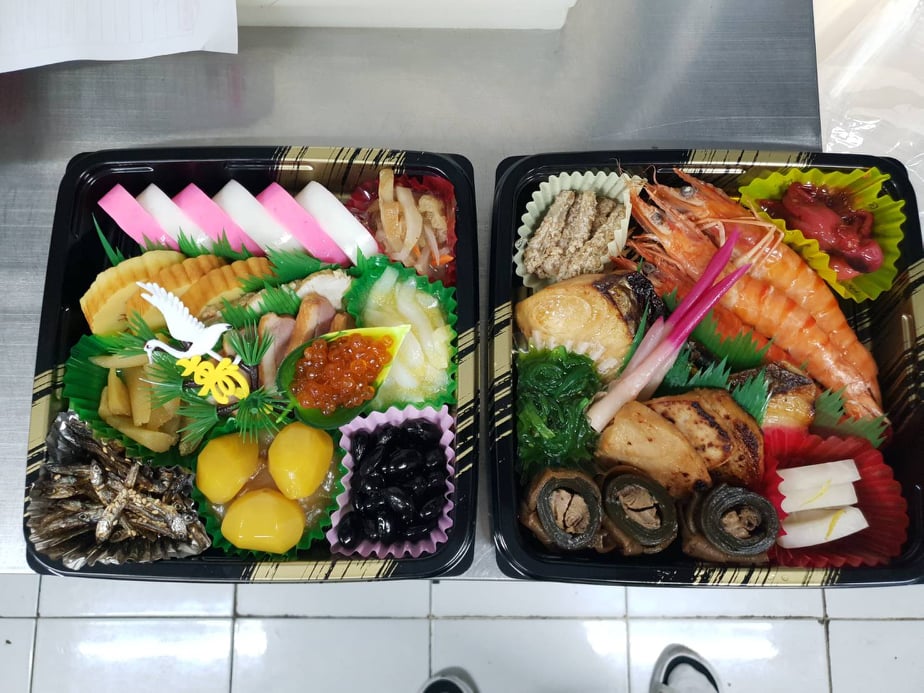 Their Makimono Mix (Php 680) is a must-buy that consists of paste assortment, ham, cheese, salami, and chicken peach grill.
Address: 7602 Sacred Heart St, Corner Metropolitan Ave, San Antonio Vill., Makati City
Contact number: 02-8897-7207/02-8890-1649
Facebook: newhatchinmakati
Sekitori Japanese Restaurant
Taste authentic Japanese cuisine at Sekitori and try out their 6 types of assorted sets from gorgeous Assorted Sushi Rolls Kuju (Php 2,800) to the classic favorite tempura.
They also have Hors d'oeuvre Miyagino (Php 1,850) and Hors d'oeuvre Minato (Php 2,800) for you to try out! Reservations, changes/cancellations can be made up to 2 days in advance.
Address: Little Tokyo, Chino Roces Ave., Makati City
Business Hours: 12 p.m. to 2:30 p.m.; 5 p.m. to 11 p.m.
Contact number: 0931-030-3566/0917-545-5659
Facebook: Japanese Restaurant Sekitori
Website: sekitori.asia
Tanabe
At Tanabe, you can take out menus such as Salmon Sashimi (Php 420), Makimono Moriawase (Php 580), and Shrimp Tempura (Php 685) for small parties.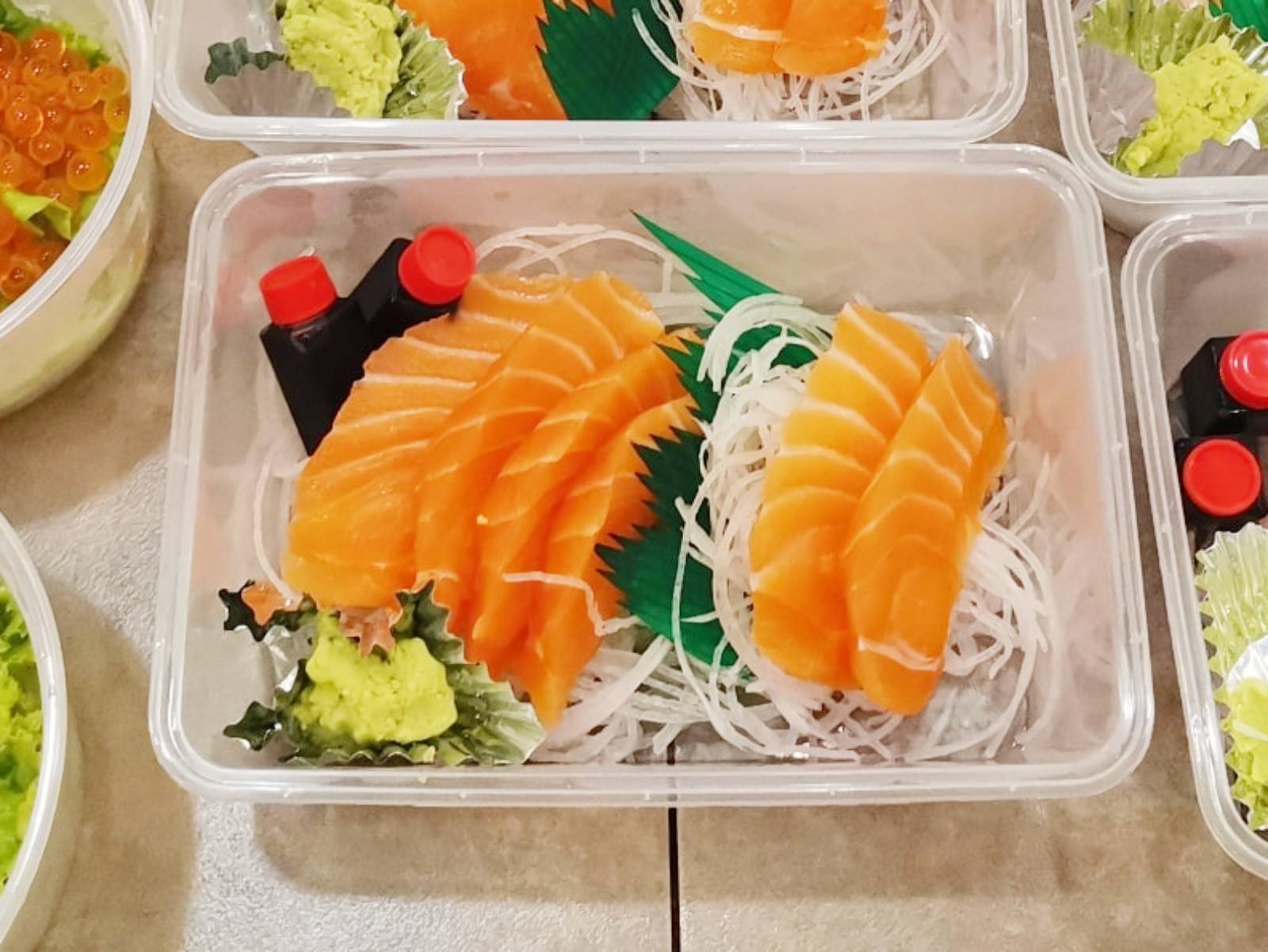 They do not deliver but customers can book a third-party app for pick up and delivery. Customers who will order big servings should order at least a day in advance. 
Address: 553 Remedios St 1004 Manila
Contact number: 0917-630-6257
Facebook: tanaberestaurant
Teppan Okochi by Mangetsu Osaka
The Japanese Teppanyaki fine-dining restaurant, Teppan Okochi, serves nothing but Osaka's finest flavors. If you want to try out their specialties at home, they are currently offering three types of party sets which you can order from Monday to Thursday. 
Party Plan A (Php 980/person) set includes edamame, fresh salad, original chicken karaage, pork topped with kimchi and tofu, dashimaki egg roll, fried potato, hand made gyoza, okonomiyaki or yakisoba, and a free drink.
For Party Plan B (Php 1,380) they have the same inclusion of A plus additional assorted seafood platter and beef stew radish. Party Plan C (Php 1,780) on the other hand has the same inclusion from Plan B plus Angus beef steak. 
Delivery is available only in BGC and Rockwell areas and a minimum of 4 pax is required for the party plans.
Address:
BGC: Ore Central Building, 9th Avenue, Cor, Lane Q, Fort Bonifacio, Taguig

Rockwell: Ground Level Power Plant Mall Rockwell, Lopez Drive, Rockwell Center, Makati
Business Hours: 11 a.m. to 9 p.m.
Contact number: 
BGC: 02-254-9826/0917-863-0051
Rockwell: 02-253-6810/0917-795-0051/ 0998-539-0051
Facebook: teppanokochi 
Website: teppan-okochi-japanese-steakhouse.business.site
Tsukiji Japanese Restaurant
Taste the freshest and premium seafood from Tokyo and the pure goodness of tonkatsu at Tsukiji Japanese Restaurant! 
For your next Zoom Party, reunion, or meeting try out their Special Sushi Bento Box (Php 1,000/box) or their Tsukiji Premium Bento Box (Php 1,500/box) that includes U.S. Beef Yakiniku, Mixed Furai (Kaki, Ebi), Unagi Kabayaki, Gindara Teriyaki, Tamago Yaki, Kani Salad, 2 kinds of seasonal Japanese appetizers, Pickles, Steamed Rice, and Clear Soup Sachet. 
In addition to the special lunch boxes, Tsukiji also offers Special Sashimi Boats (Php 15,000/65 pcs) good for 8 to 10 people and (Php 10,000/42 pcs) for 6 to 8 people. They also have the Special Sushi Boats (Php 12,000/42 pcs) good for 8 to 10 people and (Php 9,000/30pcs) good for 6 to 8 people.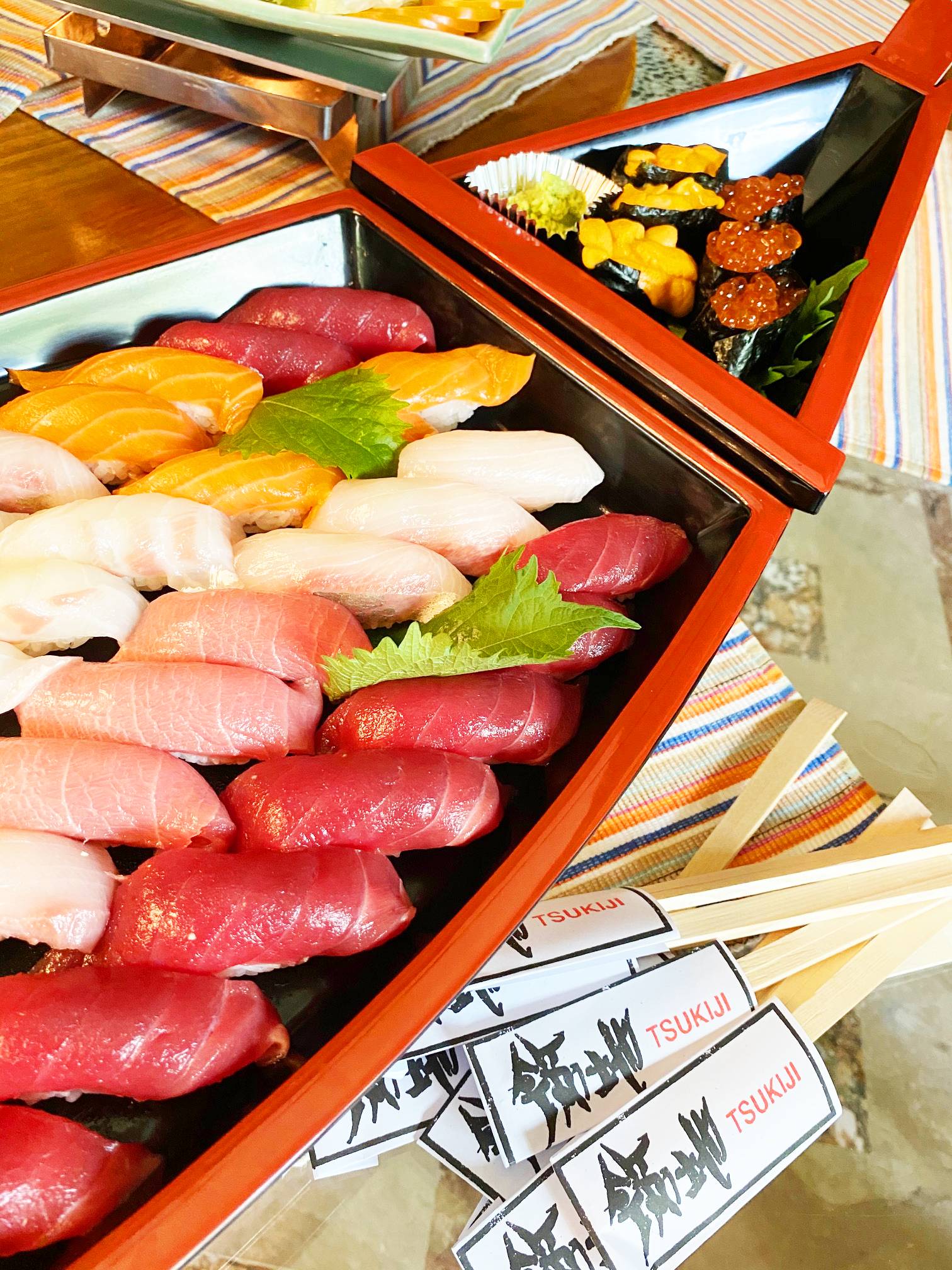 Address: 3/F Milky Way Building 900 A. Arnaiz Avenue, cor. Paseo de Roxas Makati City
Business Hours: 11 a.m. to 6 p.m.
Contact number: 02-8843-4285/02-8812-2913/0995-617-9209
Facebook: tsukjirestaurant
Website: tsukiji-restaurant.com
Tsumura Sushi Bar and Restaurant
Besides having rich assortments of liquors, Tsumura Sushi Bar and Restaurant is proud of its sushi offerings as they take pride in their quality ingredients and flavors.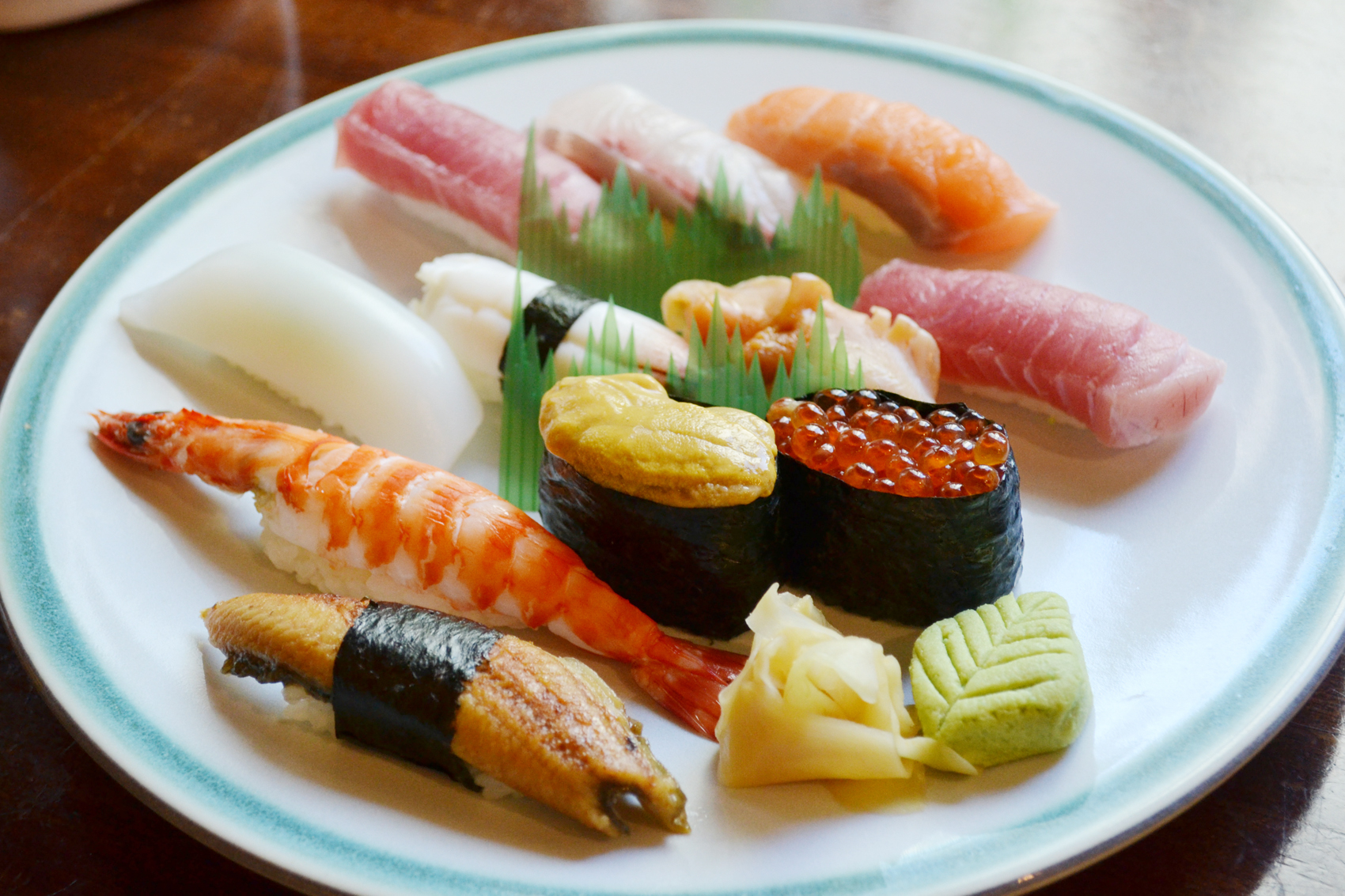 Try out their sushi offerings like the Assorted Nigiri "Aoi" (Php 1,140). At Tsumura, the à la carte menu can be customized for parties and prices vary. Currently, Tsumura is for takeouts only. 
Address: 88 Corporate Center, 141 Salcedo, Makati
Contact number: 02-8887-4848
Unakichi 
Unakichi specializes in serving unagi or eel freshly shipped from Japan. While most restaurants that serve unagi in the Philippines have to thaw them out as part of the preparation and takes away some of the taste from the eel, Unakichi combines their fresh eel with special unagi sauce giving it a flavor that falls within the standards of the Japanese.
A recommended dish to try out is their Unaju (Php 980) or give their tempuras a try. They have a Tempura Platter (Php 530) best for small parties. 
Address: G/F Makati Cinema Square, Amorsolo St., Makati City
Business Hours: 10:30 a.m. to 5 p.m.
Contact number: 02-7728-2072
Facebook: UNAKICHIMAKATI
Website: unakichimakati.wixsite.com/unakichi
Washoku Musashi-Maru
Known for quality sushi and their famous automated sushi conveyor, Washoku-Musashi Maru's classic sushis can now be enjoyed at small gatherings through their party sets! 
The Sushi Platter (Php 2,500) is good for 8 to 10 servings and includes salmon, tuna, eggs, shrimp tempura, sushi rolls, and sashimi.
Apart from sushi, they are also offering fried food platter. Agemono Platter (Php 3,000), which is also good for 8 -10 servings, and includes fried shrimp, kushikatsu, potato fried, fried egg, nuts, ginger, fried shrimp, cheese chicken roll, fried tuna Tatsuta. 
Address: 408-409, Roofdeck, Phase 2, Japan Town, Glorietta 2, Makati City
Business hours: 10 a.m. to 9 p.m.
Contact number: 02-8583-7060/02-8256-5044
Facebook: Musashimarurestaurant
Website: 634-jp.com/philippines/musashimaru
Also read: 12 Restaurants Offering Party Platters For Holiday Celebrations at Home
---
This first appeared in Philippine Primer's Japanese and English December 2020 issues.