Success Story: Hidilyn Diaz's 'Lift' of Faith
It is a proven fact that Filipinos excel worldwide in almost all aspects of life. From beauty pageants, singing and dancing competitions to sports., Filipinos are being remembered for the honour and pride they persistently bring to their country.
(Image grabbed from philstar.com)
Just recently, the Philippines celebrated the victory of Hidilyn Diaz, the 25-year-old Filipina who bagged Silver medal in women's 53kg weightlifting category in Rio 2016, claiming her title as the first Filipino woman Olympic medalist.
Hidilyn was born on February 20, 1991 in a small village in Zamboanga City, Mindanao. Growing up in a family of eight, Hidilyn's childhood was just as colourful as every other child; however, she was not exempted from problems and life's challenges. When she was in elementary school, she had to go with her father, who was a tricycle driver, to sell vegetables and fish.  Her family also experienced to have rice with only salt and soy sauce as their meal. Despite the difficulties she had encountered, the young girl still braved her way to her biggest dreams as she turned poverty into her greatest motivation to excel in her passion, which is weightlifting.
Diaz started developing interest in weightlifting at a very young age. Inspired by her cousin Allen Jayfrus, young Hidilyn used to have homemade barbells made with plastic pipes and concrete weights shaped in tin cans for her early trainings. As she began to join some weightlifting competitions, someone donated a barbell to her, which soon broke down from use and has since gathered dust. But Hidilyn began receiving more donations of barbells and weights as she won in competitions.
Hidilyn's success in Rio Olympics has inspired many Filipinos, particularly young weightlifters in her village and aspiring Olympic medalist like her.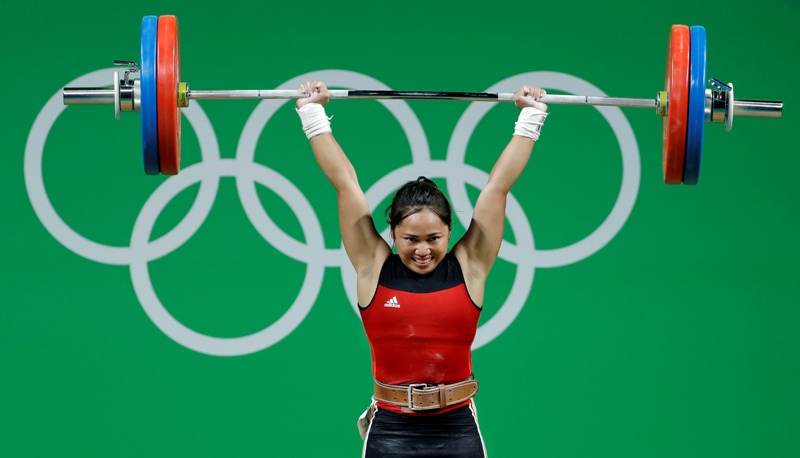 (Image grabbed from abs-cbn.com)
During an interview on noontime TV show ASAP last August 28, Hidilyn talked about her views on life's challenges. "Ang challenges, parte lang yan ng buhay. Darating ang panahon, gusto mo nang sumuko, pero kailangan mong lumaban eh, para sa pangarap mo. Ang kailangan mo lang, maniwala sa Diyos, sa sarili mo, sa kakayahin mo, at sa mga taong naniniwala sayo. (Challenges are just part of life. Time will come when you would just want to give up but you need to fight for your dreams. All you need (to do is), believe in God, in yourself and your capabilities, and to all the people who believes in you.)"
Source: sunstar.com.ph, philstar.com