LIST: Salons and Barbershops in Metro Manila Open For The New Normal of Beauty and Pampering
LIST: Salons and Barbershops in Metro Manila Open For The New Normal of Beauty and Pampering
Updated as of October 7, 2020
As the Philippine economy slowly re-opens, many establishments from food to necessities and even hair care services are starting to adjust to the new normal. In the recently updated guidelines, Malacañang released last July 7, all haircuts and treatments are now allowed under the General Community Quarantine (GCQ).
Meanwhile, those who are under the Modified GCQ (MGCQ) will be allowed haircuts, treatments, nail care, basic facial care (makeup, eyebrow, eyelash extension, and facial massage) as well as basic personal care services (wax, thread, shave, foot and hand spa)
Under the updated guidelines, salons and barbershops that will be opening should still follow the strict protocols in health and sanitation which include:
wearing of face mask and face shield, gloves, and sterilized equipment for workers
no face mask, no entry for customers
50% operating capacity for GCQ areas and 75% for MGCQ areas provided that the area allows physical distancing
Provision for rubbing alcohol
Registration with SafePass or staysafe.ph, health declaration checklist for contact tracing
Thermal scanning prior to entry with no higher than 37.5ºC
Declined entry with those who have symptoms of colds, cough, and/or difficulty in breathing
Chairs to be occupied should have a distance of at least 1 meter on all sides
The establishment should have proper ventilation and exhaust system
The restroom is properly sanitized and free of accumulated of trash
Sterilization of equipment or tools and workstation before and after each service
companions are not allowed entry unless absolutely necessary
So now that the new normal of beauty and pampering is slowly being practiced, which salons and barbershops are open and perfect for all your needs? We listed down salons and barbershops that follow safety protocols that you can visit anytime soon!
NORA
In such an uncertain time, NORA Beauty Salon prides in their highly-observed safety standards, which they have adapted right from the beginning of all these.
Apart from guests and staff alike mandatorily outfitted with clothing PPEs, face masks, and face shields, NORA assures a brief appointment period without compromising the service quality.
For one, the Japanese chemicals present in their hair color and treatment products can be applied in just a short span of time yet still boasting of prime results.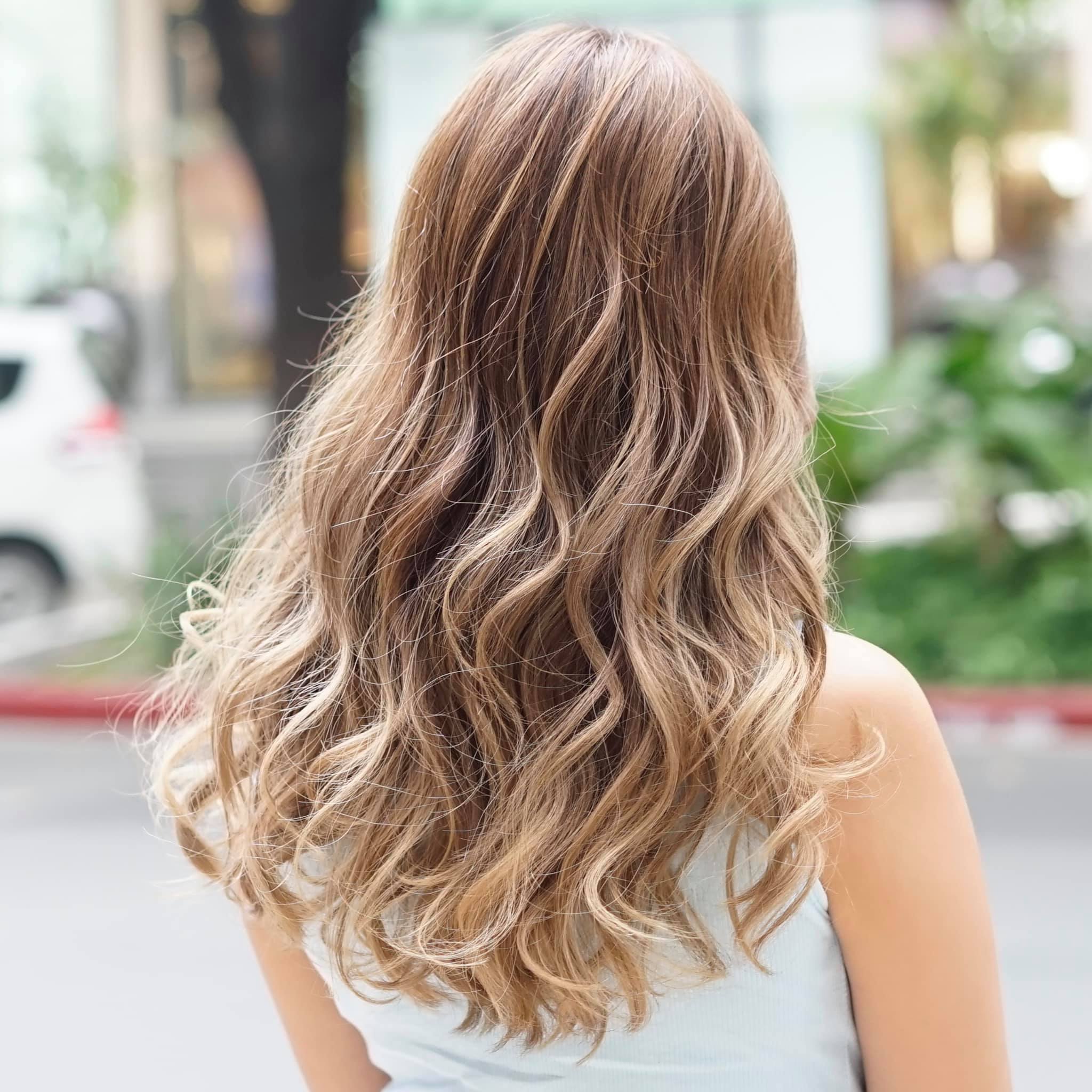 Haircuts at NORA vary depending on the stylist. Senior stylist haircut costs (Php 1,400) while Japanese stylist is (Php 3,000). Filipino stylists are available in areas of Makati, BGC, Rockwell, Mandaluyong (minimum charge Php 2,000) while Japanese Stylists are available in Makati, BGC, and Rockwell with a minimum charge of Php 6,000. Alabang area's minimum charge is Php 10,000.
Address: Unit G3, BSA Tower 108, Legaspi St., Legaspi Village, Makati City
Business hours: 9 a.m. to 5:30 p.m.
Contact number: 0917-505-8895 / 02-8843-6065
Website: nora-style.ph
Facebook: facebook.com/norasalonmanila
Kiyosa Japanese Total Beauty
Kiyosa Japanese Total Beauty has since been providing customers high-quality hair, nail, and eyelash services in BGC—and recently in Makati as well—by means of its Japanese experts and expert-trained Filipino staff.
Kiyosa hair is back! As we are slowly adjusting to the new normal, please remember to always:✔️Wear your mask, strictly no mask, no entry✔️No companions allowed inside.✔️No foods and drinks allowed inside.✔️Temperature scans will be done upon entering the salon.✔️Fill out the health checklist form before entering.✔️ Personal belongings will be put inside a plastic bag for sanitary purposes.Keep in mind that we have limited staff as of the moment, so book your appointments as early as possible.Share your #KiyosaExperience by sending a review on Facebook, Google, or through message. 💖For reservations, you may contact 8805-8888 or 0939-9158888. We are located in F1 Hotel BGC. What are you waiting for? Book an appointment with us now!#kiyosa #saloninmakati #salonbgc #saloninmanila #salonph #hairdressersthatslay #hairlooks #ashcolor #japanesehairsalon #hairstyles_ideas__ #hairdorables #hairtrends2020 #asianhairstyle #japanesehairstyle #ヘア動画 #hairdone #hairmakeover #hairdresserlife #hairstylesforgirls #hairtutorials #hairtransformation #imallaboutdahair #hairdressermagic #bronde #hairdressers

Kiyosa Japanese Total Beautyさんの投稿 2020年7月6日月曜日
While it has always taken pride in the salon's immaculacy, Kiyosa Japanese Total Beauty went above and beyond this time, sterilizing the expanse all the time as well as making sure it's well-ventilated by opening the doors every hour.
On top of the required wearing of face masks and face shields, the salon imposes strict social distancing too, so only limited guests are allowed inside.
Kiyosa started resuming their operations last June 7 and is currently offering haircuts, hair color, hair treatments, perm, and rebond services.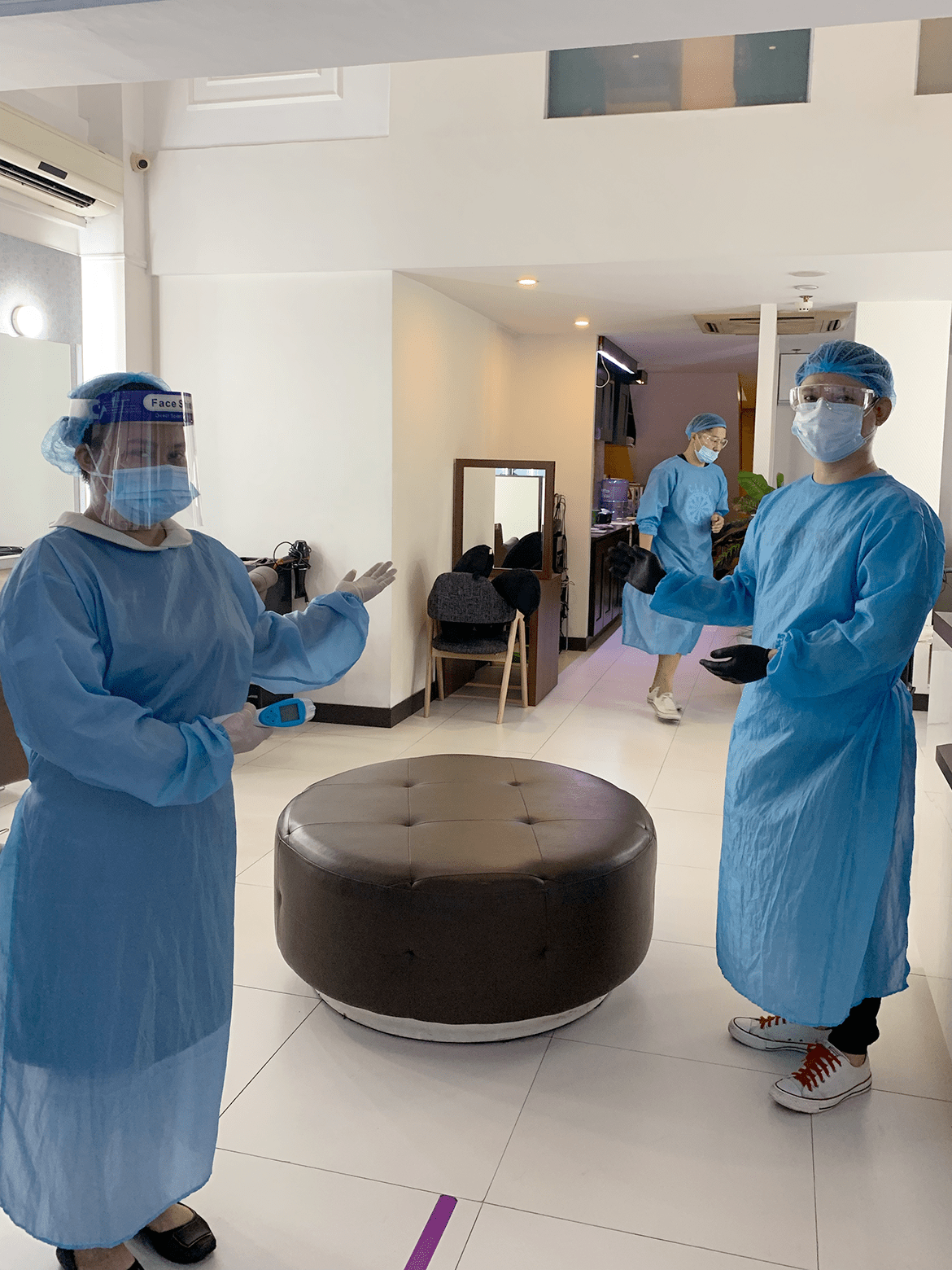 There are only limited slots every day so Kiyosa highly encourages everyone to book appointments prior to their desired schedule. They also follow strictly the no mask no entry, no companions, foods, and drinks inside, temperature check, healthy checklist, and personal belongings being placed in a plastic bag for sanitary purposes.
Address: The Palisades Condominium, 107 Perea St., Legaspi Village., Makati City
Business hours: 11 a.m. to 8 p.m.
Contact number: 02-8805-8888/0939-915-8888
Website: kiyosa-beauty.com
Facebook: facebook.com/kiyosa.jtb

Tokyo Glam 
Eager to get your nails and eyelashes done? Tokyo Glam is now offering eyelash and nail home service with a service fee as low as Php 1,200! The eyelash service also offers a care menu including eyelash shampoo, gel eye sheet, eyelash treatments, and other care packages.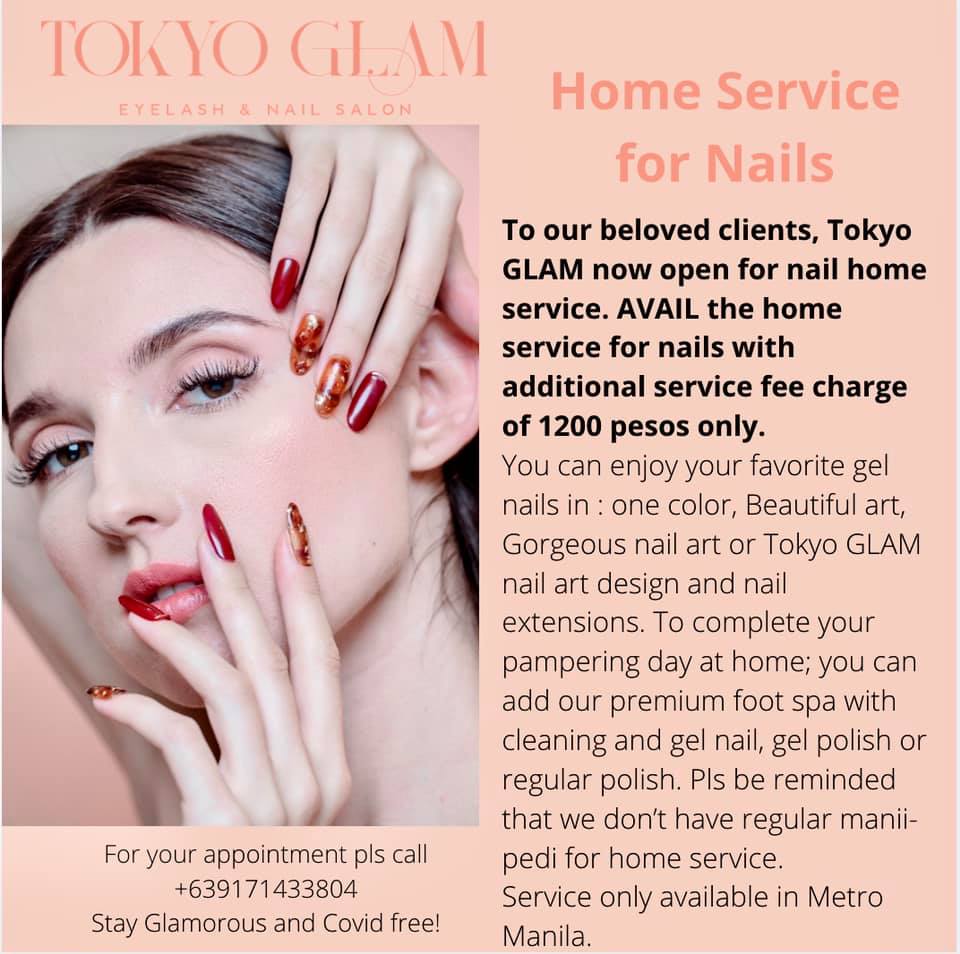 To ease the worries of its customers, on top of the utilization of its private rooms, premium eyelash and nail salon Tokyo Glam has provided ample space in its vicinity to observe social distancing as well as separated treatment seats by thick curtains.
All of the staff are geared with clothing PPEs, face masks, and face shields all the time too, and they undergo COVID-19 testing once every two weeks.
Hand-in-hand with the target minimal exposure outdoors, not only does Tokyo Glam offer packages that already cover both the eyelashes and nails hence a shorter appointment, but does it also provide home service. 
Address: 4/F, Unit 4291, Ayala Malls Manila Bay, Parañaque City
Business hours: 10 a.m. to 6 p.m. (Thu); 10 a.m. to 7 p.m. (Sat); 10 a.m. to 7 p.m. (Sun)
Contact number: 02-7900-7072 / 0917-143-3804
Website: tokyoglamph.com
Facebook: facebook.com/tokyoglamph

Junca Salon
Junca Beauty Label provides first-class Japanese pamper offerings in terms of hair, eyelashes, nails, and pretty much the whole body with their waxing as well as hand and foot massage services.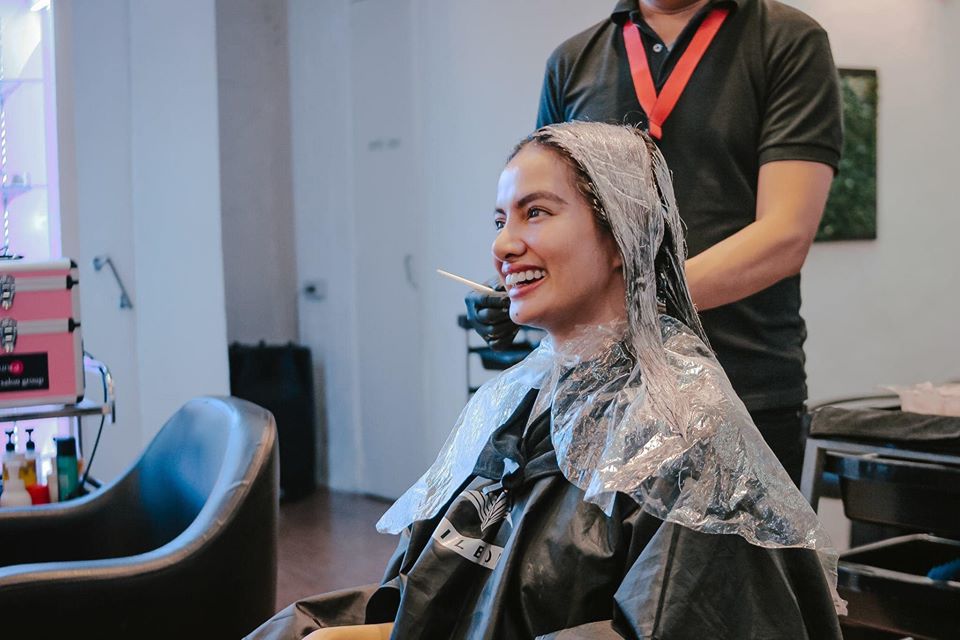 IMAGE Junca Salon Group (Taken pre-COVID-19)
Together with being a high-quality salon, it sees to it that it observes utmost cleanliness too. This is done mainly by the thorough cleaning of the salon per se and the disinfection of all things inside.
In addition to the strict wearing of protective items by the staff and guests, guests will be asked to wear disposable gloves as well, which will be discarded upon leaving the salon. Junca currently employs contactless payments.
Branches: 
Junca Salon Beauty Label Quezon City

Address: 26 B Scout Borromeo St., South Triangle, Quezon City
Contact information: 02-8287-1080 / 0966-207-9728
Business hours: 11 a.m. to 8 p.m. (Tues to Sun)

Junca Beauty Label Makati City

Address: U/G 2 Cityland Pasong Tamo Tower, Chino Roces Ave., Makati City
Contact information: 02-8810-3314 / 0956-912-3266 / 0919-904-6288
Business hours: 11 a.m. to 8 p.m. (Tues to Sun)

Junca Beauty Label Washington Branch

Address: Unit 103 Santillan Condo 7441 M. Santillan St. cor., Fernando St., Pio Del Pilar, Makati City
Contact information: 02-8836-1297 / 0929-601-0502
Business hours: 11 a.m. to 8 p.m. (Tues to Sun)

Junca Salon BGC

26/F, Unit F Fort Palm Spring Bldg. 30th st., cor 1st ave., BGC
Contact information: 02-8251-2360
Business hours: 11 a.m. to 8 p.m. (Tues to Sun)
Website: junca-beauty.com
Facebook: facebook.com/juncasalon

NaturalHYPE®︎
Located in BGC, Japanese hair salon NaturalHYPE®︎ specializes in all things hair—haircut, hair color, perm, and treatments; except that they do not cater to haircut appointments at the moment.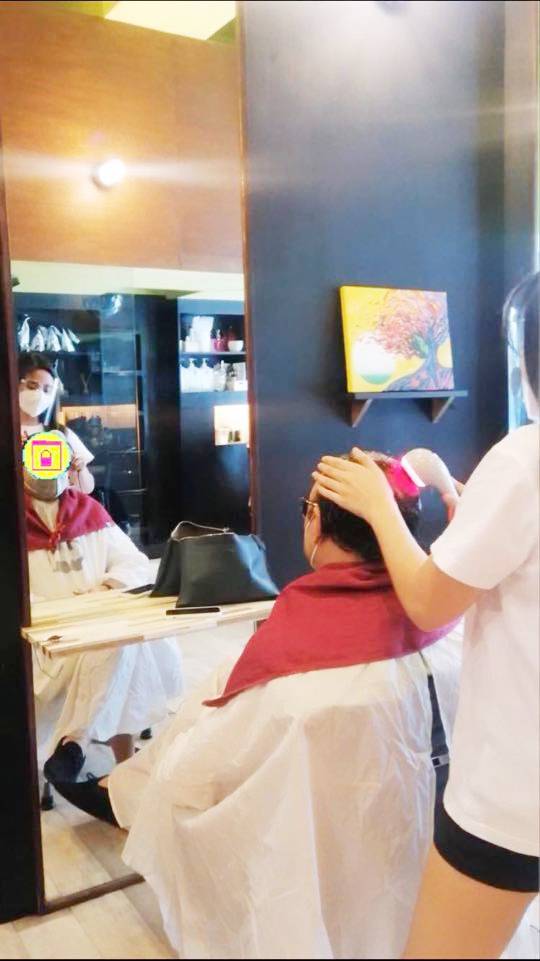 For salon guests' safety, doors are disinfected regularly while chairs, capes, and used tools are disinfected after every customer.
The staff, meanwhile, undergoes temperature checks and wears PPEs, face masks, and face shields. Natural Hype also offers hair products for which you can arrange third-party delivery services such as Grab. 
Address: 2-D Blue Sapphire, 30st St. cor. 2nd Ave., Crescent Park West, BGC
Business hours: 10 a.m. to 4 p.m.
Contact number: 0927-874-6331
Facebook: facebook.com/NaturalHYPE.global
SORA AN AVEDA Salon
SORA AN AVEDA treats its customers to Japanese-quality pampering from hair, eyelash, and nail services to body care ones such as waxing and foot massage; and they are home to organic beauty products too.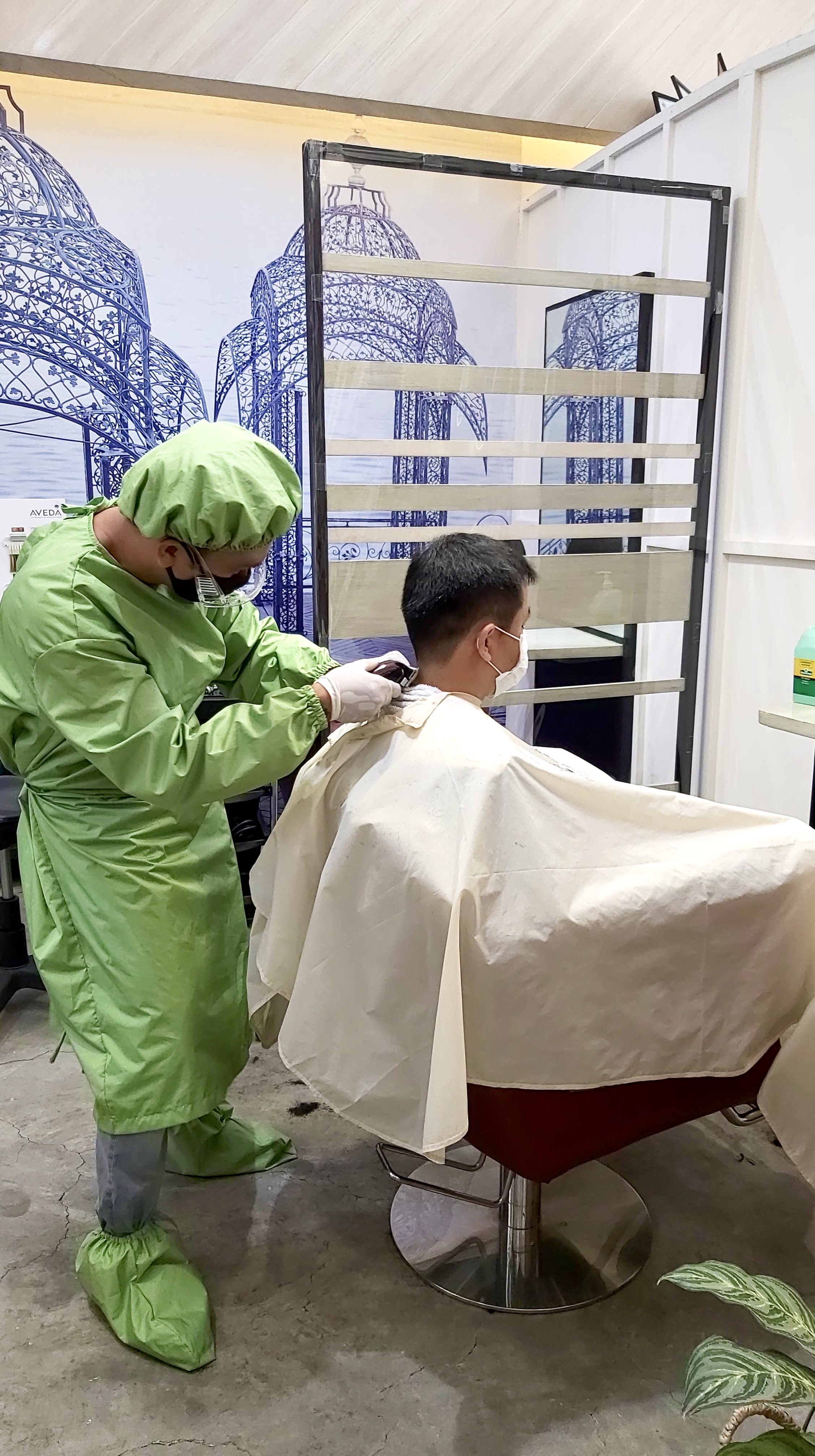 Both Japanese and Filipino staff accommodates guests at SORA AN AVEDA, who are assured at the pink of health through regular temperature checks and constant wearing of all the needed protective pieces.
Every tool and equipment are disinfected from time to time, partitions are used for minimized contact, and all worn accessories should be removed while inside. 
Address: 1/F, Fort Pointe Bldg., Fort Strip 28th St., Bonifacio Global City
Business hours:  9 a.m. to 6 p.m.
Contact number: 02-8573-7259 / 0977-482-8200 / 0929-709-5705
Website: sora-salon.ph
Teng Roma
Teng Roma is a luxury hair salon located at Fairmont Hotel in Makati known for its Carbonated Head Soda Spa—a sulfate-free, Japanese state-of-the-art cleansing that activates blood circulation and cleanses the scalp by removing clogged hair follicle.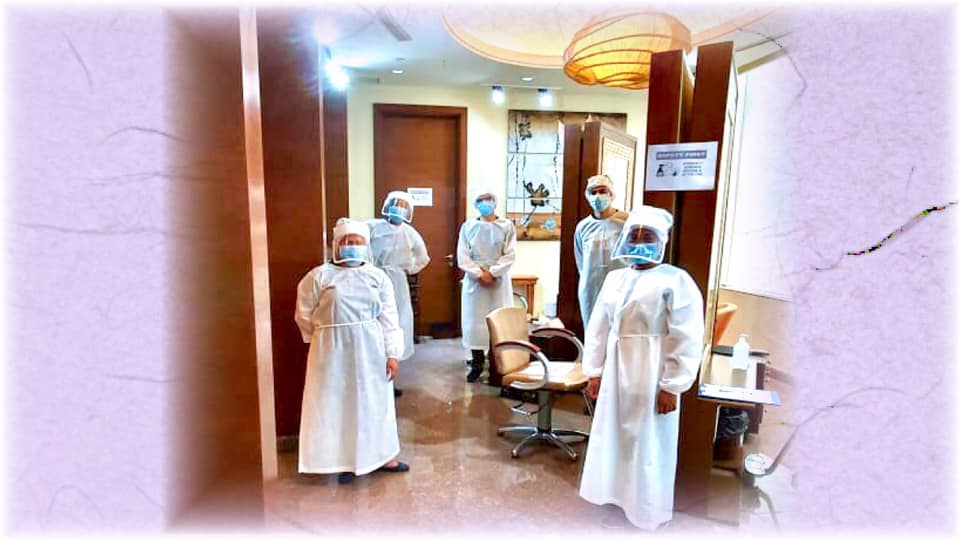 All of the equipment used for this service, as well as their other ones namely hair cut, hair coloring, and perming, are UV-sterilized for the safety of everyone. Of course, Teng Roma's staff wears all the required protective pieces too.
Address: 4/F, Willow Stream Spa, Fairmont Hotel, Raffles Dr., Makati Ave., Makati City
Business hours: 9 a.m. to 6 p.m.
Contact number: 0927-550-3509 / 0998-970-1456
Website: tengromasalon.wixsite.com
Facebook: facebook.com/tengromasalon

Ayumi Japan Eyelash
Ayumi Eyelash and Nail Services are back and as part of their new normal, Ayumi is encouraging their customers to avail of their own essential sets. They are offering disposable nail implements for one-time use (Php 100), personal manicure set (Php 750), personal eyelash tweezer (Php 650), and Ayumi Face Mask (Php 150).
To ensure customer's safety, Ayumi has installed disinfection equipment and sterilizations, air purifiers, as well as no-touch soap dispensers & hand sanitizers. All staff underwent rapid tests with COVID-free medical certification. They will also be wearing PPEs for safety purposes.
Branches:
Ayumi BF Homes Main Branch (10 a.m. to 6 p.m.)
Ayumi Quezon City Branch (10 a.m. to 6 p.m.)
Ayumi Eastwood Citywalk Branch (11 a.m. to 7 p.m.)
Ayumi Makati Branch (10 a.m. to 6 p.m.)
Ayumi Banawe Branch (10 a.m. to 6 p.m.)
Contact number: 02-800-6514
Facebook: facebook.com/ayumi.bfhomes
Covent Grooming Lounge
Covent Grooming Lounge is currently limited to haircuts for men. Their policies are following the government-mandated guidelines which include discouraging walk-ins, wearing masks, temperature screening, and a maximum of four (4) persons will be allowed in the waiting area.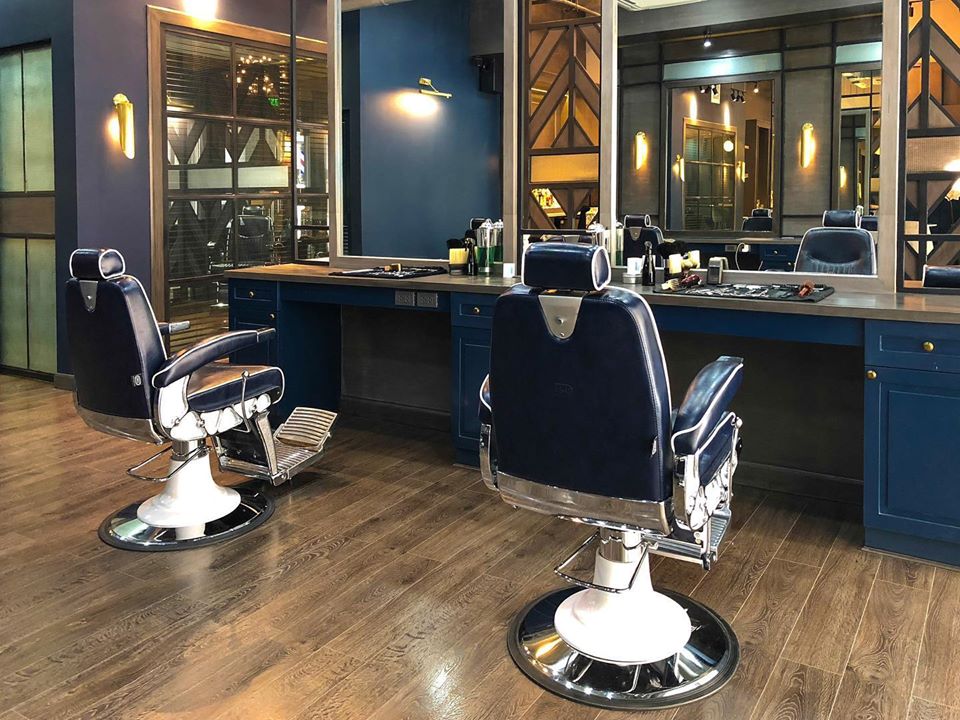 They are open from Wednesday to Monday from 9 a.m. to 6 p.m. and is closed every Tuesday. For booking transactions, you can call them at 02-88298730 or 0905-409-0242 or message them on their Facebook page. 
Bruno's Barbers
Bruno's Barbers is now offering ALL hair services from cut to treatments in areas under GCQ. Meanwhile, branches under MGCQ can also avail of the shave and nail services. Walk-ins are now also available but you can also set an appointment by calling filling out this form.
Bruno's Barbers re-opens safely

Watch this video of our barbers' 100% effort to keep you safe and comfortable! See you at our barbershops this weekend!.Click https://www.brunosbarbers.com/index.php/2020/06/05/brunos-barbers-operating-hours-gcq/ for a list of all branches' operating hours & contact numbers..You may walk-in anytime, or choose to set an appointment at https://forms.gle/TntiqUNUzSrSU4Fz6.

Bruno's Barbersさんの投稿 2020年6月18日木曜日
For a complete list of branches and their operating hours, you may check out their website at brunosbarbers.com or contact them through their Facebook page.
The Men's Room PH 
The Men's Room is finally back and their branches in Megamall and Glorietta are now open accepting haircuts, hair dye, and treatments! Meanwhile, those who are still not sure of going out, they are also offering a home service.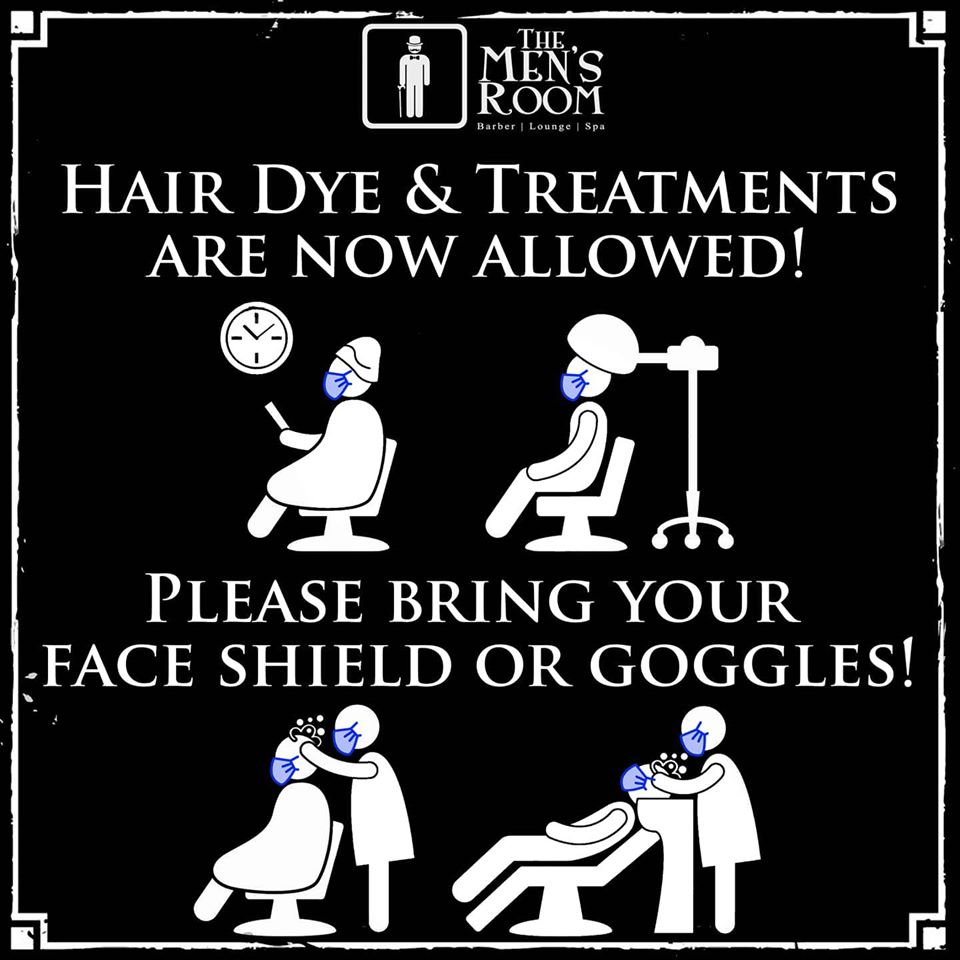 Barbers will be coming in PPEs to ensure the safety of the customers fully equipped with gloves, masks, goggles, face shields, and other sanitation equipment. Book your appointments thru call.
Branches:
Glorietta branch – 02-7755-9528/ 0905-456-1912 and
SM Megamall branch – 02-7799-4382/ 0916-657-0105.
Facebook: facebook.com/themensroomph
Felipe and Sons 
Felipe and Sons is back to revive the manila swag following all safety protocols across all branches. Felipe and Sons will be implementing government-mandated protocols including temperature checks and mandatory waivers.
You're safety is our priority. We continue to take several precautions for your safety before, during, and after every service. Here's what we are doing at Felipe and Sons. We want to you to feel safe and comfortable when you come in for your service. Thank you Scenic Media for creating this video! #FelipeandSons #WeAreStrong #Barberdashery #Haberdashery

Felipe and Sonsさんの投稿 2020年6月17日水曜日
Customers are also assured that barber's tools are always sanitized before and after every service and brand new blades will be used for each customer. They are also encouraging payments through cards.
You can schedule your appointments by calling the following branches:
Ortigas – 0927-573-7564
San Agustin – 0927-573-7575
Leviste – 0927-573-7574
BGC – 0927-573-7573
E. Rodriguez – 0917-637-0323
Lerato – 0926-671-4447
Hair Salon Hide2A from Tokyo
Hair Salon Hide2A from Tokyo which springs up all the way from Tokyo offers varied services for the hair, eyelashes, and nails.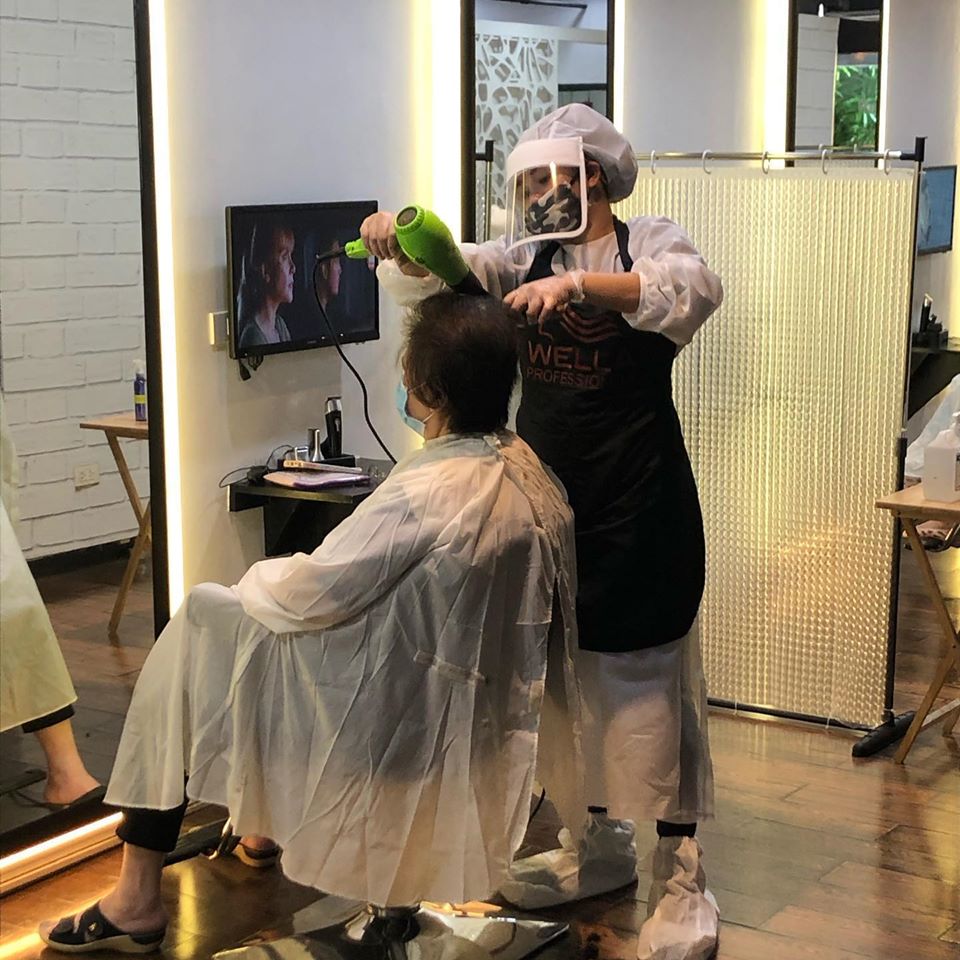 They are currently following the strict protocols of no-mask-no-entry, footbath and disinfection upon entry, checking of temperature, and wearing of salon-provided disposable gloves.
They also record the personal information of every guest. For reference, haircuts at Hide2A usually last for an hour while hair coloring takes about two hours. The staff inside the salon are all clad in protective outerwear, too.
Address: 1/F, B and P Bldg., 843 Arnaiz Ave., Legaspi Village, Makati City
Business hours: 9 a.m. to 6 p.m.
Contact number: 02-7779-8435 / 0908-299-1290 / 0927-228-7470
Website: hide2a.com
Facebook: facebook.com/Hair-Salon-Hide2A-from-Tokyo
Jesi Mendez Salon BGC
Even before they re-open, Jesi Mendez Salon has taken safety and precautions seriously with salon surfaces and tools sanitized. Now that they are back for the new normal of beauty and pampering, they assure customers that all equipment are disinfected daily and in between clients. Staff all underwent rapid testing and are COVID-free and will be wearing the necessary protective equipment.
They are currently offering various haircuts and hair treatments! For inquiries and reservations, you may contact Jesi Mendez Salon BGC at 0995-275-0313. They are open from 9 a.m. to 6 p.m.
Toni&Guy Philippines
The much-awaited hair color and treatment services by Toni&Guy Philippines is now back! Following the strict health protocols, customers are expected to abide by their no waiting and no added guest policy. They will also be following the government protocols such as temperature check, social distancing, wearing of masks, and sanitation.
Our commitment to keep you safe. See you all soon! #ToniAndGuyCares

Toni&Guy Philippinesさんの投稿 2020年6月3日水曜日
To assure customers of their safety, Toni&Guy also disinfects the entire salon, and all tools used are strictly sanitized using hospital-grade disinfectants and UVC light.
Cuts 4 Tots Hair Salon
Eager to have your little ones get their haircut but aren't allowed to bring them out? Worry no more as Cuts 4 Tots Hair Salon is finally offering haircut experiences for your little ones in the comfort of your own homes! Haircuts aren't limited to kids so parents can also book their haircut through them!
To assure clients of their safety, the salon will follow strict sanitation protocols. As of the moment, areas they are serving is limited to San Juan, New Manila, Scout areas, Mandaluyong, and selected areas in QC and Manila. Other areas may be considered for a minimum number of haircuts.
For inquiries and booking of appointments, you can message them on their Facebook page.
Have you decided what services you're looking forward to avail while still in quarantine? Let us know your experience in today's new normal of beauty and pampering!
---
Source: Palace releases updated guidelines for barbershops, Salons
This first appeared in Philippine Primer's Japanese and English October 2020 issues
Featured image from Jesi Mendez, Ayumi, Junca, and Hair Salon Hide2A