Asian Eye Institute Provides Virtual Consultations and Eye Care Essentials Delivery for Patients Amid GCQ
Asian Eye Institute Provides Virtual Consultations and Eye Care Essentials Delivery for Patients Amid GCQ
With the implementation of general community quarantine (GCQ) in Metro Manila, all clinics of the Asian Eye Institute are now open, complete with heightened health and safety measures for their patients. However, it cannot be avoided that some may be apprehensive about going outside for in-clinic checkups due to the still looming threat of the COVID-19 pandemic.
This is why the Asian Eye Institute is offering alternative services that can be done in the comforts of patients' homes including virtual consultations with their expert and reputable doctors and delivery of eye care essentials.
Aside from the new and improved version of the Asian Eye TeleConsultation, patients can also opt to the Asian Eye Institute's free Tele-Triage Service where doctors will assess their eye condition through a clear photo of the eye/s and be able to give e-prescriptions and pharmacy purchases depending on the diagnosis.
This service is available thru Mondays to Saturdays from 8 a.m. to 4 p.m. You may call the Asian Eye Institute's hotlines to inquire about this service:
Telephone: 02-8898-2020
Smart: 0918-898-2020/ 0920-947-8874
Globe: 0917-822-3753
At the same time, patients can easily forward and consult their eye concerns to an Asian Eye doctor through these three simple steps: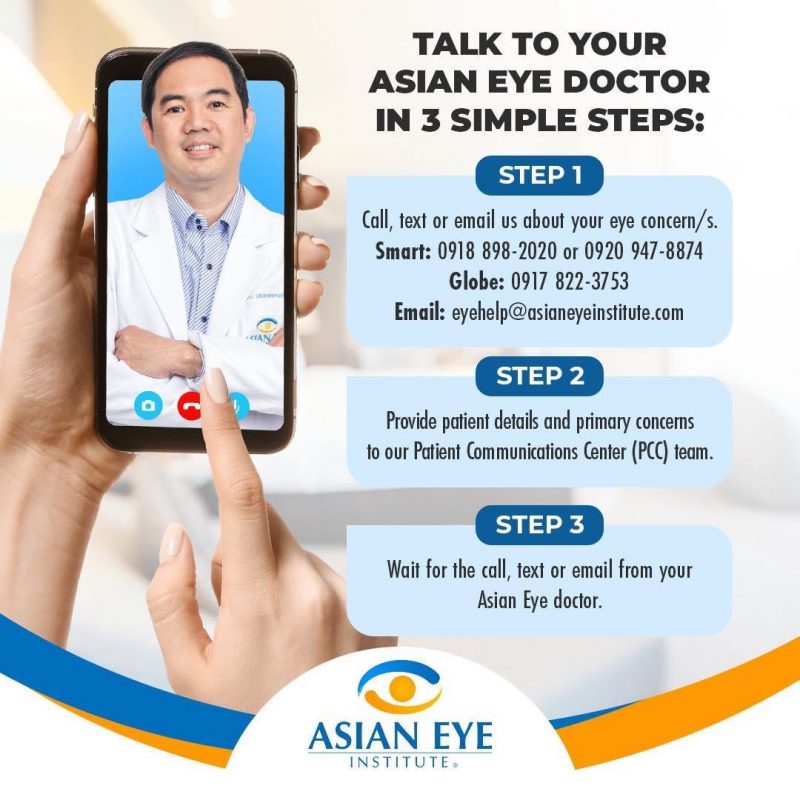 There is also no need to worry about running out of your eye care essentials from the Asian Eye Institue since they provide many ways for you to place your orders and have them delivered right at your doorstep.
You can text, call, or email them with your order request details, which include your name, contact number, address, name of your doctor, and list of items to order or visit the Asian Eye Institue Shop online to order.
Take note that as of the moment, only the following items are available for delivery to Asian Eye patients:
Contact lenses
Contact lens solutions
Eye lubricants
Anti-fatigue
Eye vitamins
Lens wipes
Prescription Eye Drops
For eye medication and/or an e-prescription, you may call their hotlines for assistance.
Visit the Asian Eye Institute's website or Facebook page for more information about their services.
Also read: Receive World-Class Eye Treatment at Asian Eye Institute
---
Source: asianeyeinstitute.com
Photos courtesy of The Asian Eye Institute