DOH Simplifies Classification to Identify COVID-19 Patients
The Department of Health (DOH) released a simplified version of the classification used to identify COVID-19 patients. It follows the identification used by the World Health Organization (WHO) and other countries for a much uniform classification.
The newly approved classification is sorted into three identifications: suspect, probable, and confirmed.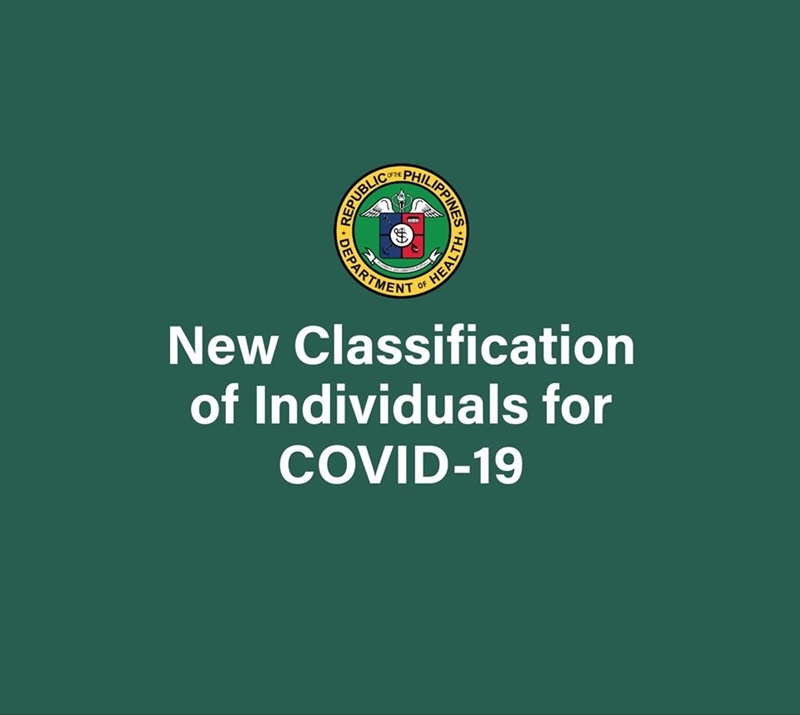 Suspect
A person is considered to be under the category of a Suspect if he/she is experiencing any of the following:
Influenza-like illness including a fever of 38 degrees Celsius, cough, and sore throat with either a travel history in a place with confirmed local transmission or close contact with a confirmed or probable COVID-19 patient both within 14 days before the symptoms arise
Fever, cough, and difficulty in breathing for people who are 60 years old and above, pregnant women, health workers, or individuals who have underlying medical conditions
Sudden respiratory problem with severe symptoms that requires immediate hospitalization
Probable
Suspect patients who either have undetermined test results or did not get tested in an official laboratory with RT-PCR (reverse transcription polymerase chain reaction) test are tagged as Probable cases. This also includes suspect patients who remain untested
Confirmed
Patients who tested positive for COVID-19 using RT-PCR testing are considered as Confirmed cases.
The guidelines to identify cases in the Philippines will no longer use PUM (Person Under Monitoring) as a classification while the category of PUI (Patients Under Investigation) is further classified into Suspect and Probable cases.
As of writing, there is now a total 4,648 confirmed cases of COVID-19 in the Philippines with 197 recoveries and 297 total of deaths.
Also Read: StaySafe.ph: A Helpful Emergency Response Website for COVID-19 Crisis
For more information about COVID-19 in the Philippines, visit DOH's website and Facebook page.
---
Source: Philippine News Agency, Department of Health