Duterte Declares Public Health Emergency Due to Increased COVID-19 Cases in PH
President Rodrigo Duterte had signed Proclamation No. 922 last March 8 declaring the Philippines to be under the State of  Public Health Emergency amidst the rising number of COVID-19 cases in the country.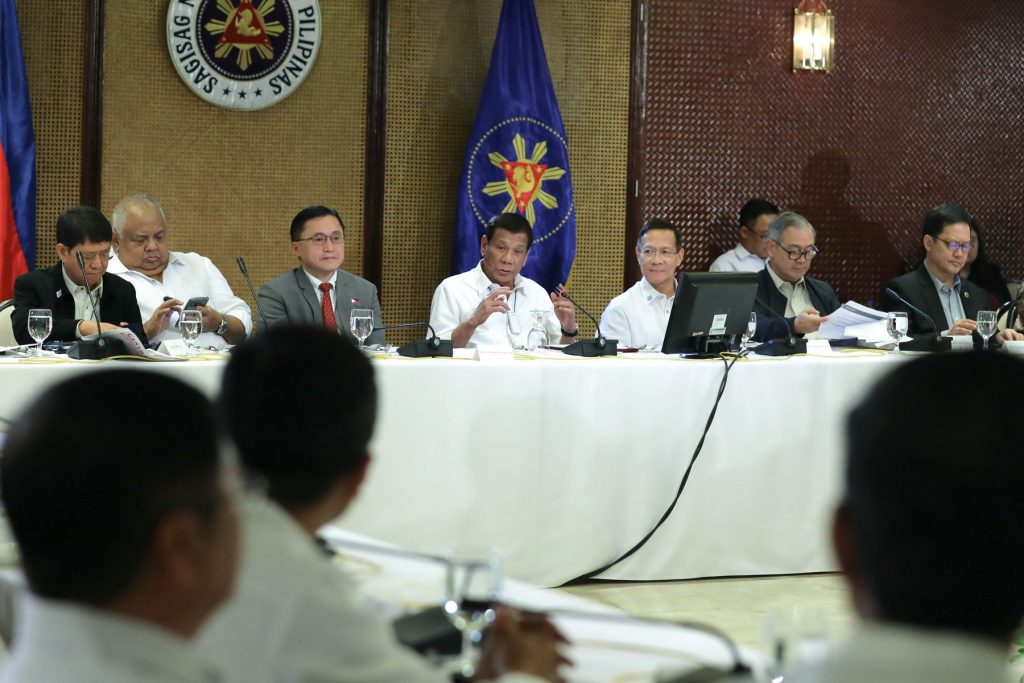 PRRD with the Inter-Agency Task Force for the Management of Emerging Infectious Diseases/IMAGE PNA
As of March 11, the Department of Health (DOH) has reported a total of 49 identified cases of COVID-19 pandemic in the Philippines with the first local transmission recorded last March 7—a 62-year old man with several underlying medical conditions.
Under the proclamation, it is stated that "the outbreak of COVID-19 constitutes an emergency that threatens national security which requires a whole-of-government response aligned with the Four-Door Framework for COVID-19 of the DOH and the efforts of all concerned government agencies and local government units (LGUs)."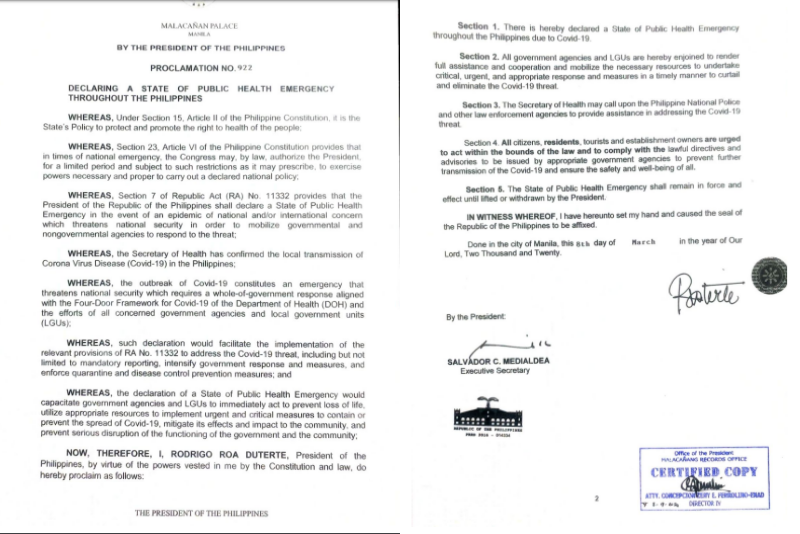 The declaration of public health emergency throughout the country gives way to the implementation of relevant provisions of RA No. 11332 to address the threat including the following:
mandatory reporting
intensifying government response and measures
enforcing quarantine and disease control prevention measures
Section 2 of the proclamation also urged government agencies and LGUs to "render full assistance and cooperation, and mobilize the necessary resources to undertake critical, urgent, and appropriate response and measures" to help stop the spread of COVID-19.
Moreover, law enforcement agencies may also be directed by the Secretary of Health to provide assistance regarding the threat.
Full cooperation, on the other hand, is requested by the government from the side of the general public to prevent further transmission of the virus and to "ensure the safety and well-being of all."
Incidentally, the DOH has also raised the COVID-19 Alert System to Code Red sublevel 1, which is called for after detecting one local transmission.
In light of the confirmation of localized transmission in the country and in anticipation of possible sustained…
DOH advises the public to practice good respiratory hygiene, proper handwashing, and social distancing amidst the COVID-19 threat.
Also read: Ways to Be Safe From COVID-19 Outbreak
To get the latest information and updates on COVID-19, visit DOH's website at doh.gov.ph and follow their Facebook page.
---
Source: officialgazette.gov.ph
Image grabbed from Philippines News Agency