Discovering the Charms of Central Japan at PTAA Travel Tour Expo 2020
PTAA's annual Travel and Tour Expo (TTE) has come and gone but not without a lot of satisfied attendees who scored great travel deals as well as enjoyed some of the exciting activities organized by participating organizations.
It was like being transported to a multi-national paradise upon entering the SMX Convention Center in Pasay City with all the elaborate booths prepared by tourism agencies of countries like Taiwan, South Korea, Malaysia, Japan and so on.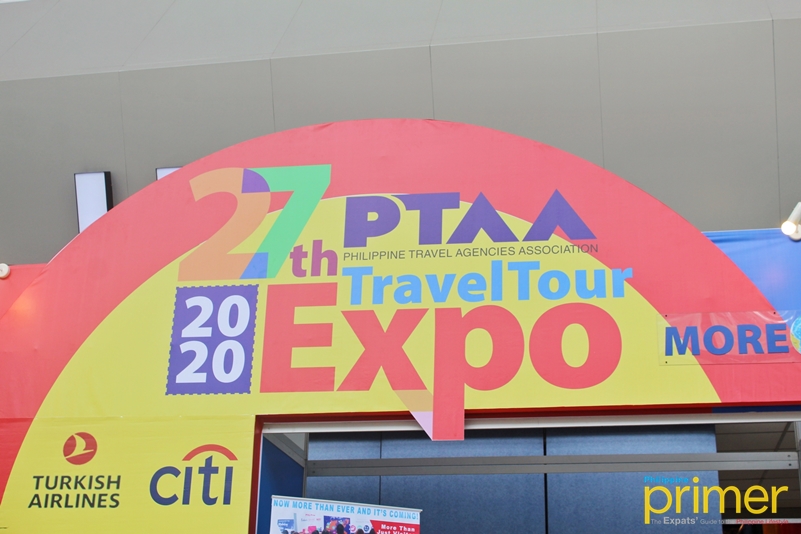 Aside from fun games and freebies, there were also presentations on must-visit places in each country, which proved to be informative and helpful to prospective travelers as well as those who are looking for something new to visit this year.
One of which is Japan National Tourism Organization's (JNTO) presentation on Central Japan's destinations and culinary offerings.
The team of Our Awesome Planet gladly shared their experiences with the audience, noting the destinations, activities, and local food to try at Japan's Central region.
Central Japan
Central Japan is located at the center of Honshu, Japan's largest island. Fukui, Ishikawa, and Toyama are located in the northern part (Hokuriku Region), while the southern part (Tokai Region) consists of Shizuoka, Aichi, and Gifu. The remaining prefectures of Yamanashi, Nagano, and Niigata, on the other hand, are collectively known as the Koshinetsu Region.
IMAGE Japan Guide website
The presentation mainly focused on Toyama, Nagano, and Gifu—three prefectures that are teeming with rich history and culture as well as countless sceneries to feast your eyes on.
How to Get There
ANA Airlines
You can reach Central Japan through a 1-hour flight from Haneda Airport in Tokyo to Toyama Airport via All Nippon Airways (ANA). The airline operates several flights per day for the said route. Airfare can change depending on availability so it is best to check their website for rates.
Central Nippon Expressway Pass (CEP)
Upon arriving at Toyama Airport, you can get to the destinations included in your travel itinerary in three ways: joining a tour, taking public transport, and renting a car.
IMAGE Is Japan Cool? website
According to the presenters, it is best to choose to rent a car and use the Central Nippon Expressway Pass (CEP), which is only available to foreign visitors who have driver's licenses valid in Japan.
IMAGE Toyota Rent a Car website
The CEP allows you to conveniently drive to and from Aichi, Gifu, Mie, Shiga, Shizuoka, Ishikawa, Toyama, Fukui and Nagano Prefectures through the expressways in the region all at a budget-friendly flat rate! Additionally, authorized rental vehicle companies will provide you an Electronic Toll Collection (ETC) system card that will let you pay expressway tolls without stopping at the tollgates. 
Spots and Activities for the Sunny Days
Presented on the PTAA TTE mainstage, Abi Javellana shared her most memorable moments during her team's sunny road trip in Central Japan.
Shogawa Gorge Cruise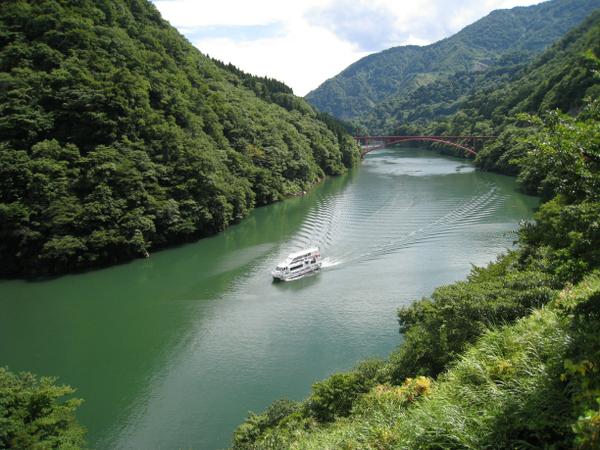 IMAGE Japan Travel by Navitime website
For 25 full minutes, get the chance to revel in the beauty of the Shogawa River in Toyama en route a small local ferry. The changing of seasons greatly alters the landscape of the river with green taking over during spring and summer while warm autumn colors embrace it during the season. Of course, during winter, the place transforms into a white wonderland. 
Kokiriko Dance
Appreciate one of Japan's ancient dances and music performances, Kokiriko, inside a 300-year old Gashno style house in Toyama. The dance, which is a form of gratitude to the gods for a bountiful harvest, is accompanied by an instrument called sasara.
Doraemon Tram
IMAGE Matcha website
You can also visit the hometown of everyone's beloved alien cat character, Doraemon! Head to Takaoka City in Toyama where Fujiko F. Fujio, the creator of the manga and anime series, hails.  Of course, expect lots of Doraemon-related spots and memorabilia everywhere!
Don't miss out on riding the Doraemon tram of the Manyo line, which has two cars embellished with images of Doraemon and friends.
Tateyama Kurobe Alpine Route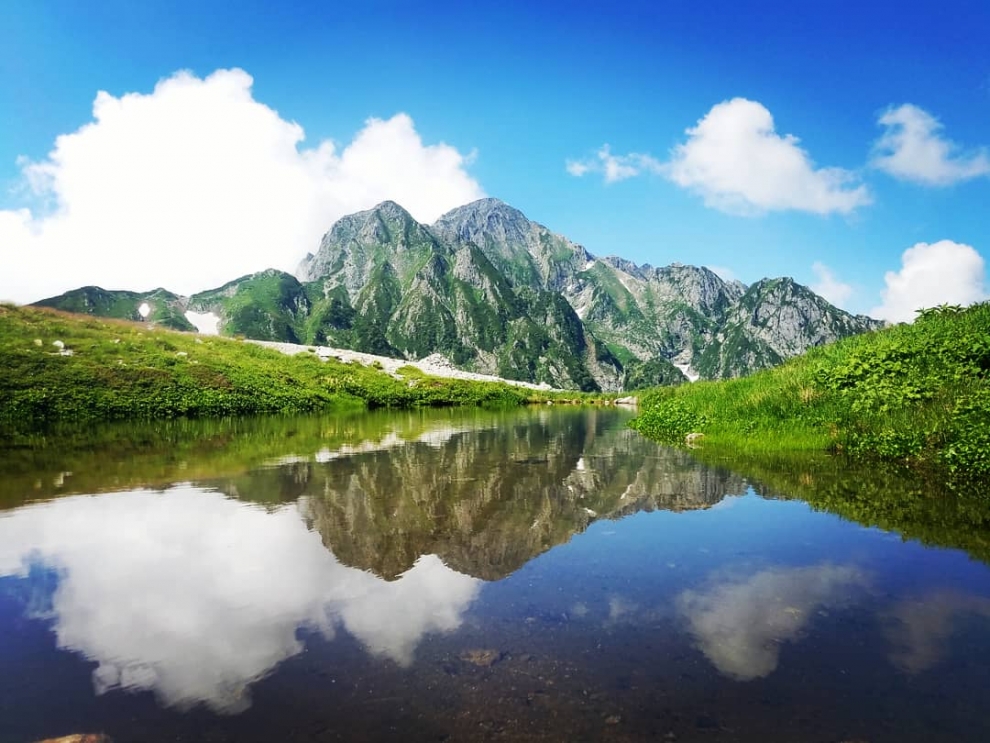 IMAGE Alpen Route website
There's just too much to take in at the Tateyama Kurobe Alpine Route—the scenic views of Mt. Tateyama and Toyama's mountain ranges, the famed snow wall, the magnificent Kurobe Dam.
Also known as the "Roof of Japan," the 90km route extends from Toyama to Nagano Prefecture. You can either take the cable car or the ropeway to traverse the route depending on the season.
Kamikochi
IMAGE Kamikochi website
Get in touch with nature at Kamikochi, a mountain resort located within the Chubu Sangaku National Park in Nagano. The place is characterized by its rich natural beauty composed of the rocky mountains of Hotakadake, riverside forests and clear streams of the Azusa River.
While strolling the park, you will most likely meet some of its wildlife inhabitants most notably the Japanese Monkeys, which can be often spotted climbing trees in search of food.
Gero Onsen Experience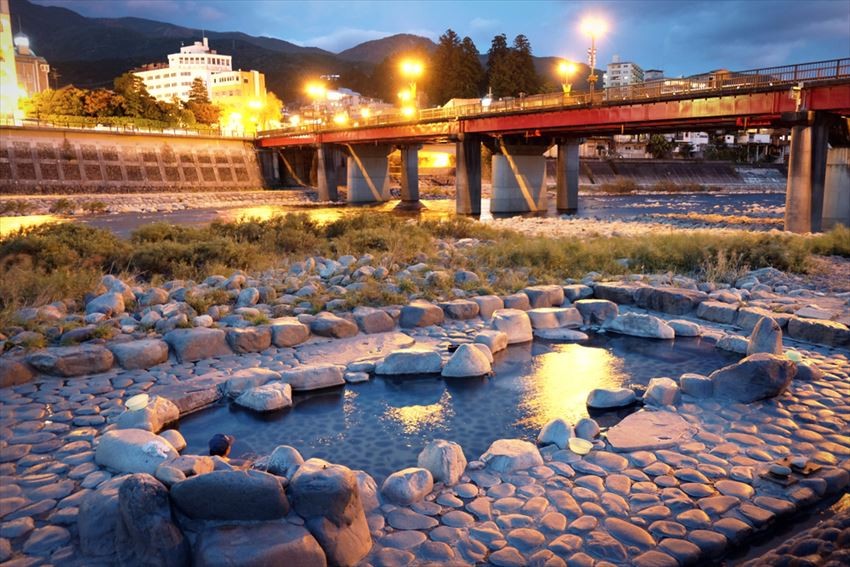 IMAGE Fun! Japan website
End a tiring day of sightseeing with a dip at Japan's high-quality hot springs in Gifu Prefecture. Abi and her company stayed at one of the Gero Onsen resorts in the area. Aside from taking away the stress in your body and improving your blood circulation, the alkaline-based hot spring will also leave your skin soft and supple thus earning the nickname "beauty hot springs."
Ninja Lessons and More
IMAGE Visit Matsumoto website
Ever dream to be a stealthy ninja or a world-class samurai? Learn from the masters at Matsumoto in Nagano! You can also watch an energizing live performance by traditional taiko drummers.

Autumn Spots and Activities
Another exciting time to visit Central Japan is during the autumn season from September to November. This is due to the fact that the weather is close to perfect, not too chilly yet not too warm as well.
The team of Boom and Sean from Our Awesome Planet gave a thorough presentation of their five-day trip across Toyama, Nagano, and Gifu and shared the best spots to include in your itinerary.
Kurobe Gorge Railway Tour
IMAGE Japan Rail Pass website
Spanning a total of 20km, the Kurobe Gorge Railway will take you on an 80-minute journey that will let you see panoramic views of the gorge below. The sightseeing train, which was built to aid the construction of the Kurobe Dam, stretches between Unazuki and Keyakidaira Stations.
Ikedaya Yasubei Drug Manufacturing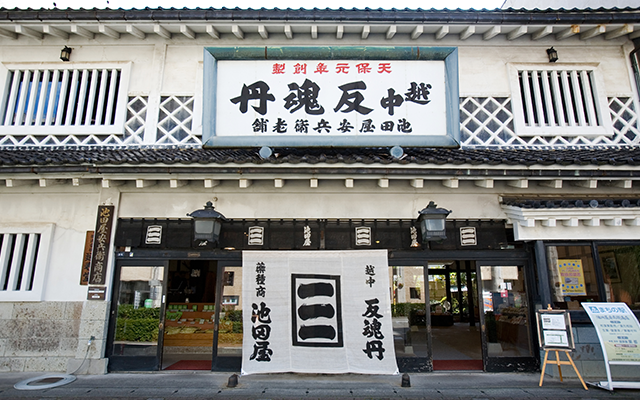 IMAGE Ikedaya Yasubei Shoten website
If you are interested in alternative medicine, Toyama is an ideal place to explore and look for traditional Japanese pharmacies. One of the most popular in the area is the Ikedaya Yasubei Drug Manufacturing, which is known for its stomach pain medicines. Their practice of making traditional medicine dates back to the time of the samurai.
Shinminato Kittokito Fisherman's Wharf
IMAGE Japan National Tourism Organization website
Another must-visit place in Toyama is the Kittokito Fish Market for its wide array of fresh seafood. It is also during autumn that the snow crabs are in season so definitely make it a point to try it out!
Tateyama Kurobe Alpine Route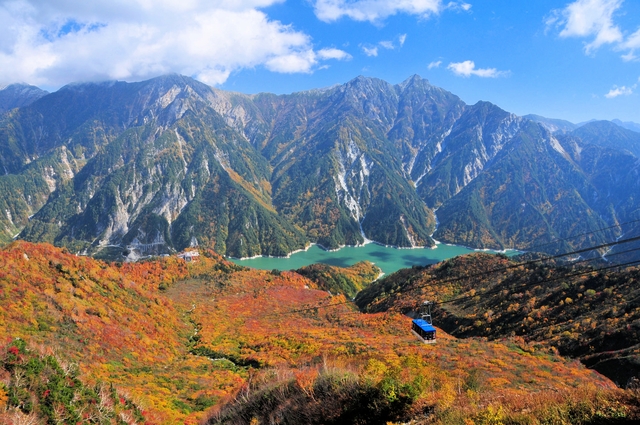 IMAGE Japan by Japan website
This famed Central Japan destination is indeed for all seasons. Revel in the sights of the Nihon Arupusa-Japanese Alps as well as Japan's highest waterfalls, the Shomyo Falls. You may know more about the geological history of the falls and the region by visiting the small museum and information center at its base.
Kurobe Dam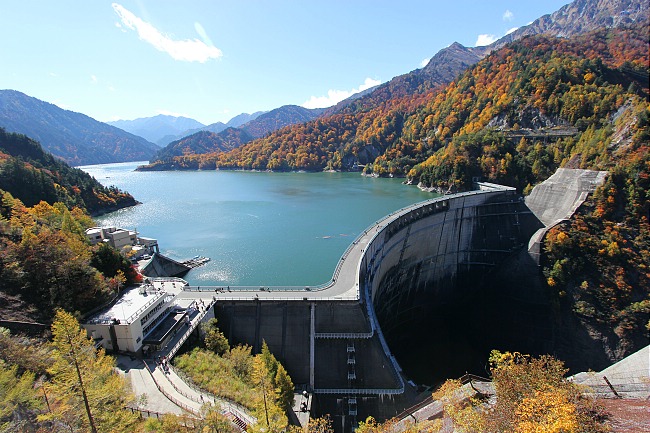 IMAGE Japan Guide website
Nature and modern engineering combined together in harmony can be best seen through the Kurobe Dam. Japan's tallest dam not only provide power to its neighboring regions but it also resulted in a beautiful man-made lake called Lake Kurobe.
Apple Picking at Tsujimura Farm
During the tail end of the autumn season, the apples at the Tsujimura Farm in Nagano are ready for picking. Specifically, you can pick the crunchy and sweet Shinonu Sweets that are only grown in Nagano and are considered as some of Japan's best apples.
Lake Kizaki
IMAGE Omachi City Tourism Guide website
The picturesque Lake Kizaki in Nagano is not only good as a background for your OOTD photos but it is also where you can try water activities like kayaking, stand up paddling and fishing. 
Matsumoto Castle
IMAGE Japan Guide website
Another destination in Nagano that should be on your list is the historic Matsumoto Castle. It is one of Japan's oldest castles and is a symbol of the country's feudalistic past.
La Casta Natural Healing Garden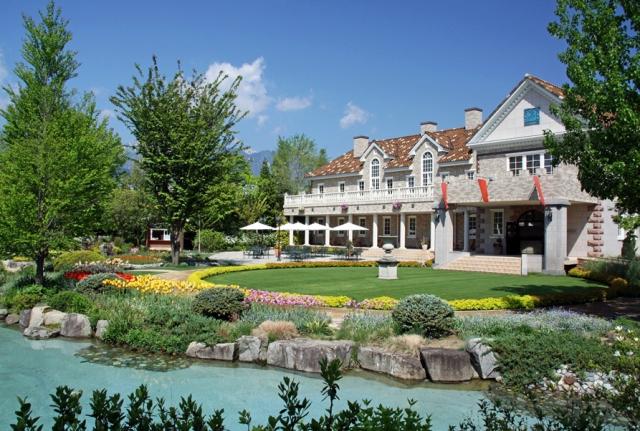 IMAGE Must-see Japan website
Take home organic and natural products like soaps and lotions from La Casta Natural Healing Garden in Nagano! Aside from strolling their gardens and marveling over the flowers, you may also participate in the fragrance making class to create your own scent which you can use in making body sprays and perfumes.

Sanmachi Old Town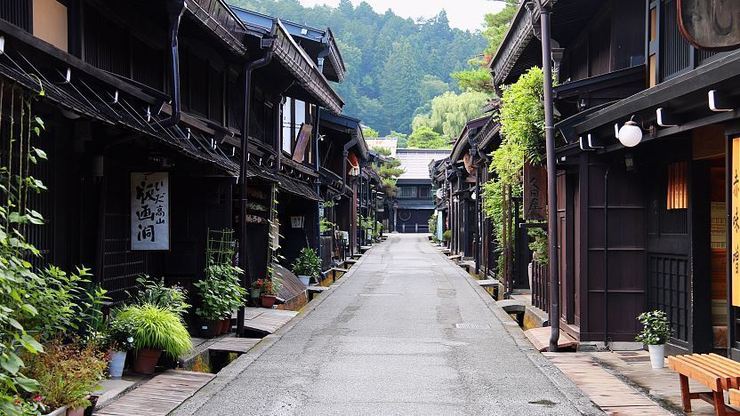 IMAGE Japan Guide website
History buffs will surely have a field day at Sanmachi Old Town in Takayama, Gifu. The street is a sight to behold because most of the establishments and houses there are preserved from the Edo Period (1600-1868).
Shirakawa-go Village

IMAGE Japan Rail Pass website
Known for its century-old traditional gassho-zukuri farmhouses, Shirakawa-go Village in Gifu was declared a UNESCO world heritage site in 1995. The scenery of grass roof houses among the rolling farmlands is definitely a picture-perfect moment to be captured.
What to Eat
Aside from the many spots and activities to visit and try, Central Japan also has a rich culinary background that a tourist has to experience to fully experience what the region has to offer.
Hida Beef
IMAGE Japan Travel by Navitime website
Japan is known for its export-quality wagyu beef. In Gifu Prefecture, they boast their first-class Hida Beef. This brand of wagyu comes from a black-haired Japanese cattle breed raised for at least 14 months. It has a Yield Score of Grade A or B and a Firmness and Texture Grade of 5, 4 or 3.
Ayu (sweetfish)
IMAGE Savor Japan website
Ayu's signature "subtle sweet taste" is what makes it popular among tourists and locals alike. In fact, it is among the most popular summer festival food in the region.
Abi specifically mentioned the charcoal-grilled ayu that has been stuffed with fish roe and described it as "seriously delicious."
Snow Crab
IMAGE Savor Japan website
For autumn, the snow crabs are the star of fish markets and crab auctions. Boom and Sean's team sampled these at one of the restaurants behind the Kittokito Fish Market.
Sake
IMAGE Is Japan Cool? website
While at Takayama, Gifu, don't miss the chance to taste the many traditional sake varieties at the old sake brewery and museum.
Surely, those who listened and took notes of Our Awesome Planet team's presentations at PTAA TTE 2020 now know a thing or two about Central Japan. The next step? Make an itinerary and book a plane ticket!