Botaniko Herbal Urban Lounge Opens in Makati Shangri-La
There is a new destination in Makati for the officebees, workaholics, and weekday warriors to escape the hustle and bustle of the city: Botaniko Urban Lounge of Makati Shangri-La, Manila; hidden in the outdoor area of Sage Bespoke Grill.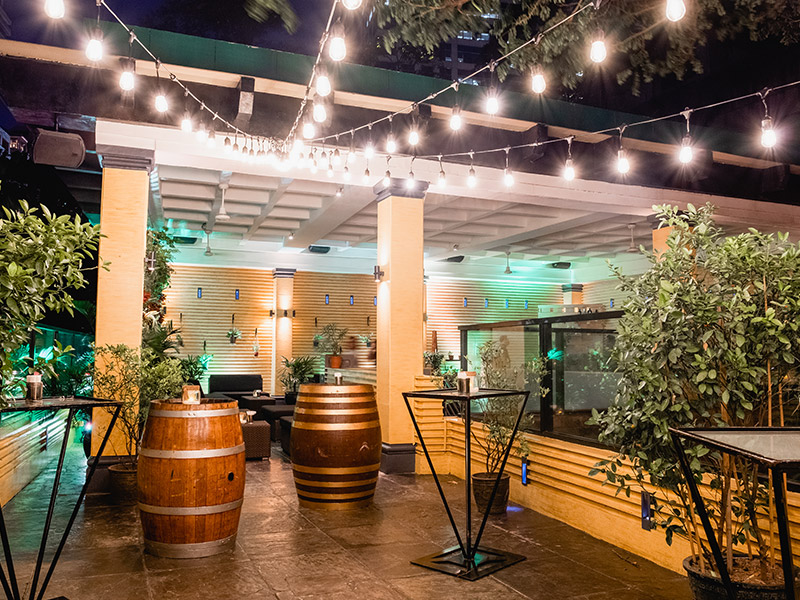 Following the success of the speakeasy bar, The Den, comes this fresh concept of a pop-up bar—designed to transport guests into a garden getaway with refreshing drinks and appetizing bar chow using fresh ingredients and herbs!
With a collaboration with Distilleria Limtuaco and Company, Botaniko offers 7 signature cocktails by award-winning mixologist Clayton Munar using Manille Liqueur de Calamansi, Manille Liqueur de Dalandan, and Intramuros Liqueur de Cacao.
Also read: 7 Proudly Filipino-Made Alcoholic Drinks
Drinks include the cheery citrus Peppercorn Smash (Php 350) made with black peppercorn infused gin, Manille Liqueur de Calamansi, basil, Asian lemongrass syrup, and calamansi served in a cold and cute mini bucket.
A crowd favorite, the Peppercorn Smash (Php 350) is a really fun drink with a fresh and citrus taste
We also had the Cucurosa Collins (Php 350), which is a bright concoction made with gin, rose syrup, lemon, and cucumber soda. Solitude (Php 350), on the other hand, is a drink that packed a mean punch. It is made with tequila, mint, lemon, Manille Liqueur de Dalandan, and orange cream.
Cucurosa Collins (Php 350) is a great example of what Filipinos call a 'traydor drink' which seems mild but is actually pretty strong
Their cocktails pair perfectly with their food such as the juicy Crispy Sweet Breads (Php 650) with grilled pineapples and the Plaintain (Php 350) coated with garlic and siracha before being garnished with bay leaf salt.
Crispy Sweetbreads (Php 650) are actually not bread and are meat 
This spicy Plaintain (Php 350) which are thinly sliced bananas are best washed down with Botaniko's alcoholic choices
Other dishes include the US Rib-eye Sandwich (Php 1,200), Fried Ube and Camote with Cashew Cheese (Php 350), Seared Blue Marlin Tacos (Php 500) and many more, all created with sustainability in mind.
Botaniko Herbal Urban Lounge is open from Tuesday to Sunday, from 6 p.m. to 2 a.m. over at the 2nd floor behind Sage Bespoke Grill. For inquiries, please call restaurant reservations at 02-814-2580 or email rric.slm@shangri-la.com.
---
Written by Heloise Diamante