MOS Burger To Open First PH Branch in Robinsons Galleria This February
First announced in 2019, MOS Burger has been teasing us about opening their first-ever branch here in Manila. We have indeed waited long enough to taste the healthy goodness of their burgers.
Here's a piece of good news because Japan's famous hamburger joint MOS Burger has now landed in the Philippines and is slated to open its first store at Robinsons Galleria in Ortigas this February!
Luckily, Philippine Primer got the first dibs on what Filipinos will soon to taste in the world's most favorite Japanese burger chain!
Two of MOS Burger's signature hamburgers: MOS Cheeseburger and Yakinuku Rice Burger
All ready to satisfy every Filipino craving for the best quality burger, MOS Burger Philippines held a prelude launch last January 15 wherein media, guests, and burger-lovers were given a chance to sample MOS Burger's signature hamburgers through a pop-up store that was opened until January 16.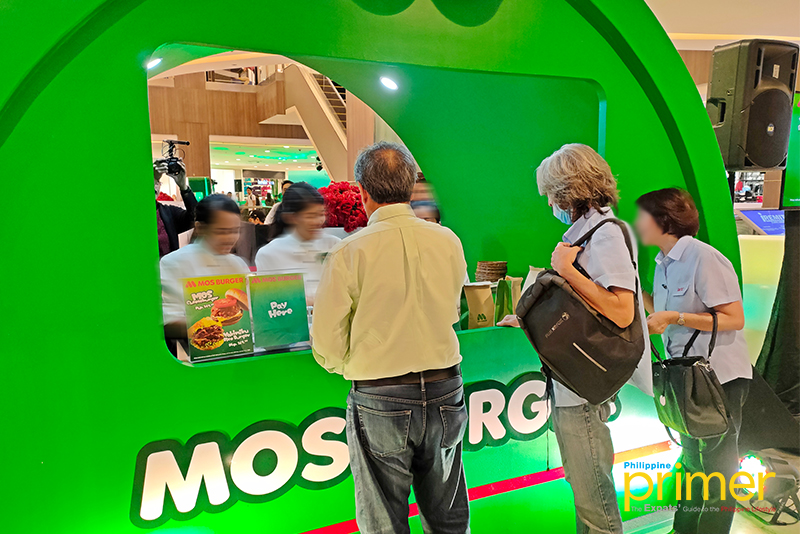 MOS Burger Philippines' pop-up booth at Robinsons Galleria opened on January 15 to 16
MOS Burger was founded by Satoshi Sakurada in 1972 in Tokyo, Japan. Since then, the burger chain has been offering hamburgers tailored to the Japanese palate.
For those who are wondering what the letters "MOS" mean, it simply stands for Mountain, to stand tall and firm as a mountain; Ocean, to have a heart as big and generous as the ocean; and Sun, to have an undying passion like the sun.
They are the second-largest fast-food franchise in Japan widely known for their signature rice burgers and for offering a menu healthier than other fast-food counterparts.
Currently, there are 1,300 MOS Burger stores in Japan and more than 300 stores overseas, with the goal to grow as a food service group that shares the deliciousness of Japan with the rest of the world.
President of MOS Burger Philippines Araki Masahide
With the help of Tokyo Coffee Holdings's CEO Hubert Young, MOS Burger found its way to the country to delight burger-loving Filipinos with their classic food selections that are as delicious as it can be.
"We have heard that Filipinos are big burger lovers, and we are offering only the best for you," said President of MOS Burger Philippines Araki Masahide. "Mr. Young told us that he had long wanted to bring MOS Burger to Manila since he first tasted our burgers back in Japan in the 1990s."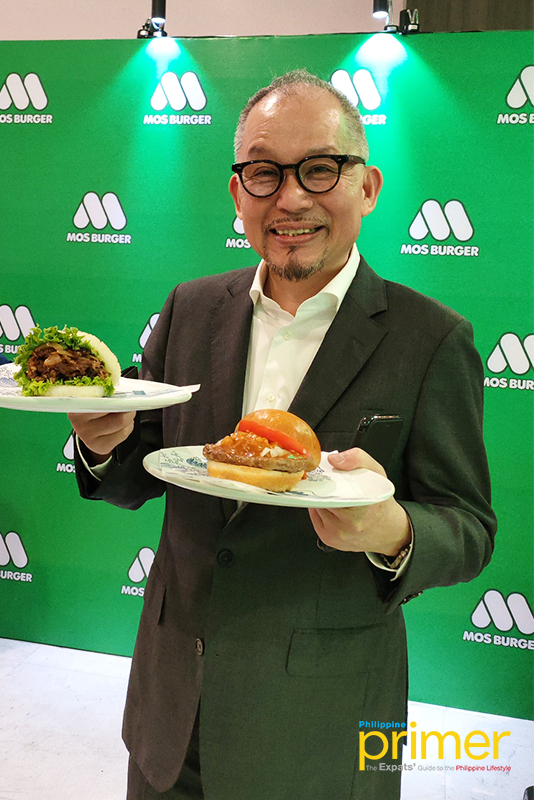 Tokyo Coffee Holdings's CEO Mr. Hubert Young
MOS Burger's signature burgers
In case you have no idea how deliciously good and healthy their burgers are, here are two of their signature burgers you must try once they open their first store in Manila: the MOS Cheeseburger and Yakiniku Rice Burger.
First up is the iconic MOS Cheeseburger, a Japanese-styled burger made with layers of fresh tomato slice, special meat sauce, cheese, and juicy tobikiri patties—which consists of ground pork and beef—that are all sandwiched between soft burger buns.
MOS Cheeseburger
Meanwhile, their Yakiniku Rice Burger moves away from the traditional burgers we know. Instead of using bread for the buns, they use grilled rice bun to put together a revolutionary burger concoction. Now known all over the world, this rice burger actually originated from MOS Burger.
Yakiniku Rice Burger
Their worldwide success underlies in believing the old Japanese proverb "ishoku dougen," a philosophy meaning that medicine comes from the same source which maintains one's health with a balanced diet.
All their products are proudly made from fresh ingredients from the lavish vegetables to the original sauce.
MOS Burger Philippines' executives pose for a photo with the burger joint's famous MOS Cheeseburger and Yakinuku Rice Burger
For this year alone, MOS Burger is eyeing to open more branches in Metro Manila, not only in Robinsons Galleria but also in SM Megamall, Robinsons Magnolia, O Square Greenhills, and Robinsons Place Manila.
MOS Burger Philippines' first fast food store will open its doors to the public in a few month's time. Stay tuned for their announcement via their social media pages on Facebook and Instagram.
In the meantime, get your tummies ready to devour Japan's famed burgers!